Opel has revealed the cracking Astra OPC EXTREME super hot hatch just ahead of its Geneva Motor Show debut. This is the fastest road-legal Astra ever.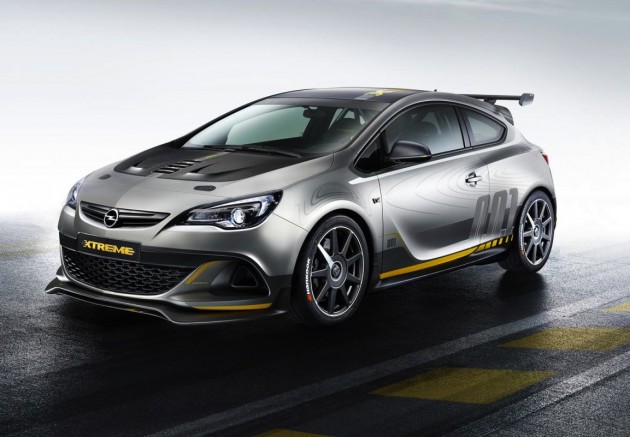 Featuring a 2.0-litre turbocharged four-cylinder engine, similar to the one used in the regular Astra OPC, OPC boffins have made some revisions to boost power to over 224kW (from 206kW). This is sent through a six-speed manual transmission and into a limited-slip differential at the front axle.
To further help with driving performance, the crazy Astra comes with a number of lightweight items to shed overall weight. As a result, the EXTREME is 100kg lighter than the standard OPC.
There's unique carbon fibre wheels which are 20kg lighter than the regular items, while the roof and bonnet are also made from carbon fibre. The front guards weigh in at just 800 grams each (down from 2.2kg), and even parts of the suspension are carbon.
Opel hasn't mentioned performance figures, however, the mean machine should be capable of conquering the standard OPC's 0-100km/h time of 5.9 seconds (we managed 6.1 seconds).
To ensure it all handles and stops as well as it goes – and looks – there's a set of 370mm front disc brakes clamped by Brembo six-piston calipers, as well as a comprehensive suspension package with adjustable settings. Various wings and spoilers on the body also help to optimise aero efficiency.
Opel CEO Dr. Karl-Thomas Neumann spoke about the creation in a statement, saying,
"With the new Astra OPC EXTREME we show the pure joy of driving! This study is quite simply spectacular and driving enthusiasts will appreciate its looks, which are head-turning without grandstanding.

"Its interior is superb and typically Opel – exciting, precise and quality-made in Germany. The EXTREME is the new top-of-the-line model in our Astra family with all the attributes of a super sporty car."
Opel is planning to put the car into low-volume production, depending on how well-received it is at its Geneva debut next week. If only Opel Australia was still in existence.