For most Australians it's hard to imagine life without the Ford Falcon. It's been a dependable family member of homes all around the country for decades. If you've never owned one, chances are, a close relative or a friend has. When local Ford manufacturing closes down in 2016 it's going to be a very sad day to see this old girl go.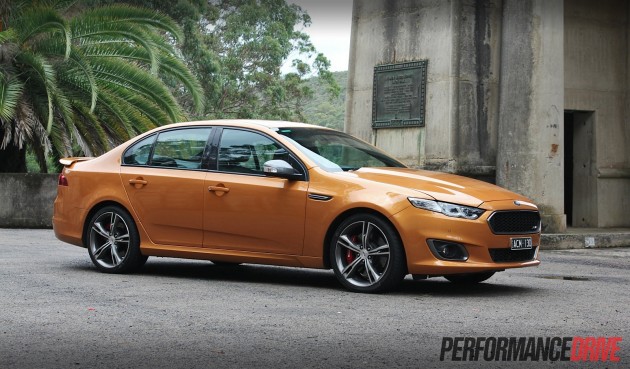 The 2015 Ford Falcon XR8 FG X falls into the picture by being one of the last (if not last) performance V8 Falcons ever conceived. It is very likely to live on until production ceases in two years, although we think there might be at least one special edition on the way to give the humble homemaker an honourable sendoff.
Late last year we were surprised to report the new XR8 prices start at just $52,490. Let's face it, Ford Australia could have charged whatever it wanted and fans would still have bought it. This is a bargain price we think, especially considering the 2013 FPV GT – which came with the same engine only with less advanced tech and was slightly less capable overall – was priced from $70,790.
2015 Ford Falcon XR8 FG X – THE SPECS
Engine: 5.0-litre supercharged V8
Output: 335kW@5750rpm / 570Nm@2200-5500rpm
Transmission: Six-speed manual
Drive type: Rear-wheel drive, limited-slip diff
Wheels: F: 19×8.0, 245/35  R: 19×9.0, 275/30
ANCAP: Five stars (scored 34.61 out of 37)
Kerb weight: 1858kg
Power-to-weight: 5.5:1 (kg:kW)
Official fuel economy: 13.6L/100km
Economy during test: 16.4L/100km
Fuel capacity/Type: 68L/95 RON
Power efficiency: 24.6kW:L/100km
0-100km/h as tested: 4.9 seconds
Priced from: $52,490
2015 Ford Falcon XR8 FG X – THE PACKAGE
If you've been spending lots of time in European or Japanese cars and away from Aussie sedans, you'll be pleasantly reunited with the big comfy proposition of the Falcon. It's huge in here. There's miles of headroom and legroom in the front and back, and the rear bench actually seats adults and sinks down a bit, assisting with rear vision. It's all super-comfortable, with big sports seats in the front with electric height adjustment and supportive yet unobtrusive side bolsters holding you in place.
The driving position is still too high for our liking, which seems like a tradition for post-1994 Falcons. We wouldn't go as far as saying it's awkward but it is not as right as the Commodore driving position. The steering wheel column comes out too low and the adjustment range is quite limited. You're not going to be uncomfortable but it might take a few decent drives to fully settle in.
Unfortunately, Ford Australia hasn't really updated the interior design. The same buttons and switches are implanted on the same somewhat dated dash fascia layout. The functions can get confusing too, particularly the climate control settings. For example, there is no way to tell if the air-con is on or off just by looking at it. When you push the button a little graphic displays in the instrument cluster saying 'air-con on' for a second or two and then it disappears. And then fan speed is displayed in the lower corner of the touch-screen. It's a bit all-over-the-place.
Speaking of the touch-screen, this is Ford's latest multimedia interface creatively called SYNC2. It's installed in every FG X Falcon and includes applications such as a reverse parking camera, digital radio, and emergency assistance as standard on all variants. In the XR8 you also get satellite navigation and a decent nine-speaker stereo system (up from four speakers).
We think the operation of the new screen and the touch sensitivity is a big improvement over the previous Human Machine Interface. However, we couldn't find any merit-worthy area compared with the market standards nowadays. The sat-nav system showed some flaws during our test, leading us onto slower routes or advising us to turn onto streets that didn't line up. Some of the menus such as the digital radio listings are cumbersome as well. Having digital radio in the first place is a real bonus though – it's currently only available in a few high-end cars.
2015 Ford Falcon XR8 FG X – THE DRIVE
The last time we drove a V8 Falcon was back with the FPV GT. Although we loved the performance of the supercharged V8, the handling was not up to the skill level of the HSV Clubsport or the Commodore SS V for that matter. Ford has made some thorough changes for the XR8, including retuning the rear dampers and springs, installing a larger rear stabiliser bar (19mm), retuning the front dampers, and adding in stiffer front spring mounts and upper control arm bushes. Some adjustments were also made to the overall geometry to accommodate 275 rear tyres. The same Virtual Pivot Link front and Control Blade rear suspension layout is carried across from the FG. Has it helped? Absolutely.
Immediately the car feels much stiffer and more composed compared with the GT. The front end remains stable around corners and isn't as upset by bumps mid-corner. It kind of reminds us of the EcoBoost four-cylinder Falcons, which feel nimbler and are lighter in the front end than the six-cylinder counterparts. The rack and pinion, variable ratio steering compliments the improved handling as well, providing high levels of communication and feedback in the twisty stuff and lighter effort in car parks and so on.
Rear traction is excellent for the amount of power and torque on tap. Stepping on the gas in second gear around tighter corners only results in grip and slingshot getaways. This is thanks to a nice and tight limited-slip differential (3.73:1 ratio for manual and 2.73:1 for auto). The handling, grip and driving capability is a vast improvement on the GT.
Off the line is a bit trickier, especially in manual transmission guise as tested here. Even still we managed 0-100km/h in a dashing 4.9 seconds. Quick sprints are not this car's main expertise though. Instead, it enjoys using its long-legged gearing to claw through speeds and gallop out on the highway. Overtaking is a breeze and it doesn't tend to make any difference whether you're carrying a full car-load or not.
Ford has done a great job on the bi-modal exhaust system for the XR8 in our opinion. We remember the FPV GT sounding quite loud yet a little crackly and high-pitched. As you can hear in the video below, the XR8 sounds cleaner and more refined. There is less crackling but we think it's for the better. It rumbles and grumbles, even at low revs. The buttlerfly valve operation seems to be smoother as well, so the transition from quiet to loud isn't as abrupt.
Fuel economy hasn't changed for the FG X XR8 over the equivalent FPV GT manual, remaining at 13.6L/100km for the official combined cycle rating. And this is despite the XR8 weighing 30kg more than the GT (1858kg versus 1828kg). During our week of driving, in mixed conditions, it averaged around 16.4L/100km.
Lastly, braking performance is simply faultless. During our usual high-tempo run through a rigorous mountain road the XR8's Brembo brakes took all of the punishment in their stride. We didn't notice any overheating, brake smoke or even diminishing pedal feel for the entire run. The initial pedal feel is on the firm side, and perhaps even overly firm for some drivers. You soon get used to it.
2015 Ford Falcon XR8 FG X – THE VIDEO
2015 Ford Falcon XR8 FG X – THE VERDICT
The FG X Falcon XR8 is as humble as ever only now it's more capable and more experienced. It gets the job done more competently than any other Falcon. In terms of performance and driving character, you aren't likely to be disappointed, Ford fan or not. It's still a friendly giant that can easily be used as a daily car. Out on the track though or when the time calls, it is definitely now more refined and more dynamic.
While some improvements have been administered inside the car, we don't think it is up to the standards or operational practicality of today's Holden rival. The only thing modern about the cabin is the SYNC2 system. Unfortunately, Ford Australia won't have long to make any major adjustments to the rest of it.
Regardless of the drive or user-friendliness, the XR8 will live on to be a future classic. There's no doubt about it. If you're thinking of buying one for collecting purposes, or because you'd like a powerful family sedan that's easy to drive, the XR8 is a perfect candidate for your short list. And let's not forget that very attractive price tag.
PROS:
– Cabin space and comfort
– Beefy yet refined V8 soundtrack
– Improved user interface (SYNC2)
– Improved balance and front end handling
– Bang for your buck

CONS:
– Mostly unchanged interior and engine
– Unable to keep up with (dearer) HSV rivals
– Questionable exterior design/facelift
2015 Ford Falcon XR8 FG X – THE COMPETITORS
HSV Clubsport (manual)
6.2-litre naturally aspirated V8 – 325kW-550Nm – 12.6L/100km – 1693kg – from $61,990