The fast Volvo wagon is back. This time in the form of the new 2014 Volvo V60 Polestar. It builds on technology developed for the Australian-exclusive S60 Polestar introduced earlier this year.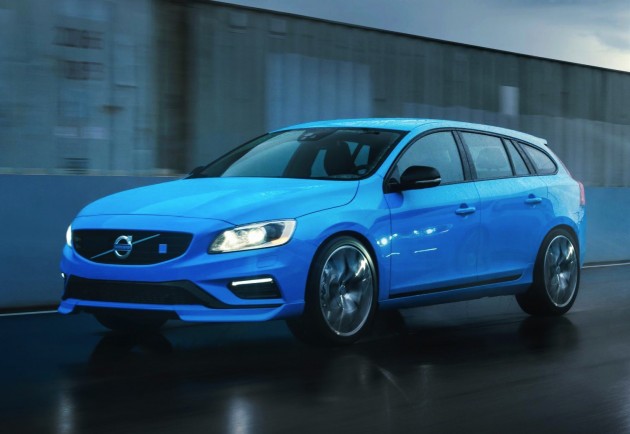 After a number of teasers over the past few weeks, the special Polestar model has finally been unveiled, and it is, as predicted, based on the latest S60/V60. It comes packed with a 3.0-litre turbocharged inline six developing 257kW and 500Nm.
Although the engine specifications are the same as those in the Aussie S60 Polestar, the six-speed transmission has been revised and now features paddle shifters, while the Haldex all-wheel drive system has also be retuned for an enhanced driving experience.
Like the earlier special edition, the new version comes with a dedicated Ohlins sports suspension setup with 80 per cent stiffer springs compared with the regular S60 R-Design.
Likely as a response to criticisms given the S60 Polestar's braking system, Polestar has developed a much-improved setup with 371mm six-piston Brembo brakes for the front to ensure maximum stopping performance (up from 336mm).
Other distinguishing highlights include a new bodykit with sharper, more aggressive styling cues, a more pronounced front spoiler, a chunkier rear diffuser, and optimised underbody airflow. Volvo says the package offers increased downforce at high speed.
Robert Dahlgren, Polestar racing and test driver, recently spoke about the development of the new version, saying,
"We have continued our work to create a true driver's car which is not limited only to a few specific driving conditions, but enjoyable on everything from your favourite winding roads to taking the family for a long journey, no matter summer or winter. And in my view, we have gotten very close to our goals, something that of course is best experienced first-hand behind the wheel."
It's unknown at this stage if Volvo Australia will introduce the new model Down Under. It will be available in both S60 sedan and V60 wagon formats in Canada, the Netherlands, Japan, Sweden, Switzerland, UK (V60 wagon only) and the USA, with further markets to be announced next year.
Production will being in 2014 with customer deliveries scheduled to take place in June.
See below for the full technical details:
2014 Volvo S60/V60 Polestar Technical Specifications:
Performance
0-100km/h 4.9 seconds
0-200km/h 17.7 seconds
Top speed 250km/h – Electronically limited
Chassis
Polestar Ohlins shock absorber system
Polestar bespoke rims, 8×20-inch ET53 with 245/35R20 tyres
Engine
Six-cylinder inline T6 engine, 2953cc
257kW@ 5700rpm
500Nm @ 2800-4750rpm
Max 6500rpm
New twin-scroll Borg Warner turbo
New intercooler
Polestar 2.5-inch stainless full-flow exhaust system with twin 3.5-inch tailpipes
Weight
V60 Polestar: 1822 kg
Transmission
AWF21 automatic gearbox with paddle shift system
Polestar transmission calibration for faster gearshifts, launch control and curve-hold functionality
Polestar Haldex calibration for more rear torque dynamic distribution
Polestar calibrated stability control system
Brakes
Front: Polestar/Brembo six-piston brake calipers
371x32mm ventilated and floating Brembo discs
Rear: 302x22mm ventilated discs