Toyota Australia has announced the updated 2014 Toyota HiLux, offering new features, more safety, and an extensive 22-variant lineup.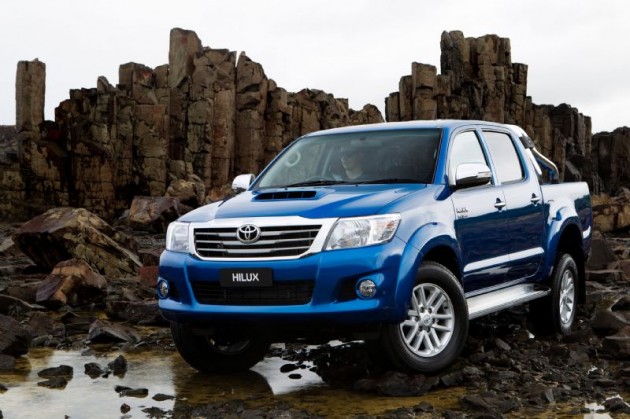 The highlight change for Australia's most popular ute is the shift from a four-star ANCAP safety rating to the full five-star rating. It joins only a few other utes on the market that represent five-star safety.
There's a new five-speed automatic introduced which not only provides an additional ratio to the outgoing version, it also helps to improve fuel economy by over six per cent. For example, the 4×4 turbo-diesel variant now consumes an average of 8.7L/100km.
Other changes include a reversing camera and satellite navigation with live traffic updates on a 6.1-inch screen for the SR5, and 17-inch alloy wheels for the SR5 Extra Cab.
As for the rest of the range, there's a freshened up interior with a new entertainment unit on all models, new trim colours, and new materials used throughout.
No major changes have been made under the bonnet. The 3.0-litre turbo-diesel four-cylinder continues to produce 126kW and 343Nm, while the 4.0-litre petrol V6 develops 175kW and 376Nm. Entry-level models come with a 2.7-litre four-cylinder petrol producing 116kW and 240Nm.
All variants are priced slightly higher than the outgoing range. See below for the full listing, including the price changes (excluding on-road costs):
2014 HILUX 4X2
PICK-UP
2.7-litre 4-cyl petrol Workmate manual
$27,490
+ $500
2.7-litre 4-cyl petrol Workmate automatic
$29,740
+ $750
3.0-litre 4-cyl turbo-diesel SR manual
$33,990
+ $1,000
4.0-litre V6 petrol SR automatic
$38,490
+ $1,000
4.0-litre V6 petrol SR5 automatic
$45,990
+ $1,000
2014 HILUX 4X4
CAB-CHASSIS
3.0-litre 4-cyl turbo-diesel SR manual
$40,990
+ $500
PICK-UP
3.0-litre 4-cyl turbo-diesel SR manual
$42,490
+ $500
3.0-litre 4-cyl turbo-diesel SR auto
$45,240
+ $750
3.0-litre 4-cyl turbo-diesel SR5 manual
$51,740
+ $750
3.0-litre 4-cyl turbo-diesel SR5 auto
$54,490
+ $1,000
4.0-litre V6 petrol SR5 automatic
$54,490
+ $1,000