The 2014 Toyota FJ Cruiser is one of those vehicles that's full of life and energy. It's a real comical, characterful vehicle, which is rare these days. However, are its days numbered in the Australian market?
While production of the mighty FJ will come to an end in the US next year, the model is set to live on in Australia thanks to our market sourcing its inventory from Japanese production. It's a bit sad as it was originally designed for the US, but there, sales haven't been doing as well as Toyota had hoped. In Australia, sales are around double what the local company projected, with an average of 200 per month driving off showroom floors.
For the 2014 version, not much has changed. It's still based on the technically flawless – for a focused off-roader – Prado platform, and it carries over the 200kW 4.0-litre 'big-block' V6. Only now it's fed via a 159-litre fuel tank so you can go adventuring for well over 1200km before needing to refuel. It also comes with minor updates inside and out, and a new paint colour called Retro Blue (as tested) which harks back to the original FJ40 LandCruiser.
It continues as one model line in Australia with the petrol V6 matched up to a five-speed automatic transmission. Prices start at $47,990.
2014 Toyota FJ Cruiser – THE SPECS
Engine: 4.0-litre petrol V6
Output: 200kW@5600rpm / 380Nm@4400rpm
Transmission: Five-speed auto
Drive type: Part-time four-wheel drive, electronic centre and rear diff locks
Wheels: F: 17×7.5, 265/70  R: 17×7.5, 265/70
ANCAP: Not tested (Prado: five stars)
Kerb weight: 2000kg
Power-to-weight: 10:1 (kg:kW)
Official fuel economy: 11.4L/100km
Economy during test: 11.8L/100km
Fuel capacity/Type: 159L/95 RON
Power efficiency: 17.5kW:L/100km
0-100km/h as tested: 8.2 seconds
Priced from: $47,990
2014 Toyota FJ Cruiser – THE PACKAGE
The overall theme of the FJ, as you can probably guess by looking at it, is a synergy of heavy-duty and retro. As soon as you jump in you're smacked in the face with a fancy body-coloured dash that looks like it comes from the 1950s, in a cool kind of way, and then you look down and notice the floor is almost completely made up of rubber matting. The seats are covered in a special water-repellent material, yet the windscreen could be mistaken for something taken from a hotrod 'chop-top'.
Just about all of the controls are big and industrious and help you get on with whatever job it is you're doing. We love the huge gear shifter and the rubber-coated handbrake. Even the air vents are embedded into a pipe-like structure that runs across the dash. It's cool and it would certainly take a long while to get bored of the cabin surroundings.
Although it does come with a central one-size-fits-all touch-screen interface, with sat-nav, the unit is the old system Toyota implanted into the dash of almost all of its vehicles. Its tiny buttons within the screen and fidgety menus are cumbersome. You really need to get used to it before you can hastily jump around between menus and functions without hitting the wrong button.
It's no secret Americans love big cars. And the FJ has been designed to fit the bill. Front seat legroom and headroom is plentiful. In fact, the whole cabin is huge. Glancing up into the opposite front corner of the windscreen feels like it's miles away.
Speaking of vision, the bonnet sits quite high and you are very aware you're in a big, chunky off-roader. As a result, the exterior proportions can be a bit tricky to judge. Rear vision through the typical blind-spot area is heavily restricted due to the enormous B-pillars and almost-as-thick C-pillars in the corners.
In the back, the suicide doors help to provide a sporty coupe shape on the outside and they make it easy for passengers to climb onto the three-seat bench. There, they'll find loads of headroom, but legroom is mildly restricted. Each side seat passenger is presented with a meaty grab-handle on the backs of the front seats to hold onto when the going gets rough.
So, you might be wondering, is this vehicle only about making a big impression with its funky design? We can tell it's definitely not. Underneath it all, as we said, it's a Toyota Prado; a pure off-road machine. It comes with heavy-duty part-time (rear-wheel drive in default setting) four-wheel drive running gear all protected by thick skid plates. There's also an electronic centre diff (behaves like a diff lock) and a lockable rear diff, high and low range, descent crawling, idle control, and switchable active traction management for really serious situations.
In the cargo area the floor is covered in robust hard plastic so you can chuck anything in there, wet or dirty. Two 12V sockets are on the wall too for accessories, and the rear seats can be folded flat to open up 1891 litres of space (790L with the rear seats up).
2014 Toyota FJ Cruiser – THE DRIVE
On the road it's far from the most sophisticated drive. The steering feel is not what you would call engaging, and the engine and driveline, while quite smooth and direct, are fairly noisy together. The big 265/70 tyres roar out on the highway as well, and the quick gearing means abrupt acceleration off the mark is followed by weakened overtaking torque.
Body roll is quite evident when you're driving around the street, particularly body dive and throwback during stop-start conditions. However, it is expected on a vehicle like this with such an off-road prepared undercarriage. It offers 224mm of ground clearance and long suspension travel.
In saying that, it is fairly easy to drive with nicely weighted steering. Aside from toppling forward and back under braking and acceleration, the handling and the way it behaves under pressure is not too bad for a proper off-road rig. It's pretty similar to the Prado. The high-wall tyres are obviously a hindrance if you're planning on whipping around roundabouts and tight S-bends in a hurry, but it is surprisingly eager and doesn't mind being thrown around a bit.
In our opinion, there are no other vehicles on the market at the moment that handle better than this on the road that also offer similar off-road capability. This vehicle could be used as a daily driver with no problem. The turning circle is surprisingly tight, which is great when you're trying to weave around in an annoyingly small car park.
Powering the FJ is Toyota's widely used 200kW V6. It has lots of grunt and shoves you forward with immediate throttle response off the mark. We timed 0-100km/h in 8.2 seconds – a decent time for a 2000kg SUV.
If you buy this vehicle you simply must take it off road to appreciate what it's all about. It's utterly unstoppable off road. And it loves it. With its high ground clearance, 36-degree approach angle, 31-degree departure angle and 29-degree break-over angle, it can clamber over pretty much anything you'd expect to find along a difficult 4×4 track. Toyota says these figures are the best of any 4×4 model in the local showroom.
During our test we decided to go for an adventure up a hill climb in the Jellore State Forest. The hill is notorious for large rocks and steep sections.
On the first attempt in regular four-wheel drive mode we did struggle with wheelspin. Locking the rear differential and selecting the 'A-Trac' traction management (virtually a centre diff lock) makes the vehicle truly obstinate. It simply forges through no matter what.
Fortunately, the roar of those large tyres pays off when off road, as they are able to flex and wrap themselves around the rocks and small boulders, making progress even easier.
We simply couldn't get stuck with all systems engaged. There is no doubt, the FJ remains as one of the most impressive factory off-road vehicles on the market at the moment. If not the best.
2014 Toyota FJ Cruiser – THE VIDEO
2014 Toyota FJ Cruiser – THE VERDICT
Sure, the on-road drive isn't divine and the five-speed auto is getting a bit old now, but when you take into account what this vehicle is intended for, you come to realise you can't really mark it down for being the way it is. It'd be like saying a pair of gumboots are bad because they're always dirty; it's kind of the point of gumboots in the first place.
We love the FJ Cruiser. It's a creative approach to the off-road automotive world and it does the original FJ LandCruiser proud. It's vehicles like this that keep the excitement going in the auto industry. Let's hope it lives on in Australia for years to come.
PROS:
– All-terrain preparation; ground clearance, underbody protection
– Funky retro design in and out; never boring
– Decent level of standard equipment
– Powerful engine, quick too
– Reasonably priced

CONS:
– Lots of plastic
– No diesel option; it's thirsty
– Not as family friendly as some rivals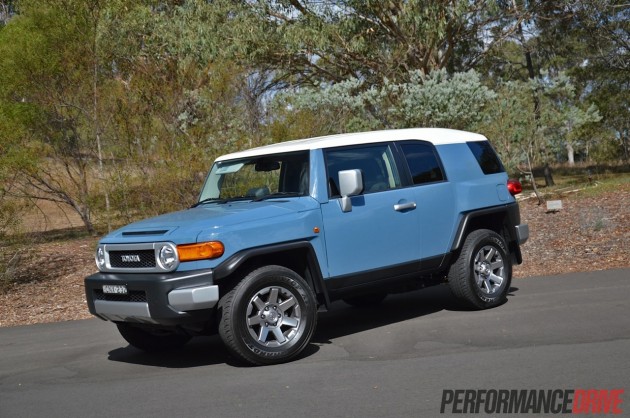 2014 Toyota FJ Cruiser – THE COMPETITORS
Jeep Wrangler Unlimited Rubicon
3.6-litre V6 – 209kW-347Nm – 11.9L/100km – 2073kg – from $49,000 (auto)
Mitsubishi Challenger
2.5-litre turbo-diesel four-cylinder – 131kW-350Nm – 9.8L/100km – 2000kg – from $44,990 (auto)