An image of the all-new 2020 BMW M3 G80 has surfaced on social media, showing the rear end of the performance sedan in full view for the very first time. It certainly looks aggressive.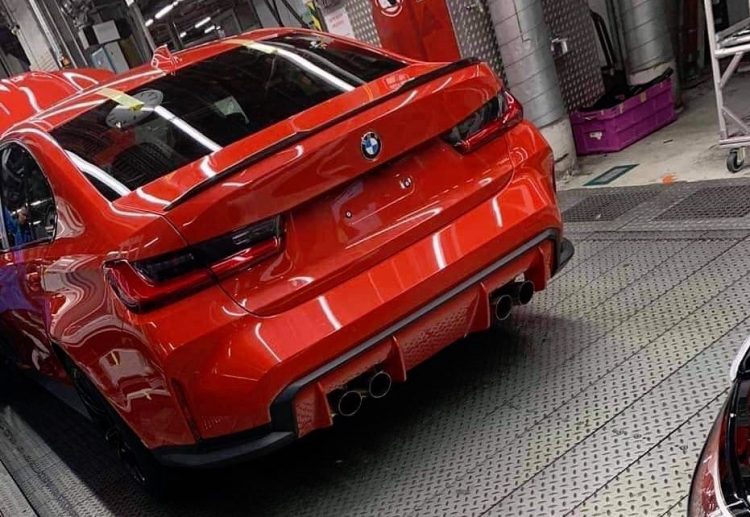 The G80 M3 continues to undergo development and testing, with spy videos still popping up from trackside at the Nurburgring. In fact, a new video surfaced just this week, capturing some moments of test drivers pushing prototypes hard enough to the point of oversteer.
This is an interesting point actually, oversteer. A BMW exec has confirmed the new model will be offered with an all-wheel drive system. However, it is expected to be switchable to rear-wheel drive like the latest M5. For really hardcore drifting fans, and perhaps the more pure M3 enthusiasts, there's also set to be an 'M3 Pure' variant on the way with rear-wheel drive as standard.
As for this sneaky photo, it appears somebody has taken the snap on the production line at BMW. Isn't it strange how sneaky photos like this never seem to show the car in the centre of the image? They always cut off half the car. Surely, if the person has their phone out why not take an extra 0.5-second to centre the image?
Anyway. The photo does show the rear end in full, including a somewhat off-putting colour-coded rear diffuser. We're not sure if this will be an option. There's also a traditional lip spoiler on the boot, and it looks like the rear wheel arches are heavily pumped out to accommodate larger and wider wheels and tyres.
In terms of specs, it has pretty much been confirmed it will be powered by BMW M's new S58 3.0-litre twin-turbo inline-six engine. This unit made its debut in the X3 M/X4 M, and it is expected to carry over the same 375kW/600Nm outputs. Although, the Pure variant is set to be tuned down to around 353kW. Both a manual and auto will be available, again, likely depending on the Pure and regular variants.
Given that production appears to have already commenced, we'd anticipate a debut some time very soon. BMW might use the LA auto show next month, or the Geneva show in March to reveal the iconic sports sedan. In the meantime, check out the spy video below to see it in action in prototype form.