While the new Honda Civic Type R Australian introduction could be pushed back until 2017, it looks like we might be getting the NSX as soon as this year.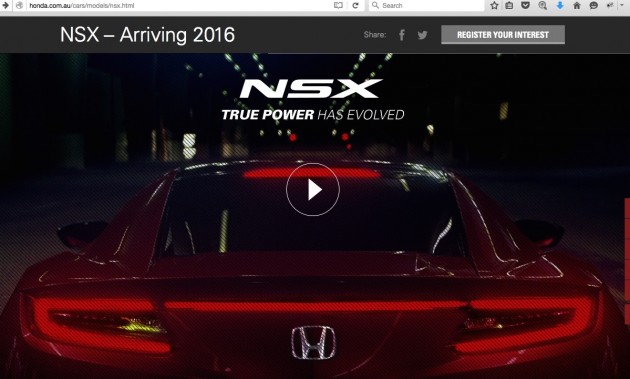 The official Honda Australia website is currently asking local punters to register their interest for the new NSX, which is apparently "arriving in 2016". The all-new, turbocharged hybrid supercar is yet to even arrive in international markets.
Specifications for the NSX were confirmed late last year. And although it's switching from its naturally aspirated philosophy, the performance sure speaks for itself.
Behind the cabin is a 3.5-litre twin-turbo V6 producing 373kW and 550Nm. Connected to this are three electric motors, combining to generate a whopping 427kW and 645Nm. It's all sent through a nine-speed dual-clutch auto transmission with all-wheel drive. Acceleration from 0-100km/h takes around 3.0 seconds.
Honda Australia has previously confirmed the supercar will go on sale locally, however, most suspect it will be a limited production model. With this level of performance, the starting price is likely to be well above AU$170,000. In fact, we'd be guessing the technology-packed Honda to be priced above the Nissan GT-R, which starts at $182,500.
Production, which takes place at Honda's Ohio plant in the USA, will start very soon. Showroom entry in the USA is set to commence in the first half of this year. An Australian debut will probably take place later in 2016.