Utterly gorgeous to look at with a breathtaking twin-turbo V8 soundtrack. The 2013 Audi S7 is one desirable machine. It's a pity it's a limited edition only.
PerformanceDrive was recently invited to sample some of Audi's latest performance cars, which gave us an opportunity to go for a proper test drive in vehicles such as the TT RS Plus, RS 4, R8, A6 TDI Biturbo, and the S7. Stay tuned for 'quick spin' reviews of the other models.
PROS:
Awesome V8 soundtrack accompanied by loads of grunt
Plush ride; air suspension
Stunning take on the four-door coupe layout, looks superb from every angle
Filled with highly advanced technology
CONS:
Feels heavy, especially through the steering/corners
Is heavy; 2020kg means it's well over 100kg fatter than its rivals
Not the most engaging and communicative steering
What is it?
The Audi S7 is Audi's answer to the BMW 650i Gran Coupe and the Mercedes-Benz CLS 500. Based on the Audi A7 Sportback, the S7 is the most extreme and highest performance large four-door coupe the company sells.
While it falls short of the top-shelf BMW M6 Gran Coupe and the Mercedes-Benz CLS 63 AMG, in terms of sheer performance and power, the S7 has got to be one of the sexiest vehicles alive? It oozes all kinds of elegant, erotic, and enticing body themes, with its rear spoiler automatically erecting at high speeds and a very swept down curvy rear end. There's also strappings of carbon fibre throughout the interior making for a truly exotic cabin experience.
Muscle comes in the form of a new 4.0-litre twin-turbo V8 engine producing 309kW of power and 550Nm of torque. It sounds, as you can read below, bloody fabulous. Acceleration from 0-100km/h takes just 4.7 seconds.
Unfortunately, the S7, along with the Audi S6, is a limited edition. Just 50 examples are headed for Australia and all but three have apparently been accounted for.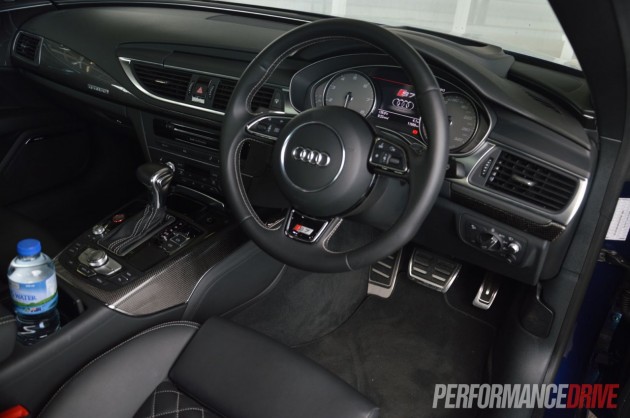 What's it like to drive?
Like the BMW 650i Gran Coupe, the S7 is not a dedicated performance car. It's a luxury cruiser that's capable of pampering its passengers with the finest in-car technologies, while also offering serious acceleration and speed.
Despite an advanced construction comprising of 20 per cent aluminium, the S7 weighs in at a class-topping 2020kg, which is a lot for anything other than a large SUV. If it's any consolation, there is an all-wheel drive system incorporated into that weight, something the rivals don't offer.
As a result, the S7 does feel heavy behind the wheel. More so than the BMW rival (we haven't sampled the Mercedes). The steering is also a touch behind par in terms of sheer driver engagement and enthusiasm. It feels secure but a little bit boring, even in 'Dynamic' driving mode.
Okay, so, if you're in the market for this type of wafty yet gusty cruiser, you're probably not too worried about agility or pin-sharp go-kart-like precision. You're likely going to be interested in being able to simply obliterate cars on the highway in majestic comfort, and show off an awesome V8 orchestra while you're at it.
If this is you, you need to test drive the S7. The air suspension setup makes roads feel like they're as smooth as glass, and getting past other traffic? You need only dab the throttle to hear two turbocharges hissing and gasping as the V8 surges ahead like a train. And we mean 'dab the throttle'; 550Nm is available from just 1400rpm.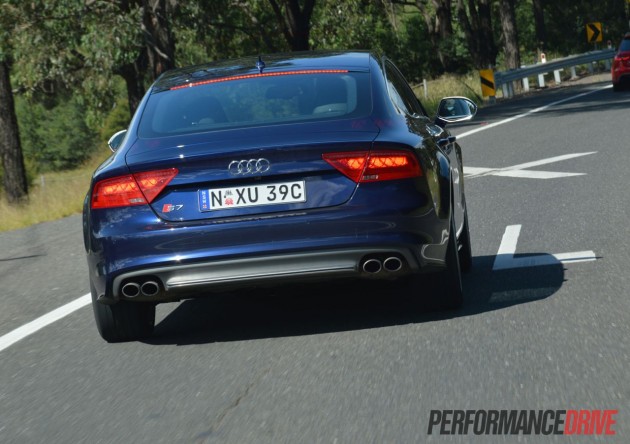 The engine sound is, in our opinion, one of the best things about the S7, apart from the gorgeous looks of course. It gives off a metallic V8 burble and bark. It's super-refined too. Pair that with the aurally and physically stimulating turbochargers and you've got yourself an imperial powertrain package.
Like the exterior, the interior of the S7 is modern and innovative yet highly professional, with a kind of quality performance appeal. Reels of carbon fibre stretch across the dash and along the centre console, while the quilted leather sports seats feel as good as they look.
While we didn't get time to go over all of the in-car technologies, a few that stand out include the adaptive air suspension with four different selectable modes, the huge multimedia interface including digital TV reception and a 14-speaker Bose sound system, as well as the seven-speed dual-clutch gearbox with paddle shifters and goosebump-inducing blipping on the downshifts. There's also special speakers housed in the cabin to cancel out any odd engine sounds that may be given off during the car's fuel-saving cylinder deactivation transitions.
Should you want one?
If you're not attracted to the design, there's probably something wrong with you. The style of this thing in person is enough to want it quite badly indeed. The brilliant engine with bags of power and torque puts a very big smile on your face, while the technology is certainly up there with the best of them.
It's the overall atmosphere that this car seems to have around it that makes it special for us. It's like a force field of some kind, and once you're within its zone you just want to remain within it; it demands huge presence and respect on the road.
One minor downside is there's only two seats in the back, like the Mercedes-Benz CLS. If you can live past this, which we're sure you can, and aren't too bothered about its fatness, you should want one. It's a pity only around three are left.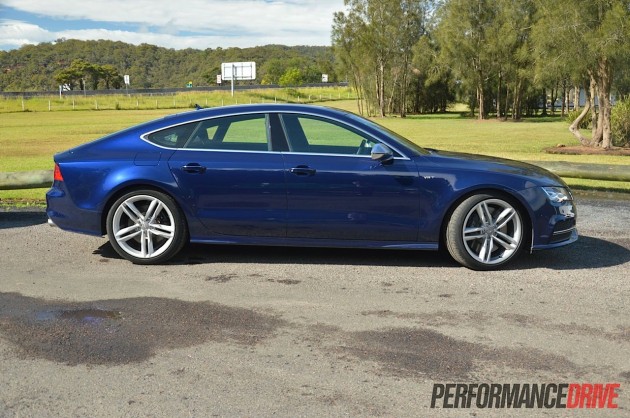 Quick specs:
MODEL
2013 Audi S7
ENGINE
4.0-litre TFSI twin-turbo V8 with direct injection
POWER
309kW@5500rpm-6400rpm, 550Nm@1400rpm-5200rpm
POWER TO WEIGHT RATIO
6.5: 1 (kg:kW)
KERB WEIGHT
2020kg
DRIVETRAIN
Seven-speed dual-clutch 'S tronic' auto transmission, all-wheel drive with self-locking centre differential
FUEL CONSUMPTION
Official average: 9.6L/100km
PERFORMANCE
0-100km/h: 4.7 seconds (official)
PRICED FROM
$179,900