Regarded as the most user-friendly and practical supercar currently on the market, the 2013 Audi R8 V8 is now more efficient than ever, quicker, and filled with more technology. Is it too conservative for a supercar though?
PerformanceDrive was recently invited to sample some of Audi's latest performance cars, which gave us an opportunity to go for a proper test drive in vehicles such as the TT RS Plus, S7, RS 4, the A6 TDI Biturbo, and the R8 V8.
PROS:
Pure handling perfection, feels like an extension of your body
New S tronic dual-clutch auto is a gem, and a perfect match for the animated engine
Surprisingly comfortable (when the suspension is in normal mode) and spacious cabin
Incredible engine; 8000rpm V8
CONS:
Engine sound too quiet from within the cabin?
Linear power delivery means linear acceleration and g-force – could be taken as a good or bad thing
The design has been around since 2003 (inspired by the Le Mans quattro Concept), is it starting to age?
What is it?
Launched in Australia earlier this year, the 2013 Audi R8 V8 comes with a new dual-clutch S tronic auto transmission, as opposed to the previous R tronic single-clutch sequential type unit. (Customers can still opt for a six-speed manual as a custom order.)
It also comes with a revised 4.2-litre FSI direct injected V8 engine producing 316kW of breathtaking power at 7900rpm, and 430Nm of torque between 4500rpm and 6000rpm.
Essentially, the R8 has been Audi's first-ever and only supercar. The 2013 model showcases a mid-engine layout, a lightweight Audi Space Frame body (210kg), and a 43:57 front-to-rear weight distribution. This means the nose is very light and agile, while the rear remains planted (most of the time), if you want it to.
The revised engine is slightly more economical than the previous unit, consuming 0.9L/100km less, with an average of 12.4L/100km. Part of this improvement is down to the new transmission. The old R tronic was a co-development component created with Lamborghini and the Gallardo back in 2003. This new unit is not only quicker changing but also smoother and more efficient in transferring power.
One of the key highlights to the R8's extremely pleasurable driving experience is down to the quattro all-wheel drive system. Under normal conditions, 85 per cent of the power is sent to the rear wheels. If the conditions – or the driver – changes its tempo, up to 30 per cent of the power can be distributed to the front wheels to really pull the car out of and away from corners. As you can read below, the result is absolute driving bliss.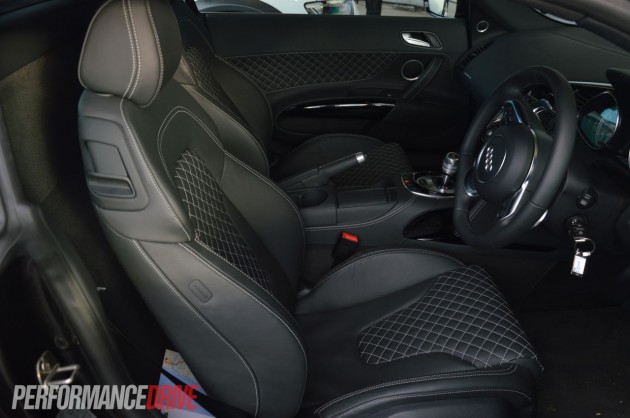 What's it like to drive?
The phrase 'where have you been all of my life' instantly circulates in your mind like a suddenly realised epiphany. It feels so natural, almost organic. It feels like it bends with corners like a human body leaning on a motorbike, and the engine snarls and yells out all kinds of wonderful songs. It's a spine-tingling experience.
Although 316kW doesn't sound like true supercar territory, the way the engineers have knit this engine together so tightly makes it feel like there is a lot more force going on. It feels like it's offering around 350kW.
The power is immediate with no hesitation from the drivetrain whatsoever. Even if you leave it in the conventional 'D' transmission setting and floor the throttle, the R8 kicks back, physically throwing you right back into your seat, while it bullets forward like a startled tiger. It's super impressive.
The power delivery is very linear too, so there is no pulsing bursts that give you a somewhat false sensation of acceleration, like what is experienced in a lot of turbocharged vehicles.
Acceleration from 0-100km/h comes up in 4.3 seconds. The time gives you an indication of how efficient and well-utilised the engine is; not many cars on the market with 316kW or less can achieve this time.
This immediacy of the engine synchronises beautifully with the new S tronic. As anyone who has driven a car with a dual-clutch gearbox will tell you, gear changes are basically seamless; the revs drop a few thousand rpm and yell their way back up to redline for another go.
Anyway, let's cut the techno chit-chat and get down to the icing on this automotive cake. The handling. No other all-wheel drive car that we've driven has felt so in tune and so together. It enjoys corners probably more than you do, and when you really take them on, really pushing it, it responds by smiling back at you, like the interaction of a father and son enjoying a ride at a theme park. It's magic.
The body feels like it swings and dances from corner to corner, and even squirms and slides around a little bit if you edge it on enough. At the same time, it's far from intimidating. It kind of feels like you're playing Gran Turismo or Forza Motorsport on a gaming console. If you tip it into a corner with a bit of urgent almost snappy attitude, the tail will give and gently step out. You only need to give it some throttle and the quattro wizard underneath will sort most of it out for you. In this sense, it is a user-friendly supercar as it won't bite you for getting a little frisky.
The driving position feels like you've just slumped into a leather bean bag and someone has handed you a steering wheel. It's utterly perfect. It's slightly laid back, following the form of the sleek, low profile exterior styling, while the dash is skewed towards you. It's one of those cars that, as soon as you get in, you just want to settle in and stay for a very long time. Taller drivers may find it a bit confined for headroom.
The controls and buttons on the dash don't bombard you like they do in some sports cars. If anything, it is a little bit boring inside – following in German vehicle tradition – however, if you take a closer look you'll see real polished aluminum fixtures and fittings. There's no doubt all of it is right up there with the high build quality standards of Audi.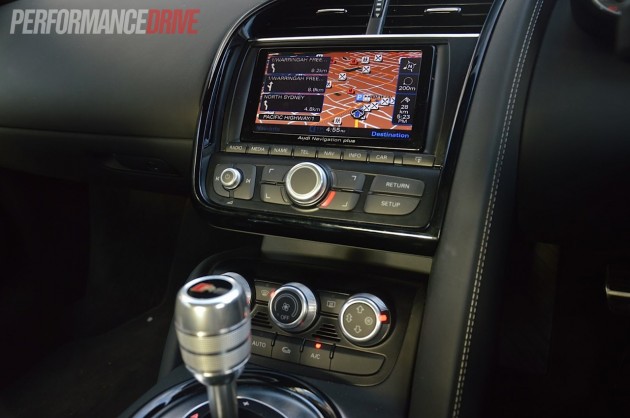 Should you want one?
You've probably heard a lot of great things about Audi's only supercar. It's often praised by motoring experts all around the world. We can tell you with absolute sincerity, from the moment you sit inside one, to that first drive, you might want to start contemplating the lifestyle of an 'open relationship', as you will fall in love with this machine and not ever want to get out.
At a smidge under $280,000, it is expensive. However, it is less expensive than any other supercar of this nature. If that's any bonus.
As for the downsides, we feel the styling is starting to age a bit now. It's stunning, but it was first seen in concept form back in 2003 as the Audi Le Mans quattro Concept. Since then, it hasn't really seen any significant updates apart from a few Audi-esque minor conformity changes.
The engine, while extremely linear as mentioned, isn't quite as thrilling as a turbocharged engine or an engine with more torque. You need to keep on it to get the most out of it. The level of 'most' is very high, but it is a bit like a racing car in that it won't overly impress you simply surging through traffic using its mid-range. Some regular run-of-the-mill vehicles can offer a more accessible region of performance and g-force in this respect.
Although the engine revs to oblivion, it doesn't sound as loud as you would hope. From within the cabin anyway. With the engine sitting right behind you, you get not only the good engine sounds but also the general clatter and whining of moving mechanical parts, such as the drive belts and pulleys. The sound deadening materials in between you and the engine compartment do muffle a lot of these out, as well as some of the more desirable noises.
To answer the original question then, yes, it is a conservative supercar. Whether it is 'too' conservative or not is beside the point really. It's still a supercar. And a very useable one that you can enjoy, Michael Schumacher or not.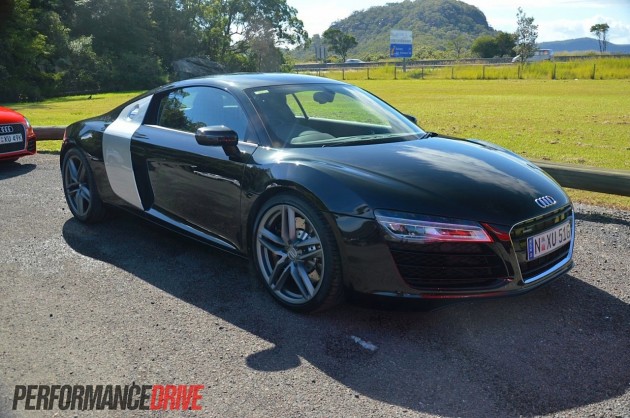 Quick specs:
MODEL
2013 Audi R8 V8
ENGINE
4.2-litre naturally aspirated FSI V8 with direct injection
POWER
316kW@7900rpm, 430Nm@4500rpm-6000rpm
POWER TO WEIGHT RATIO
5.2: 1 (kg:kW)
KERB WEIGHT
1660kg
DRIVETRAIN
Seven-speed dual-clutch auto transmission, all-wheel drive
FUEL CONSUMPTION
Official average: 12.4L/100km
PERFORMANCE
0-100km/h: 4.3 seconds (official)
PRICED FROM
$279,500