Before the new M5 came along BMW offered the M550i xDrive, available in overseas markets. It's an intermediate performance sedan that almost offers the same acceleration as the new M5. Renowned BMW tuner AC Schnitzer has come up with a package that helps give the model are more sporting look.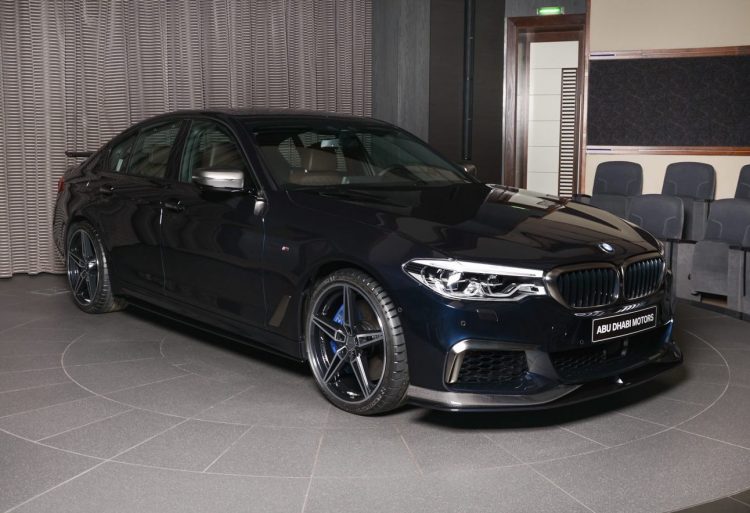 The M550i uses a 4.4-litre twin-turbo V8 in standard form that produces 340kW and 650Nm. Across the 0-100km/h sprint it takes just 4.0 seconds, partly thanks to an all-wheel drive system and quick-shifting eight-speed automatic.
Featured on BMW Abu Dhabi's Facebook page, the AC Schnitzer version gains a neat bodykit with a carbon fibre front lip spoiler, a decent-size carbon wing for the boot, and a chunkier rear diffuser setup underneath supporting quad-outlet exhausts.
No changes are made under the bonnet, so the performance is pretty much the same as the standard model. However, a freer-flowing sports exhaust system no doubt helps give the 5 Series a more vocal presence. It probably adds a few horsepower as well.
AC Schnitzer does offer engine computer upgrades for the G30 5 Series, and indeed the M550i. Power can be lifted to 405kW with minor modifications. And the good thing is the company offers up to five years warranty on its packages so you have some peace of mind with the extra oomph.
The M550i isn't offered in Australia but BMW owners can enjoy AC Schnitzer upgrades through local importers. Fans of performance 5 Series models will soon welcome the new M5 which is scheduled to arrive in Australia in the coming weeks.