When it comes to off-road performance, you can almost always count on Toyota being up there with the best of them. The 2012 Toyota FJ Cruiser is no different. It manages to blend that renowned 4×4 pedigree with fun quirky styling and innovative functionality.
2012 TOYOTA FJ CRUISER – PROS AND CONS
PROS:
Excellent off-road capabilities
Loads of grunt from the 200kW V6
Innovative functionality and storage solutions
Quirky styling helps it stand out from the rest
CONS:
Very poor fuel consumption
Some creaks and rattles inside
Lots of very hard (brittle in the future?) plastic
Seesaw-effect suspension when braking in traffic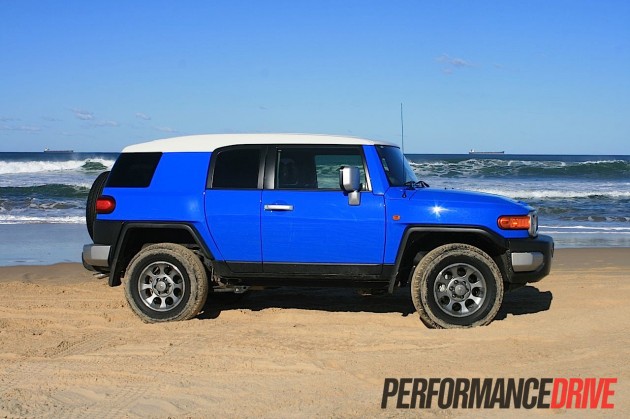 2012 TOYOTA FJ CRUISER – OVERVIEW
You might be thinking that it looks a little bit like a cartoon caricature of the old FJ LandCruiser. And you'd almost be correct; it's a modern interpretation of the classic 4×4, designed to rekindle the rugged LandCruiser spirit.
Based on the Toyota Prado, the FJ Cruiser features funky body styling, five seats with a set of innovative reverse-swinging rear doors, and plenty of Toyota's finest mechanical technology to ensure it can handle the roughest and toughest of terrains.
Just one variant is available. It features Toyota's 4.0-litre V6 petrol engine producing 200kW of power and 380Nm of torque, backed up by a five-speed automatic transmission. Unfortunately, there is no turbo-diesel option.
This unique SUV was first introduced in Australia last year. For the 2012 model year, the Cruiser now comes standard with a Toyota satellite navigation system and full colour multimedia screen embedded in the dash.
Prices start at $46,490 – up $1500 from the 2011 model. So, should you buy one? And, is it a vehicle worthy of carrying on the FJ nameplate?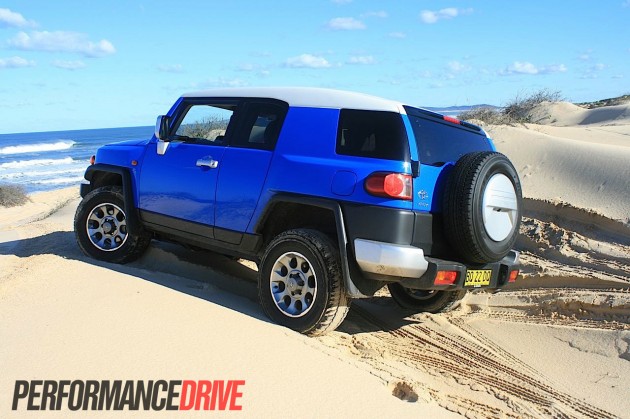 2012 TOYOTA FJ CRUISER – ACCOMMODATION AND EQUIPMENT
The 2012 Toyota FJ Cruiser comes with a lot of standard features that you'd expect on a modern-day off-roader, such as heavy-duty suspension, air-conditioning, power windows and mirrors, and a low-range 4×4 setup with a rear differential lock.
This is all great, but we feel it's the finer details that make the FJ Cruiser an interesting and appealing package. Features such as the ratchet-style individual front centre armrests, the locking tailgate gate strut to stop it swinging shut, and the array of thick grab handles and levers.
There are also two grab handles for rear seat passengers on the front seat backs, giving you a hint to the FJ's eagerness to get down and dirty.
On the outside, the FJ comes with 17-inch alloy wheels wrapped in 265/70-profile tyres; thick black plastic front and rear bumper bars with silver highlights; black 'scratch-resistant' wheel arches, as well as plenty of underbody protection plates.
Speaking of underbody equipment, the FJ gets a comprehensive part-time four-wheel drive system. During normal driving, the FJ is rear-wheel drive, however, there is a four-wheel drive mode with low-range. (We'll go into more detail in the 'off the road' section down further.)
In terms of the important numbers, the FJ Cruiser offers a very good approach angle of 36 degrees and departure angle of 31 degrees. There's also a ground clearance of 224mm. All these figures are near or beyond the class standards. (Jeep Wrangler 35 degrees, 28 degrees, and 220mm, respectively.)
2012 TOYOTA FJ CRUISER – DESIGN AND SAFETY
The design. Where to start? There are a number of signs that point towards the original FJ LandCruiser design philosophy, such as the semi-isolated front wheel arches and narrow front grille.
The headlights are also mounted towards the centre of the front end, while the protruding roofline and white roof harks back to the original as well. Everything else is unique and steps away from the more common SUV traits.
At the back, the FJ looks like a concept car. Take a look at those massively thick C-pillars, the rear corner D-pillars are mostly blacked out as well making it really stand out as something different. It also features futuristic taillights and a bulky rear bumper overhang.
Whether it all looks good or not is down to individual tastes. Some are going to say it looks striking and imposing, while others will point out the bulky sections, saying they're ugly because they are not in tune with today's fashions.
The quirky themes are carried over inside too. There are body-coloured inserts and plenty of silver highlights to give the layout some contrast. The interior is a very interesting place to be; you get the feeling that it would take a long time before you'd become bored of it all.
There's plenty of ruggedness and enthusiasm inside; the floor mats are rubber so you can simply hose them down, while the floor of the cargo area is plastic so you don't have to worry about muddy boots and accessories staining carpet.
Some of those bulky 'man-sized' features can become a little too overwhelming though, such as the huge side mirrors that do block intersection vision. That manly gear lever is very easy to accidentally bump into another gear when reaching across to parts of the dash or when exchanging items with your passenger and so on as well.
As for safety, the 2012 Toyota FJ Cruiser comes with electronic stability and traction control. These systems are altered in A-TRAC off-road mode to suit loose surfaces (more on that below).
It also comes with front airbags, side airbags, and curtain airbags front and rear, as well as height adjustable headlights, and a reverse parking camera. In terms of ANCAP ratings, the FJ Cruiser has not been tested, however, the Prado – the vehicle the FJ is based on – has been awarded five stars.
2012 TOYOTA FJ CRUISER – ON THE ROAD
Even though the FJ is obviously a fairly big and hefty (2000kg) brute, it is surprisingly easy to drive on the road and around town. The steering is evenly weighted and there isn't excessive turns lock to lock.
It does lean a bit into corners when you roll into them, but once power is fed in the outfit remains relatively flat; certainly acceptable for this style of vehicle.
The heavy-duty suspension, consisting of independent front and live-axle rear, is comfortable on the road. There is minor bouncing, typical of this type of vehicle, however, the FJ does dive a lot under braking.
In terms of the performance, the FJ Cruiser is quick. And not only by SUV standards, but by sedan standards as well. We timed 0-100km/h in 8.6 seconds, which is slightly quicker than an auto Honda Accord Euro.
The five-speed auto is a little behind on cog count in terms of market standards, but it does work well with the engine, and downchanges automatically when trailling the brake downhill. We can't help but think a six-speed auto could have improved fuel economy.
Speaking of fuel economy, it is basically the FJ's major pitfall. It's not very good at all. We averaged roughly 13L/100km, achieving around 530km from a full 72-litre tank of fuel. And that doesn't include off-road driving.
Being based on the Prado, you'd think Toyota would produce a 3.0-litre turbo-diesel option for FJ. But nope, Toyota has opted for petrol only.
Petrol has been known to be more reliable in some serious off-road conditions, and servicing is generally cheaper. Still, the option would have been nice for those who simply want a cool daily driver that's also a great getaway vehicle for once-a-month camping voyages.
2012 TOYOTA FJ CRUISER – OFF THE ROAD

As you can see by our images, we decided to take the FJ Cruiser to a beach to see if we could get it bogged. More specifically, one of Newcastle's open beaches.
When we first arrived, we decided to leave the FJ to it's own devices. We didn't let the tyres down and we put the drive system into normal high-range four-wheel drive.
The FJ performed well, however, with the stability and traction control still engaged, the engine never had the chance to rev and ford through the soft sand; the electronics kept cutting in to save, what it thought, was a vehicle losing control. Understandably.
Failing at that, we decided to stop stuffing around and let considerable air out of the tyres (leaving around 12psi). We also activated the electronic rear differential lock (dash button), and engaged the FJ's low-range transmission mode.
In this setting, the stability and traction control is turned off automatically. If you still want to rely on electronic devices, there is a system called A-TRAC (Active Traction Control) which can be selected via a button on the dash.
Without the A-TRAC we were able to keep the revs high and keep the wheels turning. It was fun slipping and sliding around, proving to be an excellent performer. The only time we encountered trouble was when we purposely attacked very soft uncharted hilly sections. But even then, we didn't need to rely on our back-up vehicle to tow us out, we just whacked it into reverse and continued on.
With the A-TRAC system on, we noticed less wheelspin, and, more interestingly, less lateral movement/sliding. In sandy conditions, it is very difficult for the computers to try and sort out what's best, and we found that leaving it off for the sand was the suitable option.
We also tackled some muddy hills in another area, and the A-TRAC system proved to be quite effective; the drive felt safer and more secure for more of the time with the system switched on in the mud.
2012 TOYOTA FJ CRUISER – VERDICT
Sure, the styling is a bit quirky, and the rear doors take a little getting used to, but the overall personality of the FJ Cruiser is fun and attractive. It's also no slug out on the road, there's loads of room inside for five – despite being a semi-coupe – and that price means you are getting a lot of Toyota's off-road tech at excellent value.
Toyota has done a great job of breaking out of its notoriously 'boring and bland' mould with the FJ by offering something that packages all of its expertise into one fun vehicle. And as a result, it is one of the very best off-road vehicles on sale today.
The only shame is there is no turbo-diesel, or at least a more fuel-efficient option, otherwise, we'd certainly like to put our names down for one that's for sure. If power trumps consumption worries, the FJ Cruiser is hard to beat.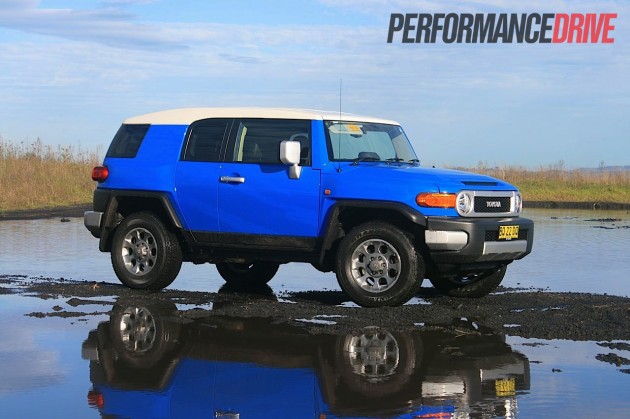 2012 TOYOTA FJ CRUISER – THE COMPETITORS
Jeep Wrangler Unlimited Rubicon – 3.6-litre V6 petrol, 209kW/347Nm – 2073kg – $46,000
Full of off-road-ready components and gadgetry. Excellent off-road performance. Not really in its comfort zone on road; can get tiresome.

2012 TOYOTA FJ CRUISER – SPECIFICATIONS
MODEL
2012 Toyota FJ Cruiser
ENGINE
4.0-litre V6 petrol with double overhead cams and VVT
ENGINE SIZE  / COMPRESSION RATIO
3956cc / 10.4:1
BORE X STROKE
94mm x 95mm
POWER
200kW@5600rpm, 380Nm@4400rpm
POWER TO WEIGHT RATIO
10: 1 (kg:kW)
KERB WEIGHT
2000kg
HEIGHT / WIDTH / LENGTH
1830mm / 1905mm / 4670mm
DRIVETRAIN
Five-speed auto transmission, part-time four-wheel drive with rear centre differential lock and Active Traction Control
BRAKES
F: Ventilated discs, two-piston calipers
R: Ventilated discs
WHEELS / TYRES
F and R: 17 x 7.5-inch, 265/70 R17
FUEL TANK CAPACITY
72 litres
FUEL TYPE
91 RON unleaded
FUEL CONSUMPTION
Tested average: 13.1L/100km
Official average: 11/4L/100km
PERFORMANCE
0-100km/h: 8.6 seconds (tested)
PRICED FROM
$46,490
WARRANTY
Three-year/100,000km