Audi Australia is announcing the new 2012 Audi A5 Coupe, Sportback and Convertible facelift, with fuel savings across the board, and a new entry-level 1.8 TFSI engine. The new 2012 Audi S5 has also been announced.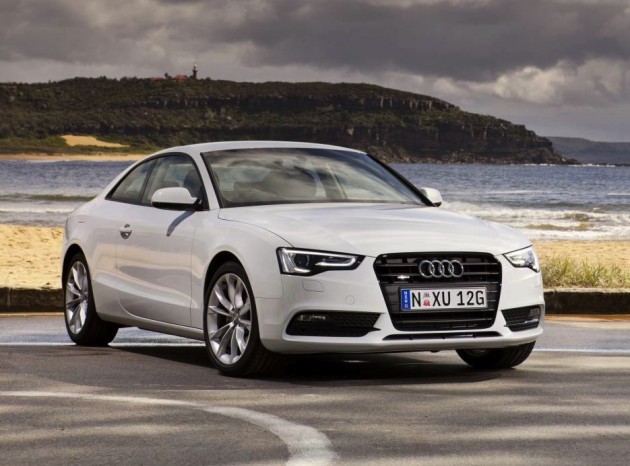 Kicking off the facelifted 2012 Audi A5 range is a new 1.8-litre TFSI turbocharged four-cylinder engine producing 125kW and 320Nm. Fuel consumption is rated at 5.9L/100km.
Joining the entry-level range is a new 2.0-litre TDI option which produces 130kW and 380Nm. It has an average fuel rating of just 4.8L/100km. Both of the new engines are available across the range, for the Coupe, Sportback and Convertible.
Making up the mid-range option is a 2.0-litre TFSI four-cylinder engine, producing 155kW. This variant is the only version available with a manual transmission.
As for styling changes, the facelift comes with a range of subtle updates, including new slimmer headlights in the form of Audi's latest design language, while inside there's a revised instrument cluster with new trimmings, and a new sports steering wheel.
The new S5 is available in all body styles, coming with a 3.0-litre TFSI engine producing 245kW of power and 440Nm of torque. In the Coupe its able to propel the S5 from 0-100km/h in 4.9 seconds, while offering an average fuel consumption rating of 8.1L/100km.
The new model will be available in Australia in April. Prices and respective fuel and power ratings are as follows (pricing excludes on-road costs):
Model                                                           Power     MLP                       L/100km
A5 Sportback 1.8 TFSI  multitronic                 125         $66,900                 5.9
A5 Sportback 2.0 TDI multitronic                   130         $68,700                 4.8
A5 Sportback 2.0 TFSI quattro manual         155         $80,900                 6.8
A5 Sportback 2.0 TFSI quattro S tronic         155         $83,200                 7.0
A5 Sportback 3.0 TDI quattro S tronic           180         $95,900                 5.7
A5 Sportback 3.0 TFSI quattro S tronic         200         $100,800               8.1
S5 Sportback 3.0 TFSI S tronic                        245         $135,900               8.1
A5 Coupe 1.8 TFSI multitronic                        125         $66,900                 5.8
A5 Coupe 2.0 TDI multitronic                          130         $68,700                 4.7
A5 Coupe 2.0 TFSI quattro manual                  155         $80,900                 6.8
A5 Coupe 2.0 TFSI quattro S tronic                 155         $83,200                 7.0
A5 Coupe 3.0 TDI quattro S tronic                  180         $95,900                 5.7
A5 Coupe 3.0 TFSI quattro S tronic                 200         $100,800               8.1
S5 Coupe 3.0TFSI quattro  S tronic                 245         $135,900               8.1
A5 Cabriolet 1.8 TFSI multitronic                    125         $78,500                 6.2
A5 Cabriolet 2.0 TDI multitronic                     130         $80,900                 5.0
A5 Cabriolet 2.0 TFSI quattro S tronic           155         $96,900                 7.2
A5 Cabriolet 3.0 TDI quattro S tronic             180         $108,800               5.9
A5 Cabriolet 3.0 TFSI quattro S tronic           200         $112,900               8.5
S5 Cabriolet 3.0 TFSI S tronic                        245         $146,500               8.5