At Australia's various drifting events, it's pretty standard to see Silvias, Skylines, Supras and Sprinters hanging it out on the tarmac at insane angles. But, these two Ford AU Falcons really put an unexpected twist on a recent Drift Challenge Australia event in Mt Gambier, South Australia.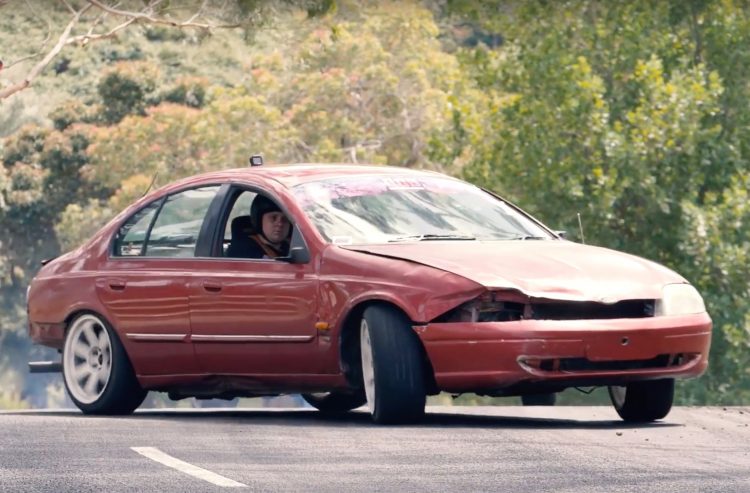 In the last few years, the once-maligned Ford AU Falcon has enjoyed something of a bizarre cult phenomenon thanks to internet memes, Photoshops and Facebook pages. In its heyday, its New Edge styling was considered awkward and too shocking against the sveltley-styled VT Commodore, which sold an order of magnitude more.
This late resurgence proves some prevailing theories at the time that the AU Falcon was too avantgarde for its era. They are proving to be a well put-together, extremely durable used car, with examples clocking over 1,000,000km regularly – a feat not often achieved by its successors without suspension woes. More importantly, it is a cheap, still relatively abundant and powerful rear-wheel drive car, so turning one into a drift weapon is no sweat.
These two cars here – an AU series 1 in red and a silver series II with a Fairlane front clip – tie corners together in a symphony of sustained powersliding that could move any Ford lover to tears. We salute them for showing what was once one of the most controversial and hated of Australian cars is truly capable of.
Two AU Falcons doing incredible thingsAU the world ?Head here for more videos—–>https://goo.gl/OQTamn

Posted by Racing Line Australia on Monday, 26 February 2018