The last thing Ferrari needs right now is more fires. Unfortunately, an image has surfaced showing the Ferrari P4/5 Competizione race car on fire during a pit stop at the Nurburgring 24 Hours.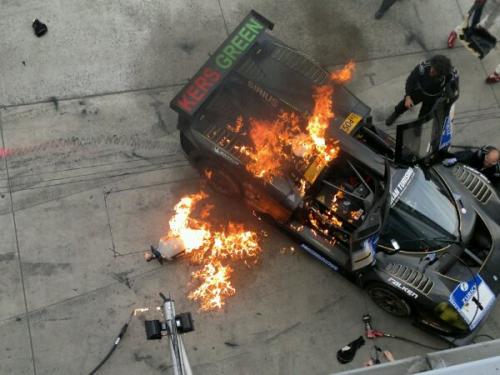 This is not your typical case of the fire spontaneously starting from the engine bay though, luckily, like so many recent Ferrari fires of late, instead, it is believed the fire only started due to an issue with refuelling. According to reports, the fire only lasted a few moments after a quick reaction from the Glickenhaus team.
The epic Ferrari not only made a full recovery, it went on to place 12th overall in the famous endurance event, and came first in the Alternate Energy class.
The Ferrari P4/5 Competizione is based on the Ferrari 430, and is powered by a 4.0-litre V8 engine combined with a kinetic energy recovery system (KERS) and hybrid electric motor. The electric motor provides an additional 60kW, while overall power sits at 420kW.