In one of the more adrenaline-packed teasers to be released lately, Audi has previewed its next generation 2016 R8 being spanked around a circuit.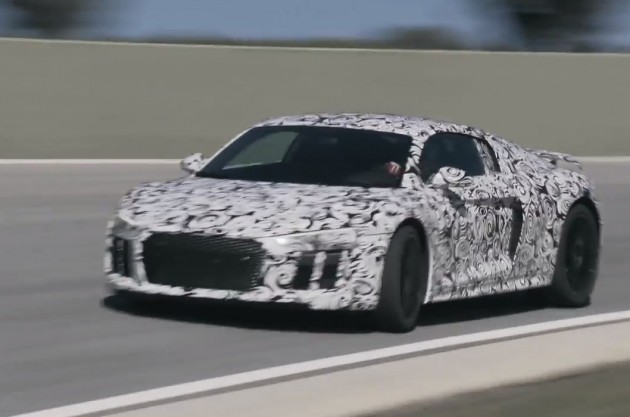 With the help of factory driver Frank Stippler, the next-gen R8 can be seen in camouflage, but there is no attempt to hide the incredible soundtrack from the V10 engine.
Managing director at Quattro GmbH Heinz Hollerweger talks about the mantra behind the next R8 project, taking inspiration from the "racing experience from the first generation", in combination with "automotive experience from the entire company".
Audi earlier this week confirmed the R8 will be equipped with LED headlights as standard, with the option of laser headlights for those customers out there that have watched too many sci-fi movies.
It is reported that the base V10 model will produce 397kW and 539Nm, which is 11kW/9Nm more than the current generation R8 V10. The V10 Plus is confirmed in the video to be producing 449kW (610 metric HP)/650Nm of toque (up from 404kW), which is almost identical to the Lamborghini Huracan – a car that the Audi shares a considerable amount of componentry with.
All of the details will be revealed at the Geneva Motor Show next month. Click play below for the preview.