When we first saw a digital impression of how a future HSV based on the next Commodore could look, we were surprised how well the Insignia-based car lends itself to HSV-like styling tweaks. What about the ute and the Maloo? It's a similar story.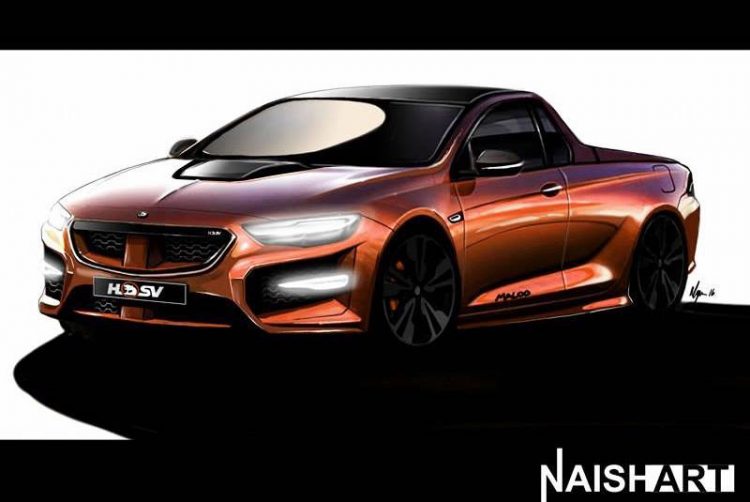 With HSV keeping mum on exactly what models it intends to modify or what shape its post-VFII-based lineup will take, this leaves plenty of room for speculation about how it could appease its current fanbase.
To that end, Naish is at it again, this time re-imagining two different Maloos. One as a hacked up 2018 Commodore, and the other with a Colorado foundation as the four-door, off-road focused 'Maloo X'.
Of the two, the latter is more likely to happen but this is just a flight of fantasy in a post-apocalyptic Australian automotive landscape.
This is contrary to some rumours, such as one on HSV Forums suggesting the 'Avalanche' moniker could be dusted off again for a HSV-ified Colorado. This was also accompanied by the suggestion it could be powered by a V8 engine, but this rumour is contingent on the US Chevrolet Colorado and GMC Canyon receiving a V8 – which doesn't appear to be on the cards. While it would be nice and stranger things have happened, we'd hold out for a more credible source on this occasion.
Some corners have said the HSV Colorado could receive a worked-over Duramax diesel engine with HSV badges slapped on it. The Colorado will be the basis for the Superutes racing category anyhow, making it seem like an even more logical path for HSV to go done. Until something is confirmed though, all we can do is speculate.