Although trucks are at the opposite spectrum of the PerformanceDrive mantra, they are still an important figure in the day-to-day lives of enthusiasts… and let's not forget they produce massive torque.
Trucks and heavy vehicles are a crucial part in keeping most developed economies ticking over and healthy. Pretty much everything we eat (before and after it's killed), consume or purchase has been on a truck at some point. Despite this, the general silhouette and fundamentals of truck design has changed little since they started populating the world's roads in the early 20th century.
Since then, the majority have used the same basic template and mechanicals, with only incremental changes. Compare this with the evolution of the automobile and it appears quite stagnant. While there have been many bold and innovative concepts over the years, only now is the automotive landscape changing so fundamentally – with autonomous driving and electric power becoming mainstream in the next decade – that it is likely we will see the truck and bus industry dragged into this realm sooner rather than later.
Adding to this are strict incoming fuel and emissions regulations in Europe and the USA, forcing change like never before. So here are, in no particular order, some recent and not-so recent visions of the future which address areas such as powertrain, aerodynamics, usability and in some cases autonomous driving ability. They offer the best hint yet as to what the future has in store for our transportation friends.
Nikola One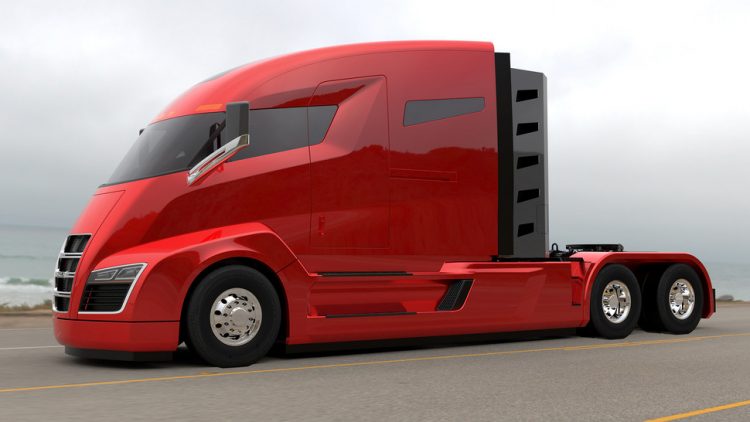 Starting with the most recent. The Nikola One was unveiled last week via some digital renderings online. Named after famed physicist and mad inventor Nikola Tesla, the cheeky link to the Silicon Valley electric car startup is no accident, as this truck seeks to have a similar impact in its respective field.
The main power source is a 320kWh battery pack, sending electricity to six wheel-mounted electric motors, generating a total of 1.5 megawatts and a staggering 5000Nm – all generated from idle. To recharge the batteries on the run, a microturbine range extender kicks in. The turbine can run on any fuel, but if it gets off the ground, Nikola Motors will throw in 100,000 litres of compressed natural gas as part of the lease.
To date, Nikola claims over 7000 orders have been made, and says it will show a working prototype in December.
Freightliner SuperTruck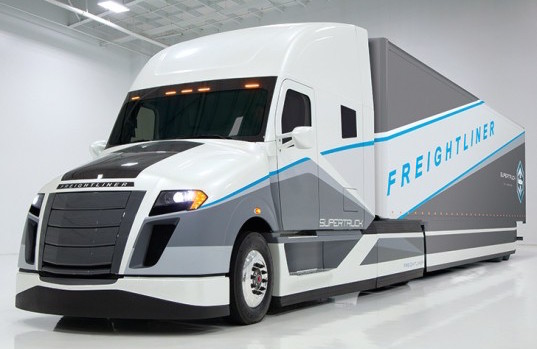 This is Daimler's response to a challenge set by the US Department of Energy to "improve semi-truck fuel economy by 50 percent".
The SuperTruck is the result of five years worth of development and US$115 million of capital invested. With a spacious cab incorporating a sleeper and all the mod-cons for long hauls, the SuperTruck was tested over 500km across Texas, hauling a 30-tonne payload.
Astonishingly, it achieved an average of under 20L/100km – which is actually 115 per cent better than the average big rig of today. How does it accomplish this? Thanks to a slippery body with active grille shutters, and a hybrid powertrain – the engine is able to be downsized from 14 litres to 11. It also features solar panels and a navigation-guided transmission. Freightliner says elements of the SuperTruck will be incorporated into production models soon.
Daimler Freightliner Inspiration
With many recorded fatalities due to increased pressure on deadlines, forcing some truck drivers to take risks and even, in some cases, resort to substance abuse, autonomous technology is something that could do plenty for the safety of all road users.
While there are plenty of legitimate arguments for and against autonomous trucks, including the eventual possible threat to jobs, several trials are already well underway, with automated convoys taking place across Europe and the United States.
Before this technology hits the roads, there are monumental hurdles to overcome in the form of government legislation but many pundits agree it's a matter of when, rather than if.
Walmart WAVE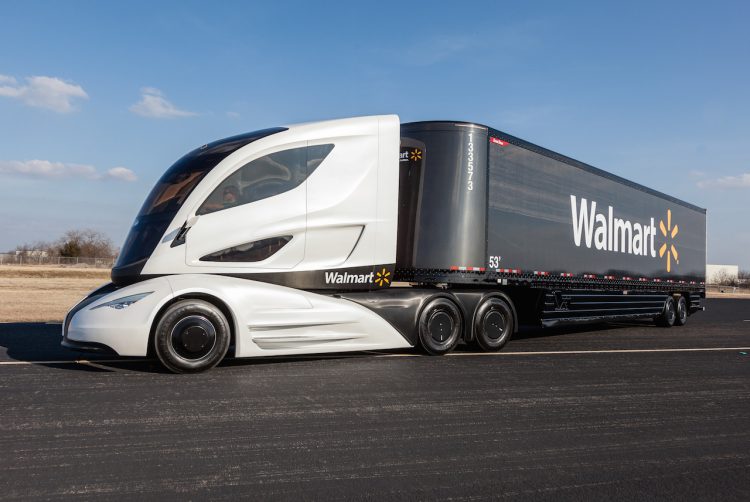 US retail chain Wal-Mart's fleet of 6500 trucks and 55,000 trailers make up a considerable percentage of the US total trucking fleet, so all eyes are on them to meet 2025 CAFE fuel economy standards.
In the spirit of this, it unveiled the Walmart Advanced Vehicle Experience (WAVE) in 2014. It is a collaboration between Great Dane Trailer, Capstone Turbines and Peterbilt.
Featuring a dramatically reshaped cabin, with 20 per cent better aerodynamics, the cabin features a much larger glasshouse for an airier driving experience, despite less surface area. A central driving position helps the driver position the truck more easily as well.
The drivetrain is a combination of microturbine and battery hybrid power while the trailer construction and body feature carbon fibre throughout. Like the SuperTruck, this is a showcase of technology the chain plans to implement, than something intended for production.
Luigi Colani Space Truck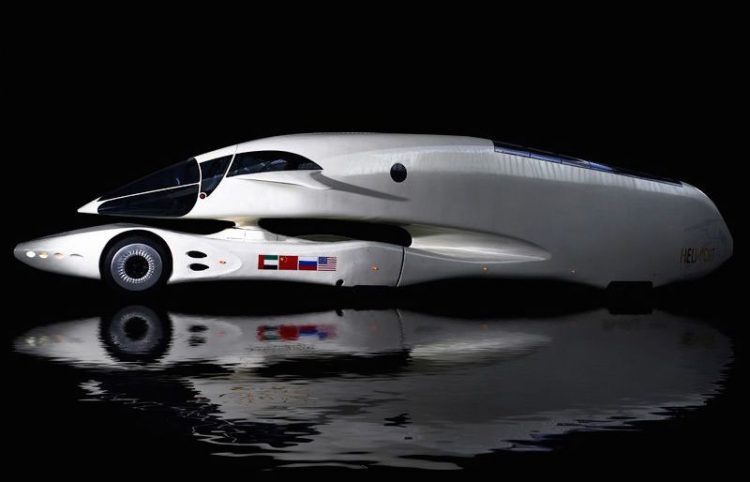 Eccentric German-Swiss designer Luigi Colani is renowned for his organically sculpted forms, coining the term 'biodynamic'. He has designed everything from hyper-futuristic trains, to cameras to buses to trucks. He began work on a dramatic rethink of trucks in the 1970s, resulting in a sleek, radical design with a circular windshield and an overall appearance resembling something from outer space.
An even wilder and more streamlined version was created by the man, now in his 80s, came in 2006, so far removed from anything on our roads today it's not funny. This probably represents the greatest leap forward, possibly pointing to something we'd be likely to see at the end of the century.
Steinwinter Truck Concept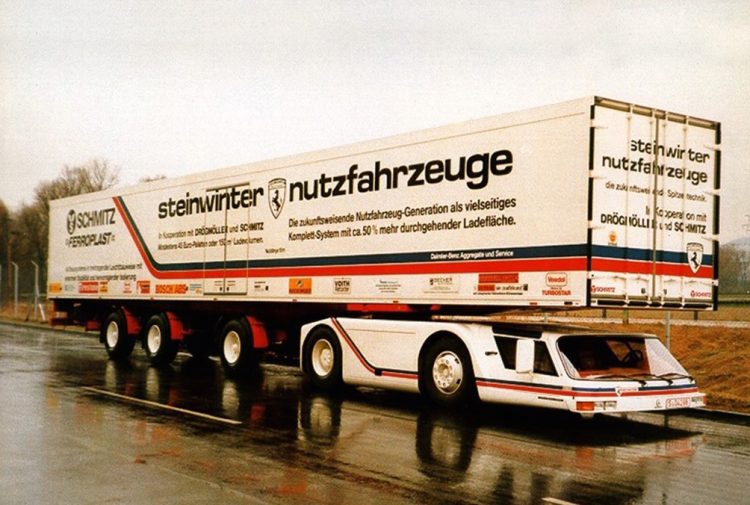 This one dates back to 1983 but is so novel and different it is unlike anything on our roads today.
The Steinwinter's cabin sits entirely underneath the trailer, resulting in a dramatically lower centre of gravity, less turbulence between tractor and trailer, and much better fuel economy and manoeuvrability.
The engine sits behind the cabin – which places the driver very close to the ground in sports car fashion. In fact, the whole unit is only 120cm off the ground. The interior is car-like with Recaro seats and Mercedes passenger car appointments.
While definitely something which breaks the mould, perhaps some of the reasons this never saw wide-scale adoption include the fact the driver isn't placed high-up – which could affect safety and visibility.
Superbus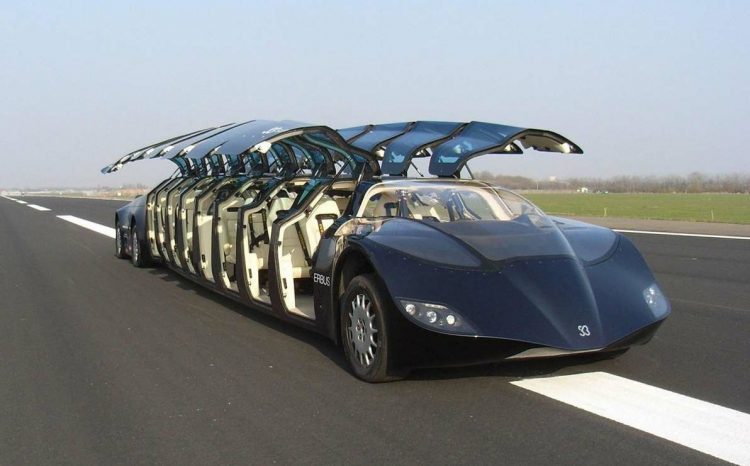 Looking somewhat like the offspring of a bus and supercar, the Superbus is a 23-passenger, 250km/h carbon-fibre mass-transport conveyance. Conceived by students at a Dutch University, it ditches the square box profile of traditional buses in favour of something far swoopier and exciting. While not really a realistic prospect at replacing a real bus, it certainly offers advantages in terms of lower centre of gravity and carbon footprint.
Instead of a diesel engine, two electric motors generate up to 600kW of power, drawing from a grid of lithium-polymer batteries. It is a radically different approach, aimed at getting more people to catch public transport.
DAF Future Chassis concept
The vast majority of trucks, regardless of size, generally use a steel construction with non-independent I-beam front suspension.
DAF's Future Chassis concept is based on a 12-tonne LF truck, but incorporates aluminium chassis construction – like many prestige roadcars, for a not unimpressive saving of half a tonne.
The extruded aluminium chassis is developed by UK's Sapa Technologies, and incorporates a front multi-link suspension layout which significantly improves driveability and ride quality. Addressing this issue is fundamental in changing the road manners of trucks.
Volvo Concept Truck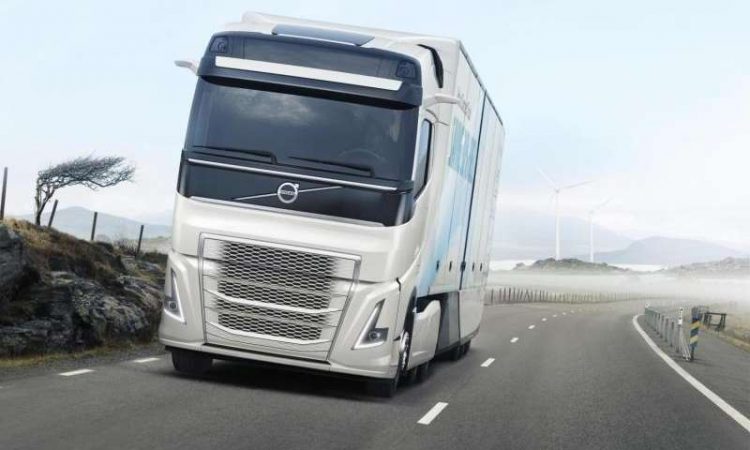 The latest Volvo concept truck promises a 30 per cent reduction in fuel consumption, thanks to up-to-the-minute aerodynamic improvements.
Said to reduce the drag coefficient of a normal truck by up to 40 per cent, the truck features flaired-in wheel arches, a tapered trailer extension to manage air as it separates and cameras in lieu of bulky mirrors. The lower rolling resistance tyres and drivetrain friction reduction, the company hopes to improve efficiency of trucks by up to 50 per cent by end of the decade.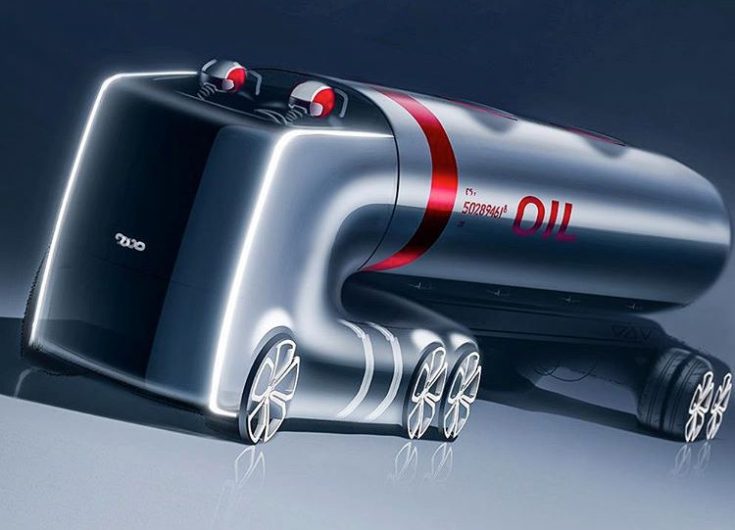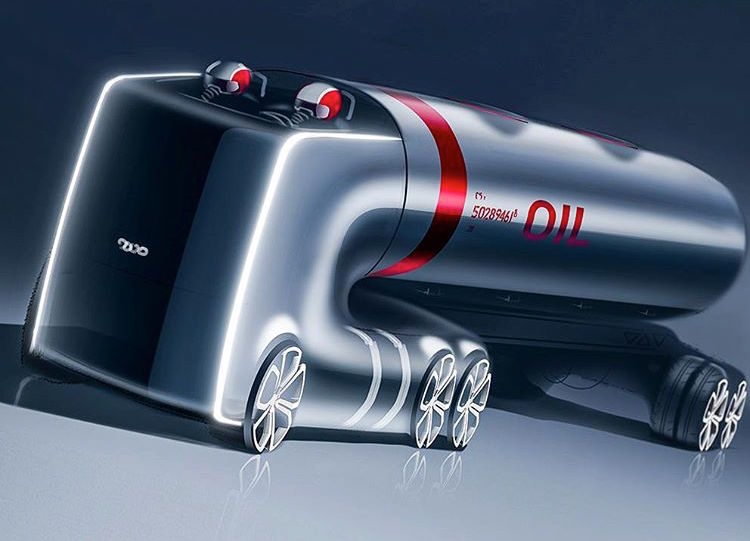 This design student's proposal for two versions of an Audi truck and an open-top oil tanker. They show how much cleaner and more exciting haulers could be. The open top oil tanker has a fighter-jet style helmet and oxygen line, while the autonomous semi-trailer brings the prestige of Audi's clean design to a genre not known for style and desirability.
So there you have it, 10 forward looking trucks of the future. We hope you enjoyed learning about these fascinating machines and look forward to bringing you fascinating technical developments as they happen.