Could solar-powered vehicles become a reality sooner than we think? Two ambitious Australian projects are underway right now; the eVe Sunswift and the EVX Immortus. These hope to achieve what is unfathomable to most.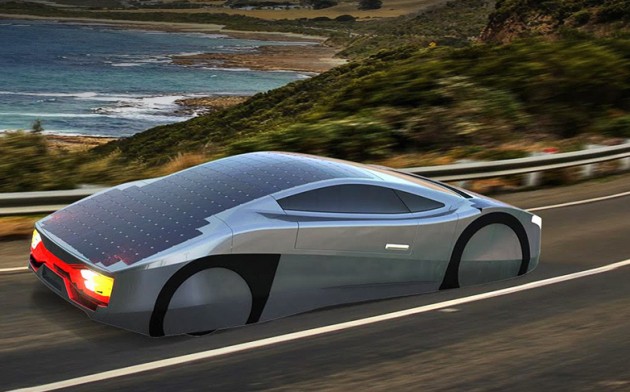 Australia has been a hotbed of solar technology and research for quite some time. This is due to our climate and abundance of resources, which has seen the prevalence of events such as the World Solar Challenge where solar-powered experimental cars race between Adelaide and Darwin.
The last few years has seen some entrants that can accommodate three or four passengers, rather than the typical UFO-shaped single passenger type that has been de rigeur since inception.
Of these more conventionally-shaped cars, the eVe Sunswift of University of NSW broke the record for the fastest solar electric vehicle over a distance of 500km on a single charge in 2014. It averaged 107km/h.
Work is underway on the next phase of its development; to make a roadworthy version of the eVe. On the website, we can see a more comfort-oriented interior mooted for eVe 2.0, the bulk of which is 3D printed.
A crowdfunding operation is underway for the project which has so far raised $36,000. $100,000 is the target before the December deadline.
On a more ambitious and grandiose scale, the EVX Immortus (above) is a post-apocalyptic-themed solar supercar, which is set to be able to run all day without charge at 60km/h cruising speed, and 150km/h top whack. The Immortus is powered by two hub-mounted electric motors for a 40kW total output – quite sufficient for its 550kg weight.
Construction is similar to the Blade supercar in that it consists of 3D-printed nodes and tubes to make up its spaceframe. 11 people are involved in the project, including engineers from the Aurora solar car team, which has participated against Sunswift in the World Solar Challenge, and engineers and lecturers from the Swinburne University of Technology.
Price for the limited run of 100 cars is expected to be $500,000 each, while the company hopes to raise $2 million to get production underway.
These two forward-looking and ambitious ideas are just some of the examples of the fertile thinking and innovation that still exists in this country. Not only do they challenge people's perceptions of where a car sources its power, but also the notion that the Australian car industry is dead.