If you missed out on the chance to buy one of the 300 HSV GTSR W1 special editions, you've been given a second chance. We've found one that's up for grabs on an online auction.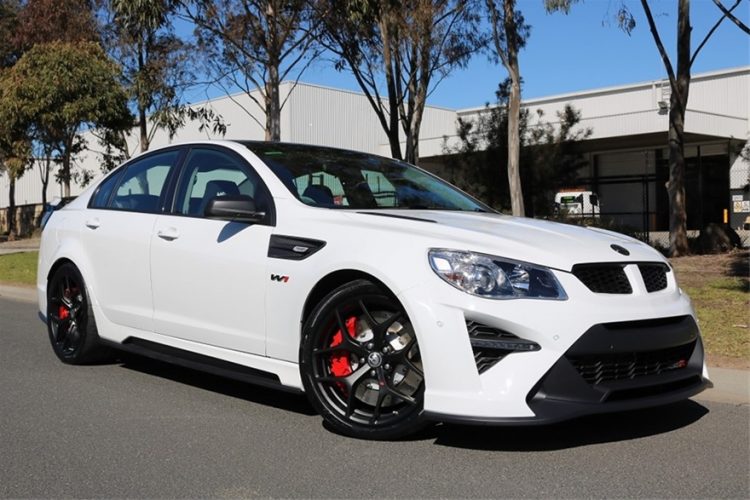 An almost-new white example is up for sale on GraysOnline. It's build number 110 of the 275 examples ever built for Australia (25 for New Zealand), featuring just 22km on the clock. Interestingly, the car is unregistered and without number plates, indicating just how new it really is.
Revealed earlier this year, the GTSR W1 is the last hurrah for Australian-made HSV models. It's also the most powerful production car Australia has ever made, adopting the LS9 engine from the Chevrolet Corvette ZR1 from the US.
The LS9 is a 6.2-litre supercharged V8 churning out an insane 474kW of power and 815Nm. Official acceleration figures were never announced for the 0-100km/h sprint, but we'd be guessing around 4.0 seconds and a quarter mile within the 11 seconds range.
According to the ad description the car is straight off the production line, equipped with an optional sunroof and black roof colour scheme. Other than that, the GTS W1 is standard, although, being the cream of the crop it does come with plenty of luxury and performance features as standard.
All 300 examples of the W1 were sold out not long after it was announced for the market, which makes this example all the more appealing. With virtually no kilometres on the clock it could be the perfect example for a collector or simply an awesome family car.
Head over to GraysOnline to make a bid. At the time of writing the price stands at $200,109. You better get in quick though as it ends on Tuesday. The car is located in Melbourne, near HSV's factory.