An image of what appears to be the upcoming new Ferrari Enzo 'F70' successor has surfaced online, revealing some of the front end of the new hypercar.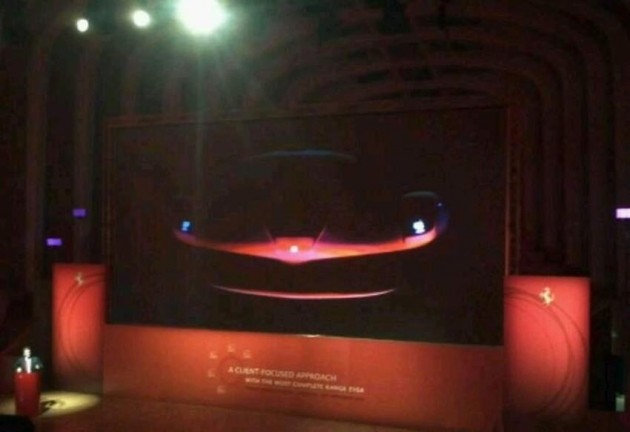 The mysterious image was apparently taken at a private Ferrari function in China. It is assumed the event coincided with the company's 20th anniversary celebrations, marking Ferrari's 20 years presence in China.
Although you can only just make out aspects of the front end in the image, there are a number of clues which suggest this could very well be the next Enzo.
The long and thin headlights that rise up the front guard line are in tune with the company's latest designs, while the bulging thin bonnet line down the middle could represent its relationship with the previous Ferrari Enzo, and Formula One.
Little else is revealed in the image, other than the small bubble dome roof which also falls in line with Ferrari's flagship model history. This allows for a very low profile body layout and excellent high-speed aerodynamics.
As previously reported, the new Enzo 'F70' is set to come with a 6.3-litre V12 engine matched with a HY-KERS electric motor system. Combined, the motors are expected to produce around 633kW, allowing for 0-100km/h in well under 3.0 seconds.
Ferrari's new halo model will debut in 2013.