Another teaser of the highly advanced 2015 Volvo XC90 has been released, showing us a glimpse of the modern headlight design which is inspired by the 'god of thunder'.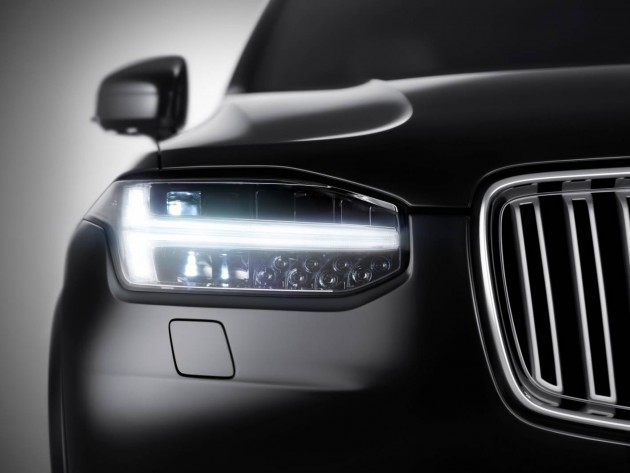 The XC90 will be Volvo's first model to be built on its freshly designed Scalable Product Architecture (SPA), which is set to significantly cut production costs, as well as provide engineers and designers with the flexibility to create a wide range of models that all feature advanced safety technologies and share similar quality driving dynamics.
Volvo says the SPA project is part of a US$11 billion transformation plan, and it has taken the company four years to develop. Dr Peter Mertens, senior vice president for research and development at Volvo Car Group, said,
"SPA and the XC90 are firm evidence of our Volvo-by-Volvo strategy. The XC90's outstanding combination of luxury, space, versatility, efficiency and safety will bring the SUV segment into a new dimension, just as the original XC90 did in 2002."
As previously revealed, the new XC90 will showcase a number of industry-first safety technologies, such as a head-on collision auto brake function, run-off road protection, and automatic queue assist that is capable of driving the car all by itself in slow traffic.
Perhaps the most interesting aspect to be revealed this time around is the new headlight, which features something Volvo calls the 'Thor's Hammer' design. In the middle are distinct T-shaped running lights, inspired by the hammer used by the Scandinavian mythology's god of thunder, Thor. This will become one of the SUV's most recognisable features.
Stay tuned for the full reveal in a couple of weeks.