Infiniti has revealed the latest version of its Q50 mid-size premium sedan at the Guangzhou Motor Show in China, featuring a Mercedes-Benz-sourced 2.0-litre turbocharged petrol four-cylinder engine. The 2.0-litre variant will become the new entry-level model.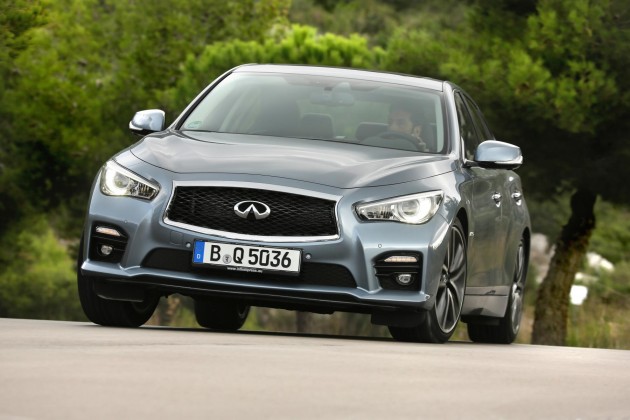 The Infiniti Q50 has only just launched in some markets and at the moment, it's available with a 2.2-litre turbo-diesel, a 3.5-litre petrol hybrid, and a 3.7-litre V6. With the addition of a petrol 2.0-litre turbo added to the range, the Q50 will be able to put up a strong fight against its competition; Audi A4, BMW 3 Series, Mercedes-Benz C-Class.
Power output peaks at 155kW – like in the range of Mercedes-Benz '250' models – while torque is rated at 320Nm. At this stage Infiniti has refrained from telling all in terms of economy and performance. It is expected to sit behind the 3.7 V6 in terms of performance, but in front in terms of fuel economy.
While the engine may be a Mercedes-Benz unit, Infiniti insists it has been modified to suit the brand's characteristics. Compared with the Mercedes-Benz A 250 for example, torque output drops from 350Nm and it peaks at 5500rpm. In the Merc, the higher peak torque is available from a wider rev range; 1200-4000rpm. Peak power is reached at 5500rpm in both forms.
The new engine highlights the company's commitment to increasing its engine packages across the showroom range, and increasing model diversity. It will initially launch in the Chinese market next year before becoming available in various other regions, potentially Australia.
Infiniti is yet to launch the Q50 Down Under, however, it is scheduled to hit showrooms before the end of the year.