General Motors has announced the termination of over 2000 jobs at its Michigan, Ohio, and Indiana manufacturing plants.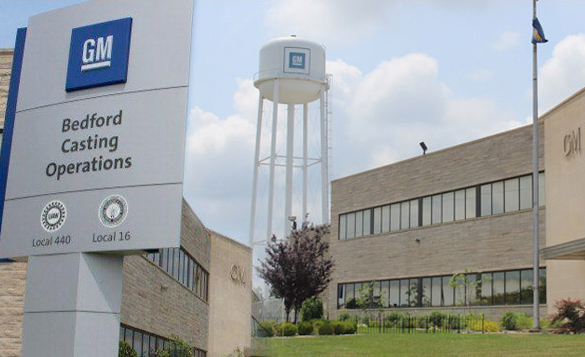 2084 job losses will come into effect in January next year, with GM saying that customer demand for traditional passenger vehicles has reduced, with light trucks and crossovers sitting on the opposite end of the spectrum.
GM will cut third shifts at its Lansing Grand River plant in Michigan, and Lordstown, Ohio in mid-January, which produce cars such as the Chevrolet Cruze, Camaro, Cadillac ATS and CTS. The Lansing Grand River plant accommodates 810 hourly workers, and 29 salaried workers, while the Lordstown facility is home to 1202 hourly workers, and 43 salaried positions.
General Motors has announced a US$900 million investment into upgrading existing plants in Ohio, Michigan and Indiana, which it says will facilitate the production of new vehicles that could in turn attract more workers.
There's US$667.6 million headed for the Ohio-based Toledo Transmissions Operation, $211 million for the Lansing Grand River plant and $37 million for its Bedford Casting Operations facility. General Motors says the nearly $1 billion investment will allow an additional 784 workers who were previously at risk of redundancies to keep their jobs.
General Motors also made a statement congratulating the president-elect Donald J Trump, saying:
"GM looks forward to working with President-elect Donald J. Trump and the new Congress on policies that support a strong and competitive U.S. manufacturing base."
2016 sales of General Motors vehicles haven't been as strong as in previous years, with the company's total volume down 3.6 per cent to 2.5 million vehicles in the first ten months of this year. According to statistics, sales of traditional cars (excluding commercial vehicles) are down 7.5 per cent in 2016.
Investment and changes

Toledo Transmission Operations

$667.6 million for future product programs
Jobs: 739 retained
Current employment: 2028

Lansing Grand River Assembly

$211 million for a new product program
Current employment: 2700

Bedford Casting Operations

$37 million to support future product programs
Jobs: 45 retained
Current employment: 719
Shift reduction details
Lansing Grand River

Third shift ends Jan. 16, 2017
Affected employees: 810 hourly, 29 salaried
Products: Cadillac ATS and CTS and the Chevrolet Camaro
Current employment: 2700

Lordstown

Third shift ends Jan. 23, 2017.
Affected employees: 1202 hourly, 43 salaried
Products: Chevrolet Cruze sedans
Current employment: 4500