A TRD Toyota GT 86 upgrade kit has been revealed online. It features uprated wheels and brakes, a new bodykit, and tuned suspension over the normal GT 86 variant.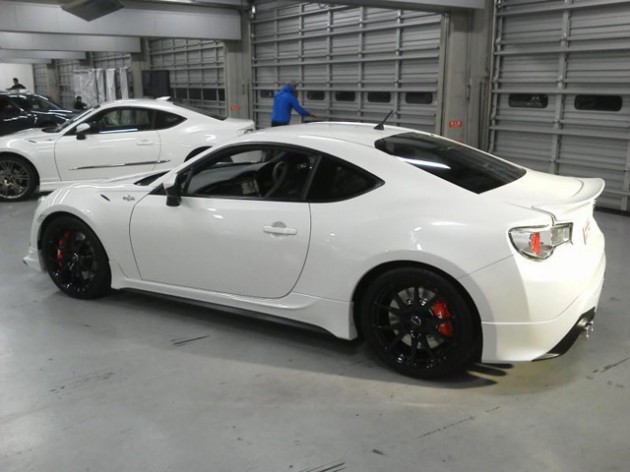 Specific details on this car are a little scarce at this early stage, we don't know if it's a designated TRD Toyota GT 86 model or just a prototype previewing some factory tune-up options that will become available in certain markets.
What we can see though, thanks to this image first posted up on 7Tune, is a set of larger brake discs clamped by racy red calipers front and rear. We can also see the TRD package includes a performance suspension system lowering the GT 86 over a set of dark TRD alloy wheels.
On the outside, the body receives a neat rear spoiler which extends from the natural contours of the GT 86 design, some side skirts, and by the looks of it a matching front spoiler extension giving it a more aggressive face.
As a previous report indicated, Toyota is rumoured to be working on a Toyota GT 86 supercharged version, this model may or may not feature such a setup. If it does, we can expect power levels to be taken from the standard 147kW, from the naturally aspirated 2.0-litre boxer engine, out to around 187kW with a supercharger.
It is too early to know for sure however, so we'll have to keep you updated. All is expected to be revealed at the 2012 Tokyo Auto Salon which starts January 13.