As a bit of a surprise Ferrari has unveiled the new Ferrari 458 Speciale. It's the hardcore, stripped out successor to the 430 Scuderia, offering more power, less weight, and all-new cutting-edge technologies.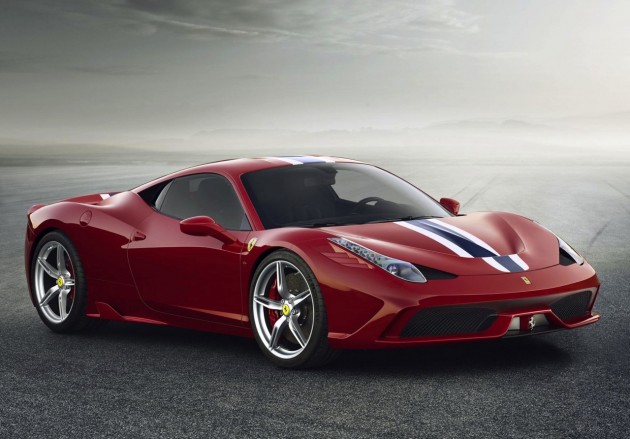 Previously rumoured as the 'Monte Carlo', the 458 Speciale is the epitome of the 458 model, and perhaps the epitome in driver's cars that the company currently offers. It's perfectly suited to regular track work, put it that way.
Ferrari has managed to strip around 200kg from the 458 for the Speciale, leaving a total weight of just 1290kg. This is thanks to various carbon fibre features and interior weight reduction measures. Much of the body and styling has also been aerodynamically honed for optimum downforce.
Under the rear hood sits a tweaked version of the 4.5-litre naturally aspirated V8 seen in the regular 458 Italia. The new unit produces 445kW of power at an ear-belting 9000rpm, and 540Nm of torque at 6000rpm. These figures make it the most powerful production naturally aspirated V8 ever. It also produces 99kW/litre, which is the highest of any naturally aspirated production car.
Out on the road, the tech details translate into super-quick acceleration. From 0-100km/h, it takes just 3.0 seconds, while 0-200km/h takes just 9.1 seconds. In other words, it's one of the quickest production V8 Ferrari vehicles ever made.
For the first time, Ferrari has developed a special corner control mode using the traction control and electronic differential. It's called Side Slip Angle Control and essentially what it does is continuously analyse the car's side slip, and maintain the best balance and grip for ultimate track performance. Ferrari explains,
"Thanks to the development of an accurate new algorithm SSC performs instant-to-instant analysis of the car's side slip, comparing it with the target value and then optimising both torque management (via integration with F1- Trac traction control) and torque distribution between the two wheels (via integration with the E-Diff electronic differential)."
Ferrari is very proud of the technology breakthrough and says the 458 Speciale offers consistent laps times, unprecedented for a car that is not solely designed as a racing car. In fact, Ferrari says the Speciale is able to achieve the highest lateral acceleration of any Ferrari ever made, reaching 1.33g.
The new model will make its official debut at the 2013 Frankfurt Motor Show, starting September 10. Possible Australian market details and pricing are yet to be announced.
See below for more specifications:
Engine
Type
Total displacement
Max. power output
Max. torque
V8 – 90 degrees
4495 cm3
605cv (445kW) at 9000rpm
540Nm at 6000rpm
Weight
Dry weight
Weight/power ratio
1290kg
2.89kg/kW
Performance
0-100 km/h
0 – 200 km/h
Fiorano lap time
3.0 seconds
9.1 seconds
1:23.5
Emissions (ECE + EUDC combined cycle)