According to reports from the US, the upcoming 2013 Porsche Boxster S will feature a turbocharged four-cylinder engine outputting 267kW (360hp), while the styling will be more aggressive with larger vents and scoops.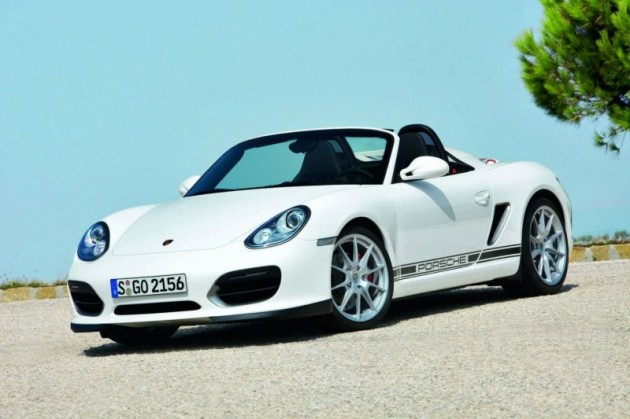 (current model Porsche Boxster Spyder shown)
The current Porsche Boxster S features a naturally aspirated 3.4-litre flat six, producing 228kW and 360Nm of torque. It's able to sprint from 0-100km/h in 5.0 seconds flat when optioned with the dual-clutch PDK transmission.
With the next-generation 2013 model, we can not only expected even more power than the current model, but also lots more torque thanks to the introduction of a turbocharger. Measuring just 2.4 litres, the new engine will provide significant decreases in fuel consumption.
The increase in power as well as reduced overall weight means the 2013 Porsche Boxster S will dip into the 4.0-seconds range for the 0-100km/h dash for the first time. It will also be the first time the Boxster gets a turbocharger.
As for the styling, new model will feature a sharper front end with new headlights, larger more vertical side intake vents, and a new rear end. The 2013 Porsche Boxster S is also expected to feature a lip along the rear edge extending over the tallights, just like the new 2012 991 Porsche 911.
All is expected to be unveiled at the 2012 Geneva Motor Show in March. We'll keep you updated with any leaks, details or images revealed beforehand.