It's that time of the month again. The national VFACTS vehicle sales figures for Australia for July 2015 have been released. And it was a record July, with plenty of thanks going to an increase in SUV sales.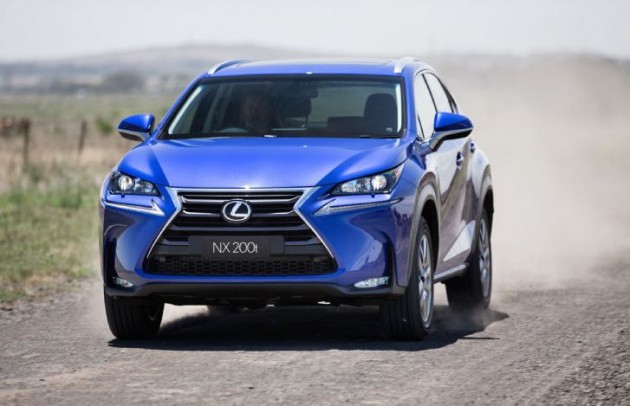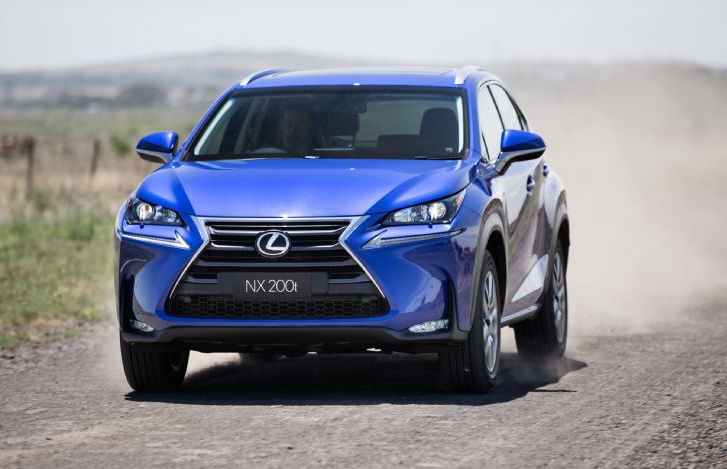 SUV sales accounted for over 35 per cent of the overall figures for the month. Sales of the popular sports utility vehicle segments jumped 13.5 per cent compared with the same month in 2014, and up 2.3 per cent on the previous record-setting month that took place in 2013.
As for the most popular vehicle brands, it is of course Toyota that stands proudly at the top. Toyota sales are up 2.1 per cent for the month and 0.8 per cent year-to-date compared with 2014. Meanwhile, Mazda storms into second place, while Hyundai pushes Holden out of the top three.
Further down the top ten, Mitsubishi has slipped a spot allowing Ford to move up into fifth, and Nissan has just slipped in front of Volkswagen for seventh. Rounding out the lineup, Mercedes-Benz pushes out Honda by selling just five more vehicles for tenth spot. The top ten brands for July 2015 were as follows:
Toyota – 16,840 (down from 21,501 of June 2015)
Mazda – 9356 (down from 11,526)
Hyundai – 8511 (down from 11,007)
Holden – 7895 (down from 11,928)
Ford – 5747 (down from 7251)
Mitsubishi – 5189 (down from 9011)
Nissan – 4937 (down from 6636)
Volkswagen – 4908 (down from 7103)
Subaru – 3354 (down from 4502)
Mercedes-Benz – 3052 (down from 3661)
Hyundai lost its top spot from June with the i30, as the regular frontrunners from Toyota and Mazda regain popularity. It was the Corolla over the line with the most sales overall, followed by the Mazda3 arch rival. The i30 sits in a respectable third place, outselling the HiLux and the Holden Commodore. The top five models in terms of outright sales for July 2015 were as follows:
Toyota Corolla – 3573 (down from 4152)
Mazda3 – 2825 (down from 4127)
Hyundai i30 – 2750 (down from 5521)
Toyota HiLux – 2579 (down from 4281)
Mitsubishi Triton – 2238 (down from 3526)
Stepping over into the Medium Cars under $60,000 segment, the new Toyota Camry is off to a great start and keeps the nameplate's long-standing lead. It went to 2124 new homes in July, easily bettering the Mazda6's runner-up effort of 431 sales. Third place was the recently updated Subaru Liberty, reporting 310 sales.
For those wanting a bit more luxury, the most popular vehicle in the Medium Cars over $60,000 was the Mercedes-Benz C-Class. The German brand now dominates the segment with the CLA-Class four-door coupe in second place too. The top five in this segment were as follows:
Mercedes-Benz C-Class – 853 (down from 890)
Mercedes-Benz CLA-Class – 439 (down from 443)
BMW 3 Series – 393 (up from 367)
Audi A4 – 163 (down from 175)
Lexus IS – 156 (down from 284)
As for the Aussie-made sedans in the Large Cars under $70,000 class, Ford Falcon sales rose from 531 to 625 from June to July. However, it wasn't enough to get anywhere near its long-time rival, the Holden Commodore. Holden shifted 2030 examples, down from 2772 sales during June. The Toyota Aurion sits in third place with 325 sales, down from 563.
For the business class Large Cars over $70,000 category, BMW has moved ahead with the 5 Series and overtakes the Mercedes E-Class. The CLS moved back up into third place, squashing down the Jaguar XF and Audi A6. The top five in this segment were as follows:
BMW 5 Series – 124 (up from 90 of June)
Mercedes-Benz E-Class – 91 (down from 185)
Mercedes-Benz CLS-Class – 60 (up from 39)
Jaguar XF – 52 (down from 54)
Audi A6 – 43 (down from 83)
In the weekend fun Sports Car under $80,000 category, the Toyota 86 continues its dominance. Interestingly, Hyundai's otherwise popular Veloster seems to be slipping away and has allowed the BMW 2 Series to remain in second place from the previous month. The Subaru WRX, which is still placed in the same category as the Toyota Corolla, would be sitting in second place. The top five models in the category were as follows:
Toyota 86 – 227 (down from 276)
BMW 2 Series Coupe/Convertible – 178 (up from 167)
Hyundai Veloster – 170 (up from 87)
Holden Astra Sport – 75 (up from 72)
Audi A3 convertible – 70 (down from 73)
(Subaru WRX – 271 [down from 312] – not officially in this segment)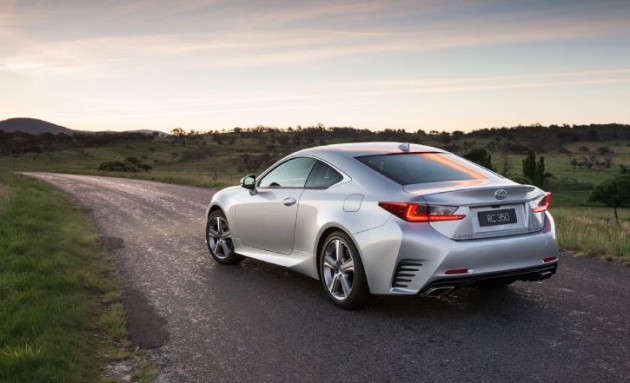 Moving up into the more serious realms, the Sport Cars over $80,000 segment, there was a bit of shuffling around for the overall top five. The BMW 4 Series remains at the top, while the Audi A5 has moved up a few positions into third place. With the current-shape C-Class Coupe almost out of production, sales are winding down with just 36 reported in July. This left the door open for the Lexus RC to move into fifth place. The top five in this category were as follows:
BMW 4 Series Coupe/Convertible – 143 (down from 171)
Mercedes-Benz E-Class coupe/convertible – 72 (down from 115)
Audi A5 – 61 (up from 57)
Audi TT – 54 (down from 99)
Lexus RC – 46 (down from 49)
Into the very serious Sport Cars over $200,000 segment, there were a few equal-sellers during July. Lamborghini sales rose from seven to nine, matching the Mercedes-Benz S-Class Coupe. Meanwhile Ferrari sales are down on the previous month but are up on July 2014 when 10 were sold. The top five in the category during July 2015 were as follows:
Porsche 911 – 33 (equal)
Ferrari (models not specified) – 12 (down from 17)
BMW 6 Series – 15 (up from 14)
Mercedes-Benz S-Class Coupe – 9 (down from 10)/Lamborghini (models not specified) – 9 (up from 7)
Aston Martin (models not specified) – 7 (down from 8)/Maserati (models not specified) – 7 (down from 8)
In the 4×4 ute class, the Toyota HiLux has taken back the lead after the Mitsubishi Triton led the way for a couple of months there. The HiLux posted 1988 sales while the Triton wasn't far behind with 1926 sales. Sitting in third place is the Ford Ranger with 1616 sales.
As for Combined 4×2 and 4×4 ute figures, sales dropped compared with June. Most of the top ten standings remain unchanged though, apart from the Mazda BT-50 which moves into fifth place to overtake the Isuzu D-Max. The top ten 4×2 and 4×4 combined figures for July 2015 were as follows:
Toyota HiLux – 2579 (down from 4281)
Mitsubishi Triton – 2238 (down from 3526)
Ford Ranger – 2013 (down from 3372)
Holden Colorado – 1369 (down from 2358)
Mazda BT-50 – 1334 (down from 1396)
Isuzu D-Max – 1080 (down from 1904)
Nissan Navara – 865 (down from 1280)
Volkswagen Amarok – 534 (down from 1230)
Foton Tunland – 84 (down from 112)
Ssangyong Actyon Sports – 5 (down from 18)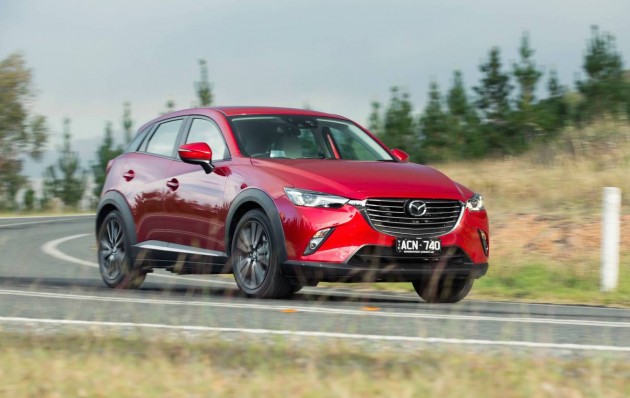 The SUV segments are really booming at the moment. Figures are down on June numbers but they are up 30.9 per cent compared with July last year. Some of the top runners actually dropped sales compared with June, however, it's the wider variety that has helped lift overall numbers.
In the smaller segment, the Mazda CX-3 is creeping up on the outgoing Hyundai ix5. Unfortunately for the ix35 lovers, the model is going out of production and is being replaced by the new Tucson which sits in the larger segment. We can expect the CX-3 to become the new favourite.
Over in the premium mid-size class the Land Rover Discovery Sport has stormed ahead into second place, while the Lexus NX is holding onto its lead in the small premium class. In all SUV segments the most popular models during July 2015 were as follows:
SUV Small under $40,000:
Hyundai ix35 – 1318 (down from 1723)
Mazda CX-3 – 1284 (up from 955)
Honda HR-V – 1069 (down from 1300)
SUV Medium under $60,000:
Mazda CX-5 – 2223 (down from 2512)
Toyota RAV4 – 1545 (down from 1749)
Nissan X-Trail – 1280 (down from 1795)
SUV Medium above $60,000:
Land Rover Discovery Sport – 277 (up from 195)
Audi Q5 – 294 (down from 407)
Range Rover Evoque – 237 (up from 201)
SUV Large under $70,000:
Toyota Prado – 1053 (down from 1723)
Toyota Kluger – 1316 (down from 1556)
Ford Territory – 871 (up from 844)
SUV Large above $70,000:
BMW X5 – 284 (down from 651)
Land Rover Discovery – 241 (up from 218)
Mercedes-Benz M-Class – 204 (down from 351)
SUV Upper Large under $100,000:
Toyota LandCruiser – 783 (down from 888)
Nissan Patrol – 160 (up from 122)
Total new vehicle sales in Australia in July were up on June's efforts. During July, Australian buyers purchased 92,308 vehicles, compared with 125,850 in June. Sales were up 2.7 per cent compared with July 2014, and year-to-date figures are up 3.2 per cent.
In terms of what fuel type buyers went for in July, LPG overtook electric vehicles, while petrol is still the clear choice for buyers. The figures for private buyers in terms of vehicle fuel type were as follows (passenger, SUV, and light commercial combined):
Petrol – 35,837 (down from 53,214 of June)
Diesel – 11,501 (down from 17,823)
Hybrid – 409 (down from 554)
LPG – 18 (down from 25)
Electric – 16 (down from 32)