Audi's answer to the large coupe-style SUV category comes with some serious credentials, as it is underpinned by the same platform that lays the foundations for heavy-hitters such as the Bentley Bentayga, Lamborghini Urus, and Porsche Cayenne. Does this mean the SQ8 is the smaller, inferior sibling or is it a performance SUV in its own right?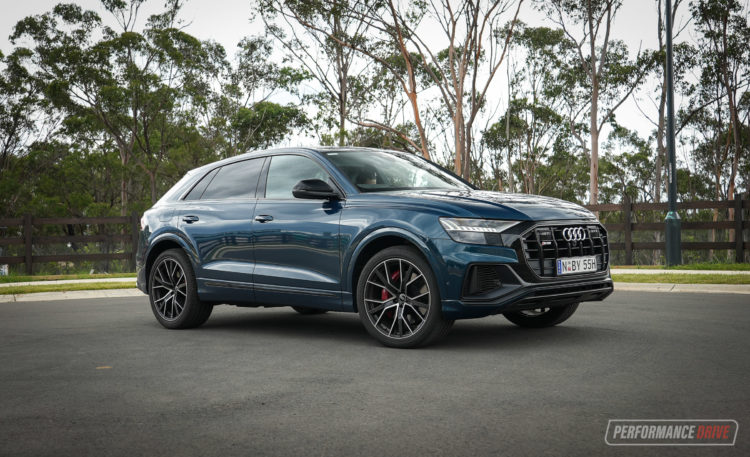 Well, it certainly looks the part, showcasing a clean and sophisticated take on the swoopy-roof class. And you don't have to splash out on the SQ8 to experience that appeal; Audi also offers regular variants under the Q8 badge. Likewise, you can go the other way and step into Audi's RS department to grab a slice of RS Q8.
We think the SQ8 is a good balance, though. It promises excellent power and performance for its class and the price isn't ridiculous. This starts from $168,800 while the RS Q8 kicks off from $220,600. The SQ8 compares favourably against its main rivals, too, with the slightly more powerful BMW X6 M50i starting from $178,900, and the less powerful Mercedes-AMG GLE 53 retailing from $192,300 (all excluding on-road costs).
2023 Audi SQ8 TFSI – THE SPECS
Engine: 4.0-litre twin-turbo V8
Output: 373kW@550rpm / 770Nm@2000-4000rpm
Transmission: Eight-speed auto
Drive type: All-wheel drive
Wheels: F: 22×10, 285/40
ANCAP: Not tested
Tare weight: 2480kg
Power-to-weight: 6.64:1 (kg:kW)
Official fuel economy: 11.9L/100km
Economy during test: 13.1L/100km
Fuel capacity/Type: 85L/95 RON
Power efficiency: 31.34kW:L/100km
0-60km/h: 2.03 seconds*
0-100km/h: 4.14 seconds*
0-200km/h: 15.51 seconds*
60-110km/h: 2.74 seconds*
1/4 mile: 12.46 seconds at 182.4km/h*
Max acceleration: 1.166g*
100-0km/h braking: 2.98 seconds at 36.63 metres*
Max deceleration: -1.334g*
Decibel at idle (/Dynamic mode): 42/50*
Peak decibel at 60-100km/h: 86*
Priced from: $168,800
* Figures as tested by PerformanceDrive on the day. Factory claims may be different

2023 Audi SQ8 TFSI – THE PACKAGE
It might not look like it on camera but this is a big SUV, measuring just over five metres long and pretty much two metres wide. Somehow, though, Audi has designed it so it looks like a smaller and more agile sporty SUV. Except from the back, we reckon. From here you get an immediate sense of its fat and imposing stance.
Perhaps the best thing about the design is that it remains true to Audi's form, running clean, uninterrupted lines and classy details that aren't overzealous or flamboyant. The quad pipes at the back are a relatively subtle reminder that this is an S version that packs serious power, with a tidy diffuser element in between. From the front, though, you could mistake it for a regular Q8. But it looks very stately and important nonetheless.
Ground clearance can be adjusted thanks to standard air suspension, and in its default mode it offers 209mm of clearance. That's not bad for a luxury model like this, and it means you can take it off road to some degree. But with air springs it also means it can hunker down for a very sporty profile, or you can raise it up if you're feeling ambitious and outdoorsy.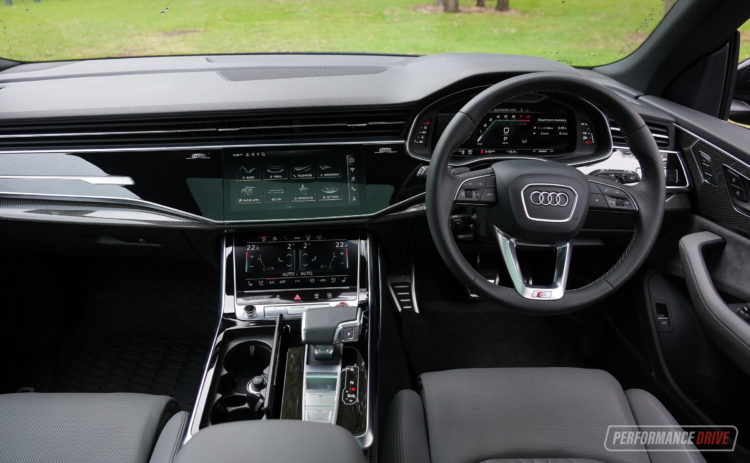 Audi always puts together great interiors. And this package is no different. The decor is very smart and sophisticated, with nothing over the top. Twin touch-screens embedded flush with the shiny black dash means, when it's all off, fingerprints and dust are easily visible. When it's all switched on, the graphics and presentation are at the front of the class.
This example also showcases some carbon fibre trimmings to reference its 'S' calibre, and as usual, all switchgear and fit and finish is exceptional. There are no annoying rattles or squeaks from anything in here. It feels very well made.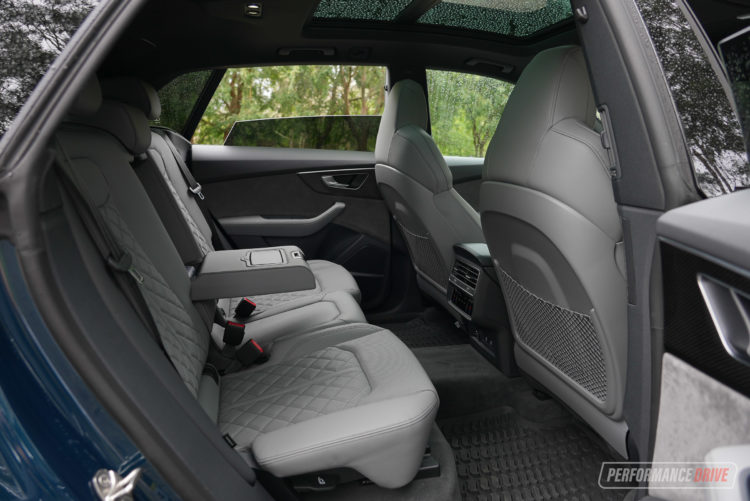 Passenger space is plentiful, as you'd expect given the external dimensions. We love these sports seats in the front, and the natural driving position. And in the back you've got heaps of legroom, even in the middle position. Climate control and fine materials continue through to the back, and this example also sports a set of very thick and robust rubber floor mats – a must for busy families.
Up at the back is where you'll notice the impact of the swooping roofline. Rear seat headroom isn't really effected, fortunately, as the coupe theme doesn't start until the boot. But the boot capacity is reduced over the equivalent SQ7. This presents 605 litres whereas the SQ7 offers 705 litres. A space-saver spare sits under the floor.

2023 Audi SQ8 TFSI – THE DRIVE
With the standard air suspension, the ride quality is really nice. Especially for a performance model. And even more so given it comes standard with 22-inch alloy wheels. This test vehicle features the optional Audi Sport wheels, also 22 inches, wrapped in 285/40 tyres. They provide heaps of grip in the corners and good steering response thanks the low profile sidewall.
This test car also comes with the optional Dynamic package which adds active roll stabilisation and a sport differential. But, at $10,900, we think it should come as standard given this is the S model. What it provides though is utterly relentless stability, particularly around long sweeping bends. The SQ8 feels upright and solid when railing around such corners, with hardly any lean at all.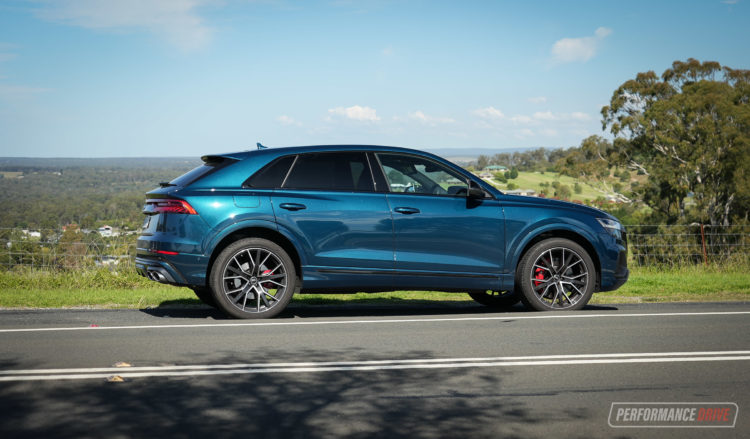 There's also a certain confidence introduced to the driver via the quattro all-wheel drive system. Apply power from the apex, or even slightly before, and this thing just pounces away to the next corner. You can feel its weight during tighter corners and sudden changes. After all, it does tip in at a hefty 2480kg. But the SQ8 seems to manage it well. Although not as well as its higher-end cousins mentioned earlier, in our opinion.
Power comes from a mighty 4.0-litre twin-turbo V8. This engine is wide-spread across the VW Group empire, and is featured in those siblings. So, as you'd probably guess, it is a wonderful unit. A huge 770Nm of torque accompanied by a lovely V8 soundtrack makes it a bliss to drive. And acceleration is outstanding for its 373kW tune.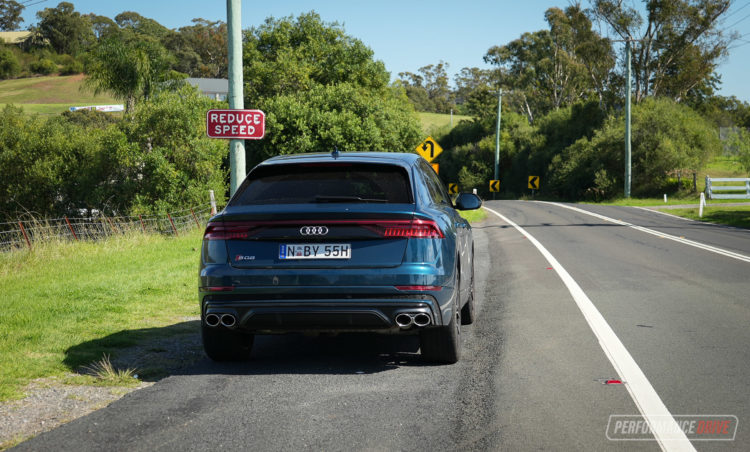 Audi claims 0-100km/h in 4.1 seconds. On a private road with a Racelogic Vbox Sport we clocked it in 4.14 seconds. We also saw 0-200km/h come up in a storming 15.51 seconds, and the quarter mile achieved in 12.46 seconds at 182.4km/h. It is a monstrous highway charger, powering down the motorway with nothing but your right foot limiting its speed.
The drive modes come in handy because when you're in the city, in normal mode, the eight-speed torque-convertor auto shifts at relaxing and comfortable points. Whereas in Dynamic mode the engine revs are held high and the kickdown response is sharp. You can also shift over to S mode for the transmission for even sharper response.
2023 Audi SQ8 TFSI – THE VIDEO
2023 Audi SQ8 TFSI – THE VERDICT
The SQ8 is surprisingly easy to live with on a daily basis, offering great visibility so you can manage its large proportions. And then the engine performance and sound makes you feel empowered behind the wheel. The handling, with the pricey active roll stabilisation option added on, is exceptional for its size and weight as well. And it looks very handsome.
Areas to consider? Well, we guess knowing that you're in the cheaper alternative to the more esteemed brothers and sisters under the VW umbrella might not sit well for some. There's also the fact that the SQ8 is a fraction less practical than the SQ7 yet $2400 more expensive. But that price difference can clearly be absorbed by its on-trend design.
PROS:
– Smart and imposing exterior design
– Properly hammers along for its 373kW tune, nice V8 sound too
– More affordable than nearest rivals
– Highly credible underpinnings
– Interior presentation and build quality

CONS:
– Lots of shiny black surfaces inside mean fingerprints and dust
– Coupe shape looks good but boot is 100L smaller than SQ7
As always, if you're thinking about buying a new car don't forget to click here to speak with our car buying specialists.