Arriving just in time for the summer, Mazda Australia has launched the facelifted 2019 Mazda MX-5. It's now higher-revving and more powerful than ever before.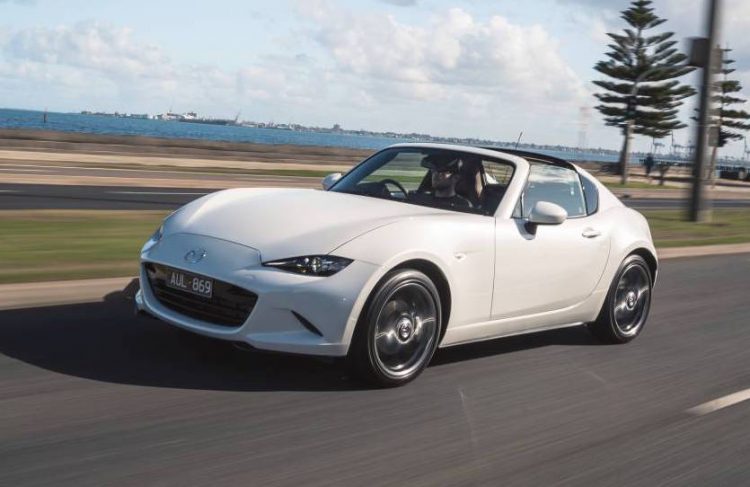 The new model was revealed overseas earlier this year. It was about the same time Australia received a very mild update for the 2018 model. This, though, is a more comprehensive update with revised cosmetics, ergonomics and powertrain options.
Both a 1.5-litre and 2.0-litre naturally aspirated four-cylinder continue to be offered. However, the redline for the 2.0L is extended to 7500rpm, resulting in a decent output boost from 118kW to 135kW. Torque is pushed up slightly from 200Nm to 205Nm. This comes in as the most powerful naturally aspirated MX-5 model ever introduced in the mainstream lineup.
This was done via modifications to the piston shape, intake and exhaust, along with new crank and conrods to handle the extra the revs. Mazda says the changes help reduce exhaust losses and mechanical friction, and improve combustion speed. Similar changes are made to the 1.5L, in terms of the pistons, with output lifted from 96kW to 97kW, and torque raised from 150Nm to 152Nm.
To coincide with the hardware updates and help distinguish it from the outgoing model, Mazda has provided some freshly designed 16-inch alloy wheels with a black metallic finish for the 1.5L roadster, and new 17-inch alloys in black for the RF. Roadster GT and RF GT get a new-look 17-inch design in silver.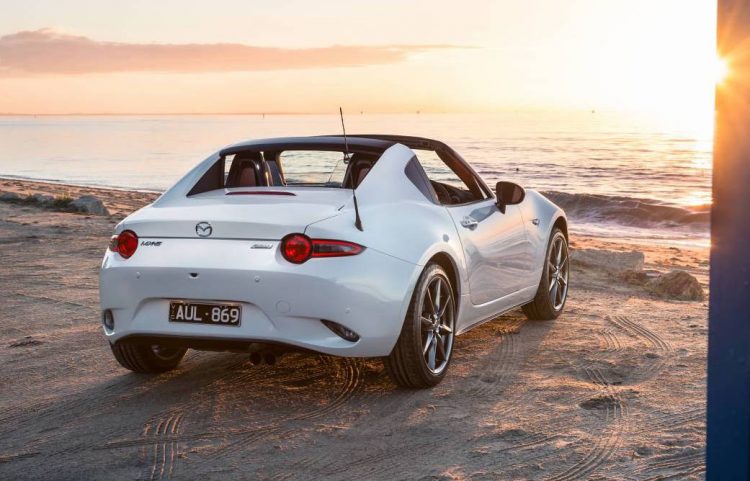 In other areas, Mazda says it has made some changes to improve response for a more direct feel, while shift timing on the auto for turn-in and torque control for corner exits have been enhanced for a more precise character. Essentially, you should be able to get on the power earlier and manipulate the car's direction more immediately.
Inside, some minor improvements and tweaks here and there have been administered for an improved overall experience. For example, the detachable cup holders have been strengthened so they won't wobble as much, and the seats adjustment levers are thicker for a more solid and assured feel.
Finally, Mazda has fit a more adjustable steering column with rake and reach movement (previously only rake). All models come standard with a rear-view camera as well, with Mazda's latest i-ActivSense safety suite including autonomous emergency braking and traffic sign recognition as standard.
The new model is on sale now, with prices starting from the following (excluding on-road costs):
2019 Mazda MX-5 Roadster 1.5L 6MT – $34,190
2019 Mazda MX-5 Roadster 1.5L 6AT – $36,190
2019 Mazda MX-5 Roadster GT 2.0L 6MT – $41,960
2019 Mazda MX-5 Roadster GT 6AT – $43,960
2019 Mazda MX-5 RF 2.0L 6MT – $39,400
2019 Mazda MX-5 RF 2.0L 6AT – $41,400
2019 Mazda MX-5 RF GT 2.0L 6MT – $45,960
2019 Mazda MX-5 RF GT 2.0 6AT – $47,960

2019 Mazda MX-5 RF GT black roof 2.0L 6MT – $46,960
2019 Mazda MX-5 RF GT black roof 2.0 6AT – $48,960