Take a look at this beastly beauty. It's called the Lexus LC 500 and it is without question one of the most breathtaking vehicle designs currently on the market. This one will go down as one of the finest vehicle designs of the 21 century, surely.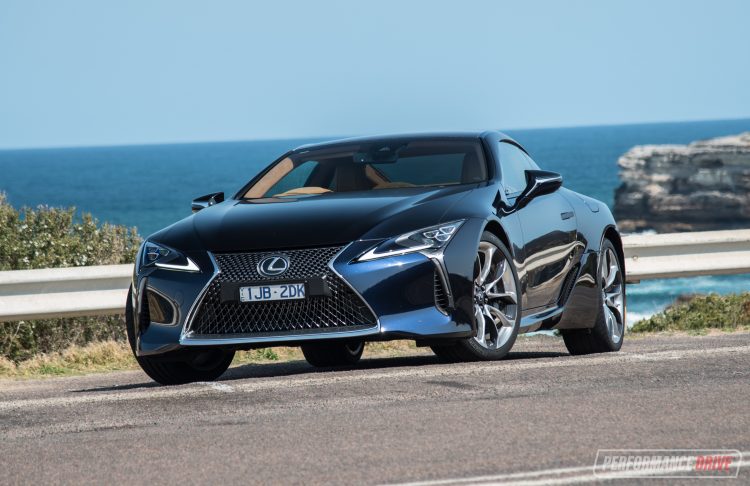 Yes, we're that excited by the new LC. Lexus needed something to capture the world's imagination and reignite some of its automative inspiration, remembering this is the company that gave us the goosebump-inducing LFA supercar just a few years ago. We know it can produce really desirable, pin-up poster cars if it wants to. And now it looks like it has.
At the moment there are only two variants available; the LC 500h hybrid as tested earlier this year, featuring a V6, and then this bad boy, the LC 500 (without the 'h'). It comes with a V8 and a brand-new 10-speed automatic. Both are rear-wheel drive and both look identical.
2017 Lexus LC 500 – THE SPECS
Engine: 5.0-litre V8
Output: 351kW@7100rpm / 540Nm@4800rpm
Transmission: 10-speed auto
Drive type: Rear-wheel drive, limited-slip differential
Wheels: F: 21×8.5, 245/40  R: 21×9.5, 275/35
ANCAP: Not tested
Tare weight: 1915kg
Power-to-weight: 5.45:1 (kg:kW)
Official fuel economy: 11.6L/100km
Economy during test: 13L/100km
Fuel capacity/Type: 82L/98 RON
Power efficiency: 30.25kW:L/100km
0-60km/h: 2.74 seconds*
0-100km/h: 5.12 seconds*
60-110km/h: 3.18 seconds*
1/8 mile: 9.02 seconds at 143.2km/h*
1/4 mile: 13.45 seconds at 179.9km/h*
Max acceleration: 1.210g
100-0km/h braking: 3.08 seconds at 38.71 metres*
Max deceleration: -1.194g
Decibel at idle: 43*
Peak decibel at 60-100km/h: 93*
Priced from: $190,000
* Figures as tested by PerformanceDrive on the day. Factory claims may be different

2017 Lexus LC 500 – THE PACKAGE
We'll try not to bang on about the design too much but it's very difficult not to. At a recent vehicle launch event (not Lexus) we sat down and had a chat with one of the head designers and they admitted the new LC is a truly stunning design.
It looks like a concept car and that's because it's heavily influenced by the LF-LC concept that was unveiled in 2012. To go from concept to production while retaining a lot of the design and proportions must have been a big job.
The LC project was led by chief engineer Koji Sato and chief designer Tadao Mori at Lexus, and the task was to translate the concept into a production car. According to Sato it was the "greatest [project] Lexus had undertaken since the development of the original LS". He said:
"While maximising the fundamental taste of the LF-LC, we applied completely different specifications to create a design that goes beyond the concept – a design that will captivate you as soon as you see it. In my view pursuing beautiful design and elaborating great performance is very similar."
The entire development team collaborated on the LC project, including engineers that were ready to implement the all-new Global Architecture – Luxury (GA-L) platform, to the interior designers and the suspension developers. In fact, Lexus says the suspension development required six months just to re-work the geometry to retain that super-low bonnet line – check out the spider web-like bracing under the bonnet.
The end result really speaks for itself. We drive a lot of cars at PD but this one has by far attracted the most attention from the general public. Everywhere we stopped somebody from the general perimeter had to come up and talk to us about the car. We ended up chatting to a guy for about 20 minutes after meeting in a petrol station queue – he had a Ferrari 328.
Around at the back is the best view in our opinion, even though that low front end is spectacular. The taillights in particular. They feature this kind of frosted plastic panel that encases multiple rows of LEDs for a full-on 3D effect. The roofline, the rear haunches and the windscreen all form down the electric pop-up rear wing so perfectly as well. Needless to say, this is one of those cars that you can park on your driveway and just sit and stare at it, and take in all its glory.
And then there's a surprise when you get in. Get a load of this interior. What a masterpiece in design, build quality, and sheer sense of luxury. Lexus really has gone to extraordinary lengths to prove that it can create an inspiring design, and not just for the exterior. The way the dash wraps around the occupants and flows with consistent soft-touch materials and precise instrumentation is just divine.
Buyers have two colour choices for the decor, including a deep maroon or a no-cost optional ochre beige as featured here. Beige was a thing of the past but Lexus seems to have brought it back in spectacular fashion. We've spent a week in the standard red interior in the LC 500h, but after spending a week in this beige version we think it's the pick. It does a better job of lighting up the cabin and subsequently highlighting the attention to detail.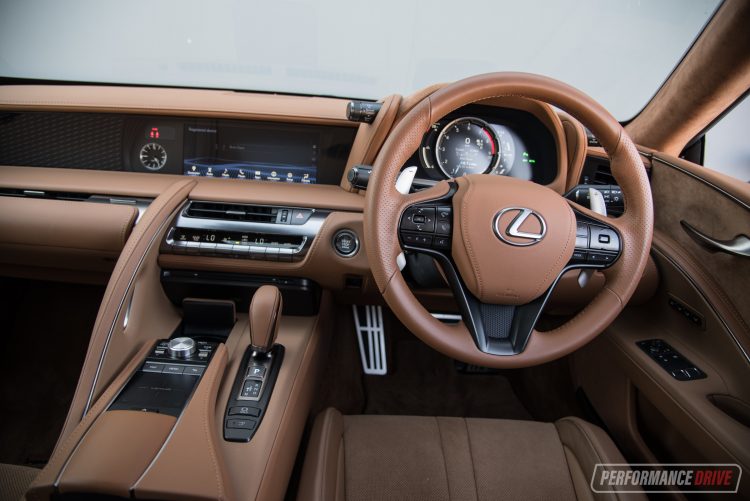 Detail such as the titanium-like door handles that sprout out from the Alcantara-trimmed doors, or the sweeping centre piece that runs through the dash with the integrated multimedia screen, or the magnetised leather strap that holds the seatbelt close, or the metallic tracking and tuning wheels embedded in front of the touch pad control module… we could go on and on. It's all designed with true artistic merit and yet, somehow, friendly, if an interior could be described as that.
Okay, so, back to the actual review. The cabin is surprisingly accommodating, with long and deep footwells providing room for tall people, and pretty good headroom with the carbon fibre roof. After all, this is more of a grand touring coupe than a supercar. As such, the seat cushioning walks that fine line of being supportive yet not too firm. And being wrapped in high quality beige leather and suede makes it feel like you're being cradled in a nicely worn-in baseball mitt. Of course, everything is electrically adjustable, including the steering column, seats, and even the digital instrument cluster.
Boot space isn't that impressive but it's not bad for a coupe. You could get a weekend's worth of luggage in there. For reference, it measures at 197 litres, which is piddly, but thanks to the decently long reach/depth it gets away with it.

2017 Lexus LC 500 – THE DRIVE
How could the drive possibly top the design? You're not going to believe us but it actually does. The purity of the handling is a joy to work with when travelling down your favourite road. We said it with the LC 500h and it's the same here; this platform feels like it could handle twice the engine power with no problem. It is very planted and almost heavy feeling, but then we you chuck it about it responds and behaves playfully.
Those who enjoy tail-out powersliding will be a touch disappointed here as this is not the car that will readily do it when you sneeze on the throttle. But this is a good thing, as you can sneeze as big as you like on the throttle and it'll almost never come unstuck. Turn-in is weighty, as mentioned, but confidently solid and trustworthy. You can then get on the power as early as you like and the clever-but-not-intrusive limited-slip differential will swing you around the corner with firm grip, like an iceskating duet doing a dance. It is really enjoyable, elegant and above all else, genuinely nice to drive. If you really want to kick the tail out you'll need to throw it into the apex very early and jump hard on the power. It'll do it and remain composed, but that's not what this car is about.
So how does that 10-speed auto pair up with the 5.0-litre naturally aspirated V8? Can you notice the difference compared with the RC F and GS F that use the same engine only with an eight-speed? Truth to be told it's not as high tempo as we were anticipating. The first few gears are still quite long, well, not too long, but we were expecting first to be over by 20-30km/h, then second by 50km/h, and then third by 80km/h.
An extra gear is placed somewhere in between second and third Lexus says, "to eliminate the feel of second and third gears being drawn out for too long". A final, 10th gear has then been added to support highway cruising to bring down the revs.
It's a wonderful gearbox. The eight-speed predecessor is/was excellent anyway, so you can imagine this as a slightly tweaked version with better highway gearing. Each click of the paddle shifter gives you almost instant downshifts, and you can even rapid-fire downshift multiple gears too and it'll quickly jump down to set you up for the next corner. Up-shifts are very smooth with no jolting whack in your back, despite taking fractions of a second to conduct.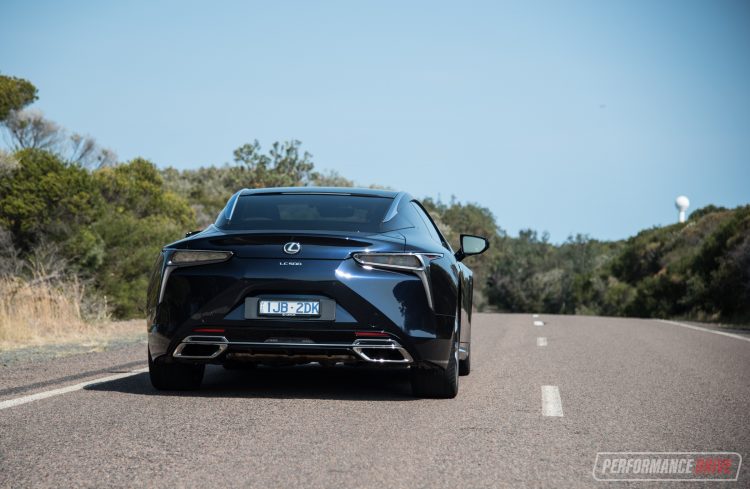 As for the engine? What an engine. We've always loved the 2UR-FSE in the original IS F, and in this more modern form with direct injection (now called the 2UR-GSE) it is in its best tune yet. Peak power of 351kW is reached at a splendid 7100rpm, at which point you'll begin to wet yourself with excitement, with peak torque of 540Nm (up 10Nm over the 351kW RC F and GS F) arriving at 4800rpm. The V8 offers an old-fashion character – being naturally aspirated – with more revs equalling more power, but the modern technologies make sure it is linear and firing super-efficiently. Ridiculously linear, actually.
Lastly, the noise. Oh boy what a noise. Editing this video together actually took a lot longer than usual simply because we were addicted to re-watching the rev-past and take off parts, over and over again. And Lexus, the crafty buggers, have worked in an exotic crackly exhaust spit with each up-shift, just to make sure every goosebump is stretched high above your skin.

2017 Lexus LC 500 – THE VIDEO
2017 Lexus LC 500 – THE VERDICT
We've gone on a lot about how good this car is and it probably seems biased – Lexus hasn't paid us squat, honestly. It's simply not very often a new vehicle comes along that truly inspires you. If PerformanceDrive had a car-of-the-year contest, the Lexus LC 500 would have won it this year with flying colours.
It offers every single thing you want in the 'ultimate' everyday-compatible dream car; stunning looks without standing out like a douchebag, an intimate yet visually and tangibly pleasing interior, exceptional built quality, pedigree, a great soundtrack, and a superb driving character that makes you want to get up early every morning just to spend more time behind the wheel before work. Add in the arguably industry-leading reliability and longevity of Toyota/Lexus, and you're left with a package that is down right irresistible. Now stop wasting time and have a listen to it in the video above – then try telling us you don't want one.
PROS:
– World class design – will be a future classic
– Breathtaking interior and attention to detail
– Build quality and materials
– One of the best-sounding NA V8s on the market
– Handles like a dream, but also properly dynamic and sorted for all driver types
– Lexus reliability

CONS:
– Small boot
– Touch pad can be a bit fiddly
As always, if you're thinking about buying a new car don't forget to click here to speak with our car buying specialists.