The 2017 Kia Picanto derives its name from the Spanish word for spicy; picante', which, to some, may carry sporting or thrilling pretensions. Sitting in the smallest and most affordable city car segment, the emphasis is more on usability, tech and affordability than thrills – but a turbocharged GT-Line version is promised later on that should register higher on the Scoville scale of hot hatches. For now, we thought we'd get into the manual S model to see if it's got the foundations of a fun-driving city car.
Its predecessor was launched in 2016, in automatic only guise, with the sole option of a 1.25-litre four-cylinder. That engine has carried over for 2017 (MY2018), with 62kW and 122Nm. Crucially, a five-speed manual is now available as well, at a time when most manufacturers are deleting this option. Does this all add up to a mouth burning dish? Or is it more Light 'n' Tangy crisps?
2017 Kia Picanto – THE SPECS
Engine: 1.25-litre four-cylinder
Output: 62kW@6000rpm / 122Nm@4000rpm
Transmission: Five-speed manual
Drive type: Front-wheel drive
Wheels: F: 14×5.5 steel, 175/65, R: 14×5.5 steel, 175/65
ANCAP: Four stars
Tare weight: 976kg
Power-to-weight: 15.74:1 (kg:kW)
Official fuel economy: 5.0L/100km
Economy during test: 5.9L/100km
Fuel capacity/Type: 35L/91 RON
Power efficiency: 12.4kW:L/100km
0-60km/h: 5.41 seconds*
0-100km/h: 12.14 seconds*
60-110km/h: 9.80 seconds*
1/8 mile: 11.92 seconds at 99.2km/h*
1/4 mile: 18.48 seconds at 121.0km/h*
100-0km/h braking: 3.13 seconds at 40.50 metres*
Decibel at idle: 37*
Peak decibel at 60-100km/h: 75*
Priced from: $14,190
* Figures as tested by PerformanceDrive on the day. Factory claims may be different

2017 Kia Picanto – THE PACKAGE
The all-new, third-gen Picanto brings with it a 12 per cent stiffer structure, 7.0-inch infotainment system and, improved dynamics with local chassis tuning and even torque vectoring, plus new looks. To some the latter might be a step backwards from the cherub curves of the older model, but the shark-nosed newbie certainly fits in with its brothers and sisters.
Starting from $14,190, the Picanto sits at the lower end of Australia's new car pricing spectrum. The 3595mm long, 1595mm wide and 1485mm tall Picanto ain't no no-frills affair. Four power windows, Apple CarPlay, a reverse camera, cruise control and trip computer are wonderful inclusions for this price. Its closest rival, the Holden Spark LS is $200 cheaper, but asks more for reverse camera and cruise control, and only has two power windows.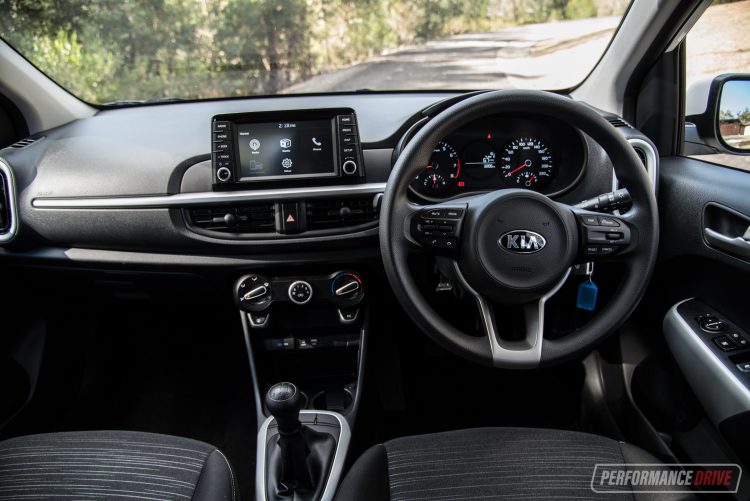 Despite clever design elements such as the floating infotainment stack, swivelling cupholders and a very user-friendly environment, the Picanto's interior feels austere and grey, losing some of more characterful elements of its predecessor such as the S-Class-style single spoke steering wheel. The rather tinny four-speaker system pales next to the Holden's six-speaker setup for bass and sound quality.
A cheerful colour palate redeems the Picanto's credentials, with a metallic 'Honey Bee' yellow, dark maroon as well as vibrant orange and green colours to add a touch of individuality – it's a shame this press car is in rent-a-car white.
Accommodation is as ample as one can expect from this class of car, with four outboard adults suitably catered for during long journeys, five at a pinch. The 255L boot expands to 1010L when the seats are folded down, but we're a bit let down to find a space saver spare underneath. Kia's usual seven-year/unlimited warranty with roadside assistance killer punch is present and accounted for. ANCAP has given the latest Picanto a four-star ANCAP safety rating, which is under-par.
2017 Kia Picanto S – THE DRIVE
The 1.25-litre four-cylinder and five-speed manual combination is a happy one, much more so than the five-speed manual Holden Spark we tested earlier this year. We think this might be due to the torque level. The Kia offers 122Nm at 4000rpm occurring earlier than the Spark's 124Nm at 4400rpm. The ratios feel a tad shorter as well, with fewer downshifts required on gradients and no hesitation off the line. However, highways revs can get a little noisy at the national speed limit.
Our best 0-100km/h of 12.14 seconds is nothing to crow about but performance is more than adequate for today's traffic. While you would not call the engine charismatic, our achieved average of 5.9L/100km puts it very close to the factory claim of 5.0. We suspect the four-speed automatic version would have a thirstier time on the freeway, but this drivetrain is fine around town on its predecessor.
It idles quietly without the thrum of some three-bangers ( Mirage, Swift GLX), and less wind noise (Suzuki, again) than some cars even in the next segment up. For the modest outlay, the Picanto offers impressive levels of solidity, refinement and driver enjoyment. However, for a car of this size the A-pillars seem maybe a tad thick for visibility.
During vigorous cornering, the Picanto stays impressively composed, with no tyre shrieking as you'd find on some others. The steering is direct but not overly feelsome, with gearshifts precise but not overly satisfying. It is a competent, confidence-inspiring and safe with a good ride/handling blend thanks to Kia's local team. In terms of dynamics, it lies somewhere between the dull Mirage and the keen-handling Spark.

2017 Kia Picanto – THE VIDEO
2017 Kia Picanto – THE VERDICT
The new Picanto offers a huge amount of standard equipment, refinement, versatility and efficiency. The fact that it comes with a comprehensive touch-screen interface should be more than a reason to consider this car. Throw in one of Australia's best after-care packages and the Picanto is very hard to argue with as an affordable city car. We hope the local arm brings across the 1.0-litre turbo, 73kW GT-Line, because we think that would be a extremely fun runabout.
PROS:
– Modern interior design
– Touch-screen with reverse camera, smartphone integration
– Good cabin space (for class)
– Refinement and solid handling
– Excellent warranty and roadside package
– Low running costs

CONS:
– Four-star ANCAP rating
– 1.0 turbo not here yet
As always, if you're thinking about buying a new car don't forget to click here to speak with our car buying specialists.