After a sneak peek in a Super Bowl commercial, Nissan has revealed the 2016 Maxima luxury sedan. It will make its full debut at the 2015 New York International Auto Show in April.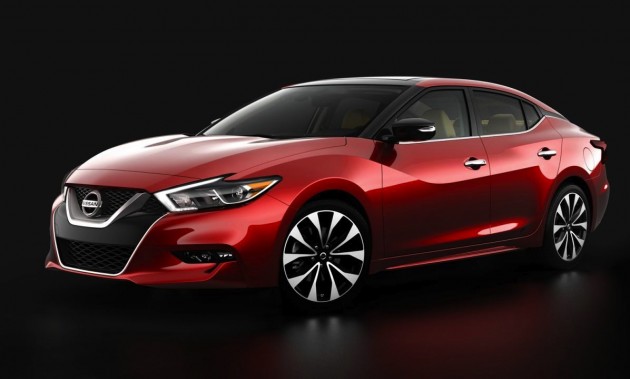 Only a couple of images have been released as Nissan probably wasn't expecting everyone to make a big deal about the Super Bowl appearance – or maybe that was the marketing plan all along?
It looks like Nissan designers were very busy in coming up with the styling of the new Maxima. No panel or trimming is carried over from the predecessor. This is an all-new model.
At the front is Nissan's current grille design layout, however, surrounding it are a set of futuristic headlights that show off little LED flicks that force up into the bonnet area. Lower down you can see a neat integrated spoiler system and an aggressive chin scoop.
Along the sides and toward the back of the car there's multiple panel contours that look a bit like the surface of a rippling ocean. Nissan has gone for the fashionable black pillars for a cool four-door coupe look, while at the back are a set of complex taillights with a short boot overhang.
Specific details on the engine and drivetrain are yet to be revealed, however, it is expected to come with the 3.5-litre V6 found in the outgoing model. Power will likely top 190kW, sent through a front-wheel drive system. A hybrid version might also join the lineup, borrowing technology from the Pathfinder Hybrid.
More details will be revealed at the New York show which starts on April 3. As far as we know, Nissan Australia has no plans to introduce the Maxima to local shores any time soon.