Some new city cars in the lower end of the pricing spectrum are marketed in a way that is heavily skewed towards young women. The 2016 Mitsubishi Mirage LS and 2016 Holden Spark LS have both been featured in advertising suggesting young girls are the sole demographic for these cars. What about the elderly who just want a simple-to-operate, easy-to-park runaround? What about people who want the smallest car money can buy to save on fuel?
The Mirage has been around for three years and also comes in sedan form to cater to more conventional tastes. The Spark has just lobbed this year, featuring a new platform and fresh styling inside and out; with input from Aussie design guru Mike Simcoe. Mitsubishi's packaging is more traditional with simple designs and functionality, with user-friendliness being the main focus, while the Spark is bold and energetic throughout, with a confident front end, clever proportions as well as a smart new layout and materials within.
According to VFACTS new registration figures the Mirage is the best-seller in Australia in the "Micro" segment, with 562 units going out to buyers so far this year (through June). The Spark, on the other hand, has sold to 119 buyers, making it the fifth best-seller. For 2016, Mitsubishi has grafted the sedan's larger grille to the hatch and added some bold new colours in a bid to re-invigorate its entry-level hatch. Is it enough to stay on your shopping list? We've got them both here to find out.
We're assessing these cars based on Comfort, Entertainment, Cost of Ownership, and How They Drive. Whatever your needs are for this type of car, this is your one-stop information nexus. We didn't get a chance to sample the spec-for-spec variants, but we are looking at these in general nameplate terms. The Mirage LS as tested is the top model, priced from $15,250, while the Spark LS (also named LS) is the base model featuring a manual transmission, priced from $13,990.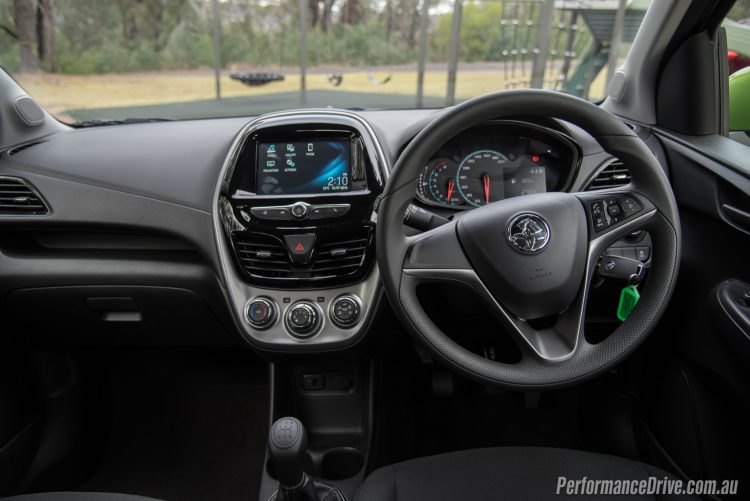 2016 Mitsubishi Mirage LS vs 2016 Holden Spark LS: PROS & CONS
2016 Mitsubishi Mirage LS
2016 Holden Spark LS
Pros
– Affordable
– Good standard equipment including climate control
– Comfortable, relaxing interior
– Five-star ANCAP safety
– Five-year warranty
– Slightly roomier than Spark
– Cheap to run
– Reliable and simple
– Fresh, dynamic styling with excellent proportions, cool hidden door handle
– Interior design and infotainment system
– Nice steering
– Refinement
– Five-star ANCAP safety
– Low running costs
– Excellent visibility and parking
Cons
– Gravelly sounding engine note
– Awkward, rolly-polly handling when pushed
– Good fuel economy but should drink less than it does
– Jellybean styling
– Uninspiring
– Space saver spare wheel
– Getting pricey
– Embarrasses its bigger brother, Barina
– Thirstier than expected
– Lack of usable torque from 1.4 engine
– Poorly chosen gear ratios in manual
– Space saver spare wheel
2016 Mitsubishi Mirage LS vs 2016 Holden Spark LS: THE PACKAGE
COMFORT
Both of these cars are very small, obviously. The Mirage is 3710mm long, to the Spark's 3595mm. It is also taller (1500mm vs 1476mm) and wider (1665 vs 1595mm), with a longer wheelbase (2450 vs 2385mm), suggesting it would be roomier. It does have a slight edge in terms of back seat room, but the Spark's more upright packaging means it is barely noticed (for four occupants). The Mirage has slightly broader front seats than the Holden's, which are still surprisingly comfortable. Boot space is rated at 235L in the Mirage and 185L in the Spark, with both presenting a narrow yet deep layout.
In terms of interior and dash layout, the Mirage is simple and understated. There is a sea of hard grey plastic at the top, but the centre fascia's piano black finish and buttons are a welcome touch, particularly with this top-spec LS's electronic climate control. Another highlight are the chrome bezels around the speedometer and tacho. This up-spec model is fitted with cruise control, making long journeys more relaxing. NVH revisions including to the suspension (which is quite soft) mean noise is pretty well contained, with not much engine noise seeping into the cabin at cruising speed; Mirage engine noise recorded across 60-100km/h acceleration topped 80dB against the Spark's 75dB. Trip information is at your fingertips too, such as fuel consumption.
The Spark looks another generation ahead with a 7.0-inch information touch-screen enshrined in aluminium as the centrepiece of its inner-sanctum. There is no impression of cut-corners or 'budget', with the car feeling more expensive than its price suggests. While it misses out on Mirage's climate control, the ventilation knobs are a tactile delight to operate. The steering wheel feels and looks terrific with easy-to-read dials and trip information right where you need them. Being a newer car, noise insulation is noticeably better, with less tyre roar thanks to the Continental tyres. While not particularly firm, the Holden's more composed handling might bode well for passengers who are prone to car sickness.
So, the Holden feels more modern, is somewhat quieter but the Mirage is slightly roomier with a more comfort-oriented interior layout. We'll call this round a tie.
ENTERTAINMENT
Being the hottest new thing in new car infotainment, you'd expect the Spark to romp this one home thanks to its MyLink functionality with Apple CarPlay and Android Auto. It is an outstanding system, which, while lacking navigation, adds a premium feel to the base model Spark. The radio is easy to operate, as is the hands-free system. The quality of the six-speaker sound system is better than you'd expect from a base model too, with decent bass and crispness, with very faint deterioration towards the upper dB range. It looks like Holden has this one sewn up then?
Not so fast. With the majority of small cars now being targeted towards 'millennials', such as yours truly, all the suits assume we're so quick to adopt new technology they never took time to walk into a JB HiFi, where they would have found droves of us still buying CDs. This is where the Mirage comes in.
It still has a CD player. Audio quality from the four-speaker system is also very good, if not quite up there with the Spark. You have Bluetooth streaming capability and an auxillary port too, which means if you can live without the snazzy interface, you can still play your songs through your phone.
We're giving this one to the Holden though, unless the CD player is a deciding factor.
COST OF OWNERSHIP
On test we have the upper spec Mirage LS, which is priced from $15,250 as mentioned. Given manufacturers don't quote on-road costs, things like stamp duty and registration could add up to $3000 depending on state when you sign the dotted line. If you can do without alloys, cruise control and climate control, the ES auto will save you $1000. Shifting your own gears will save you another $2000, at $12,250 as Australia's cheapest new car.
The base model Spark LS here is $13,990, or $15,690 with automatic. The higher-spec model with reverse camera, sensors, trim highlights, alloys and cruise control is $18,990 in auto-only guise. Actual transaction prices could vary from up to $18k to over $21k for a fully equipped model. Insurance for both should be between $600-800 in ideal circumstances, meaning they are some of Australia's cheapest cars to insure.
In terms of servicing costs, the Mirage fluctuates between $200 and $230 with 15,000km intervals, while the Spark with the same intervals sits at $230, until 75,000km where it becomes $280. Both have one year free roadside assistance, which is just as well since they both only have space saver spare tyres.
In terms of warranty, Mitsubishi offers five years/100,000km to Holden's three years/100,000km jobbie. If you do less than 25,000km a year, Mitsi has the advantage here.
Overall in this category they are hard to split but initial entry price and fuel consumption for these models as tested is getting into Yaris/Fiesta/Polo/Mazda2 territory. If we're talking Mirage ES it would have an easy win with its cheaper price and better warranty, but since we're not, Spark wins this round too.
SAFETY
Both of these cars have been awarded a five-star ANCAP safety rating. Oddly enough though the Mirage has a higher numerical value of 34.07 out of 37 for the final rating to the Spark's 33.60.
Despite having tinnier-feeling doors, the Mitsubishi fared slightly better in the side-impact test, with "acceptable" right driver knee protection to the Spark's "marginal". Otherwise, both have dual front and curtain airbags, stability control and reasonably stiff platforms. The Spark's superior braking performance and more stable chassis means it is more proficient at avoiding crashes, negating the Mirage's toenail crash test advantage. We'll call this a dead heat.
2016 Mitsubishi Mirage LS vs 2016 Holden Spark LS: THE VERDICT
Taking price into the equation, the Mirage is an affordable, easy to drive, comfortable and safe car to own and drive. It gets the job done but doesn't like being driven with enthusiasm. The ES model makes sense if you have a price limit but the LS tested here is too close for comfort to the base-spec Spark.
The Spark easily gets the win here with its excellent steering, delightful interior presentation (and interface), and more refined and better driving experience. Not to mention fresher exterior design. We hope Holden sees fit to fix the lethargic engine and that clanger of a manual gearbox, pronto. Other cars worth considering in this class are Suzuki Celerio and Kia Picanto, but if you can live with a manual gearbox, you might be better off with a Mazda2 Neo.
2016 Mitsubishi Mirage LS vs 2016 Holden Spark LS: THE DRIVE
This is where we get to some key differences. Holden's much newer entrant benefits not only from a brand-spankin' chassis, but also local testing and tuning from some of the most talented engineers on the planet. Straight away you can tell, as the great-looking steering wheel telegraphs a consistent and linear feel through your fingertips, with a little bit of feedback as well. It feels direct but has such great on-centre feel you'd swear you were in a larger, more expensive car. We think it is the highlight of this car. It makes the car confidence-inspiring and easy to judge through corners. A sudden change in direction demonstrates the front weight bias, but it is well contained and stability control keeps it safe and predictable.
Bump absorption is as good as you could expect in this genre of vehicle, with only the biggest crashing through into the cabin.
Braking performance is decent for both, with the Mirage recording an emergency 100-0km/h stop in 39.21 metres and 38.64m in the Spark. The light rear end in the Spark can sometimes come unstuck under severe conditions like this.
Holden supplied us with a manual Spark against the automatic (CVT) Mirage, as mentioned, but with this we uncovered a shocking torque deficiency, dull throttle response and poorly-judged gear ratios. Despite having a 1.4-litre four-cylinder against the Mirage's 1.2-litre triple, it has over 100kg more to carry (993kg vs 876kg). Its 73kW and larger capacity seem impressive on paper, but the peak 124Nm of torque comes in at 4400rpm; two-thirds of the way up the rev range. As a result, you learn to downshift twice even on modest inclines and use the clutch and shifter frequently to stay in the right gear.
The gears are easy to use but we'd suggest it needs shorter ratios, maybe a sixth gear and much more torque low down than the anaemic 1.4 currently offers. GM's 1.0-litre turbo three-cylinder ought to do the trick. This lack of usable torque would be less apparent in the $1700 dearer automatic (CVT) version, we suspect. Nevertheless, the Spark is zingy up high so it had a 0.6-second 0-100km/h advantage in this test; 12.30 against the Mirage's 12.92 seconds.
The Mirage has a different feel to it entirely. The steering is pleasantly light in all situations and makes the car easy to place where it needs to be. Weighting is okay if a bit lumpy, but it lacks any kind of feedback, staying numb and isolated at all times. Throw it into a corner and it exhibits all the poise of a freshly-born foal, although remaining relatively stable even through mid-corner bumps.
There is noticeable bodyroll, which is an early signal to the driver that it doesn't want to be hustled. What little speed isn't scrubbed off by the weight transfer is seen to by the ESC and push-understeer, thanks to not-very-grippy 175/55 tyres. If you have no intention of ever attacking corners in a hurry then it won't bother you. It's safe and predictable, just not as engaging as the Spark. Both cars feature a basic beam-type rear suspension setup with coils and dampers.
Despite the slower 0-100km/h time, the lighter Mirage never feels as breathless down low as the Spark. You still have to ring its pencil-thin neck to get over big hills, but the CVT does a fine job of keeping it as on the boil as 57kW and 100Nm could ever hope to be. The note emanating from the three-cylinder is gravelly and unrefined. Most triples have a charming off-beat timbre but not this one. It sounds like a belt sander.
With a quoted 4.8L/100km official average, we were hoping for better numbers than the 7.2 figure we saw, which incidentally is the same as we got in the Spark (5.2 claimed). This is not very good when cars in the next class up such as the Mazda2 have returned 5.9L/100km in automatic guise, no less. But it still means good range from the Mitsi and Holden's 35L and 32L tanks, respectively.
Parking-wise, both are stupid easy, despite lacking a reverse camera or sensors (available on the up-spec Spark LT). Both cars are easy to judge thanks to compact dimensions and useful wing mirrors.
While its clear both of these cars have an emphasis on ease-of-driving rather than sportiness, the Holden offers a far more sophisticated driving experience, even taking the engine and gearbox issues into account. The Mirage is adequate but outclassed in our opinion.