Is this the 2014 Mercedes-Benz E-Class? An image has just surfaced on a Spanish website called Autofacil.es showing what appears to be the next-gen model in full factory guise, without any sort of camouflaging.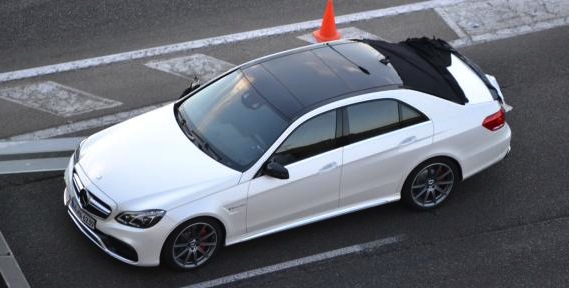 The image was taken out the front of a hotel in Madrid, Spain, by photographer Víctor Gutiérrez Poza. The photographer apparently noticed a 'V8 biturbo' badge on the side, suggesting that it could be the new E 63 AMG.
The high performance AMG version is usually introduced some time after a new model is launched, however, simply judging by those racy lightweight mesh-style alloy wheels, it could be the next E-Class AMG.
If this is the next-gen AMG, you could be looking at the first version to feature a 4MATIC all-wheel drive system, as reported last week. The change from rear-wheel drive is expected to improve acceleration and overall performance, as well as bring down the 0-100km/h time to around 3.4 seconds, blowing any of its competition out of the water.
In terms of design, judging by this image, the 2014 Mercedes-Benz E-Class will adopt the company's latest front end styling language which incorporates single headlights instead of the current two-piece layout.
The central grille in the front also features a single chrome crossbar instead of today's multi-tier arrangement, while a new bonnet blends in a slightly more muscular set of lines which stem from the tips of the grille.
The new model isn't expected to debut until some time in 2013.