After a number of teaser videos and previews, the 2014 Audi A8 and S8 large luxury sedan have finally been unveiled. They feature more powerful engines, reduced fuel consumption, and a whole host of cutting edge technologies.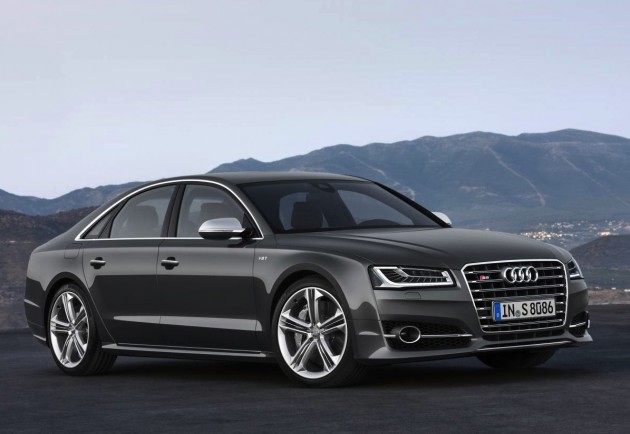 Making up the new range are two turbo-petrol and two turbo-diesel engine options. The petrol lineup includes a 3.0-litre TFSI supercharged V6 producing 228kW, and a 4.0-litre twin-turbo V8 producing 320kW.
As for the diesels, there's a 3.0-litre TDI with 190kW, and a much more powerful 4.2-litre TDI with 283kW and 850Nm.
Performance has improved for most variants, with the 4.0 TFSI covering 0-100km/h in just 4.5 seconds. At the other end of the scale, the 3.0 TDI offers an average fuel economy rating of just 5.9L/100km, which is super impressive for a vehicle of this stature.
For the outright performance fans, Audi will also offer a number of more serious engine packages in some markets. There's a 6.3-litre W12 petrol engine which produces 368kW, as well as the new S8 which features a 4.0-litre twin-turbo V8 producing 380kW. The S8 is able to sprint from 0-100km/h in just 4.2 seconds.
Thanks to a new, almost completely aluminium space frame platform, the 2014 A8 3.0 TFSI weighs in at just 1830kg, which sounds like a lot, however, it's actually the lightest vehicle in its class with all-wheel drive.
Another advanced area of the new model is the matrix LED headlights which are capable of directing beams of light to very specific areas. There's also a pampering interior with some models receiving massage seats, a power foot rest, a fridge, as well as Audi's MMI multimedia platform and touchpad. Audi says the cabin gives off a "hand-built" character.
In terms of market entry, Audi will launch the new A8 in Australia during the second quarter of 2014. The 3.0 TDI and 4.2 TDI have been confirmed, while the S8 will also follow. Prices and local specs will be announced closer to the launch.