The 2012 Jaguar XF 2.2D is the British marque's latest eco-friendly luxury sedan. It still features all the usual suave trimmings, attention to detail, and excellent comfort you'd expect in a Jag, however, power comes from a frugal turbo-diesel engine.
In a nutshell, it's the most cost effective way to step into a brand new Jaguar.
2012 JAGUAR XF 2.2D – PROS AND CONS
PROS:
Very stylish and imposing looks, with high status
Excellent ride, cabin comfort and quietness
Fuel economy
Great starting price ($78,900)
CONS:
New 2.2D doesn't sound all that refined at low revs
Minimalistic interior design leaves a touch-screen interface to do almost everything
Minor aspects of the interior are a little bit cheap and creaky
2012 JAGUAR XF 2.2D – OVERVIEW
In the past, luxury sedans came with little compromise in terms of engine power over fuel-efficiency. They often came with a V8, or at minimum a large six-cylinder engine. In today's world, things are a little different.
Due to a number of reasons, including government and social pressure, and demands from emerging markets, carmakers are developing large luxury vehicles that are also available with not-so-thirsty engine packages – Mercedes-Benz has only recently introduced a four-cylinder S-Class for the first time, for instance, while pretty much all luxury makers have a hybrid in the pipeline.
This new Jaguar XF 2.2D is the only four-cylinder Jaguar on sale, and it's the first-ever Jaguar to feature stop-start technology as standard. It comes with a 2.2-litre TDi4 turbo-diesel four-cylinder engine, with switchable stop-start technology, producing 140kW of power and a hill-flattening 450Nm of torque. It's matched up to a new ZF eight-speed automatic transmission with sports mode and paddle shifters.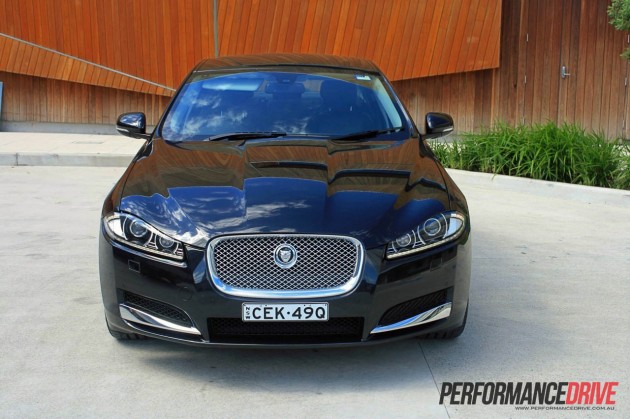 The whole theme of this variant is efficiency. Despite the XF 2.2D weighing in at 1745kg, its official average fuel consumption rating is just 5.4L/100km. This is a very low rating, not just for a luxury sedan, but even for a small hatch (the Toyota Corolla is rated at 7.3L/100km according to the Green Vehicle Guide website). On top of this, emissions are rated at 149g/km of CO2 – also very low.
So what's this mean in the real world? Well, our trip computer gave us an average consumption rating of around 7.6L/100km during our time with the 2.2D. This was achieved mainly squirting about in traffic, with some freeway driving. We also achieved around 700km from one tank of fuel (69L), however, we have full confidence that it could achieve a much higher range if it spent more time out on the open road.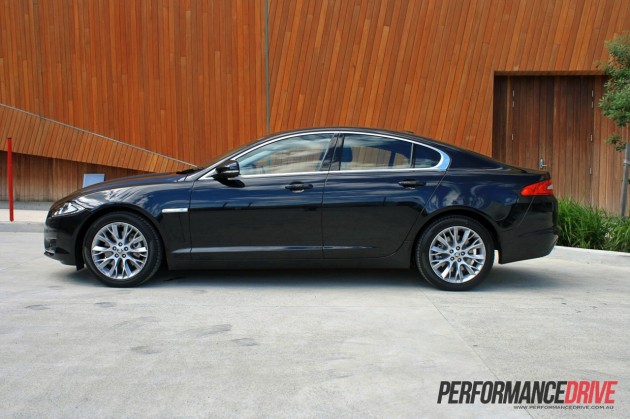 2012 JAGUAR XF 2.2D – ACCOMMODATION AND EQUIPMENT
Sitting in the 2012 Jaguar XF 2.2D you're instantly aware you're in something special. There's loads of wood trimming around the place, including on the door trims, the dash and centre console. Everything inside is very tight and solid, and well put together too. Except one area. For some reason the wood-coated lids on the centre console are quite tacky and plasticky.
Everything else is a blend of fine luxury and strong build quality, such as the stainless-steel-style rotary gear selector knob which rises up from the console on start up; the cluster of power window switches on the driver's door which feel as if they are milled from a billet of steel; and the stamped, metal-finish trimming that spans across the dash. Even the bases of the cup holders in the front are stainless steel. It's all very exquisite.
There's nice touch surfaces around the place too, with velvet in the main centre console box, soft rubber scroll buttons on the steering wheel, and of course large and comfortable leather-clad electric-adjustable front seats – these are new for the 2012 XF, and come with more side bolstering compared with the previous model.
Front legroom and headroom is plentiful, while in the back there's heaps of space, despite the coupe-style roofline which sweeps downwards. Jaguar has got around this potential intrusion in rear headroom by setting the rear seats low down.
Rear passengers get adjustable air-con vents and their own 12V/cigarette lighter, overhead lights, and cup holders.
The interior decor takes on a minimalist approach, a bit like a Rolls-Royce or Bentley. By this we mean the dash layout and controls aren't confusing, and there's no overload of buttons all over the place to take you away from the elegant environment.
To reiterate the approach, Jaguar conceals the air-con vents when the system is switched off. When switched on, the four vents rotate around automatically. It's touches like this that make you feel special when inside the XF, and make you more aware that you are in something special.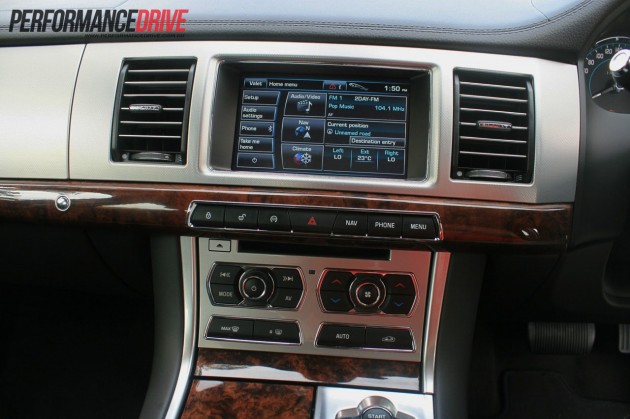 One drawback to this philosophy is that almost all in-car settings are controlled through the LCD touch-screen. This can be a bit fiddly and slightly frustrating at first.
To turn the air-con off while leaving the fan blowing, for instance, there's no button on the dash simply marked 'air-con'. Instead, you have to first hit the main menu button on the dash, then navigate your way through the touch screen, into climate, then select it from there. Then to go back to that song you were looking for you have to go back to the main menu and navigate back in through the audio menus.
Of course, after becoming more familiar with the setup and getting used to where everything is, it's a breeze. We simply feel some common things could be rearranged for quicker adjustments, potentially resulting in less time focusing on the dash rather than the road. This is the only minor inconvenience we found with the interior layout though.
At night, the interior is lit with calm blue lighting, with soft blue lights spraying down on the power window controls on each door. There's also a light which beams gently on the ground underneath every door for that added touch.
It's a very cool place to be sitting in the Jag, and you feel a little bit like James Bond.
2012 JAGUAR XF 2.2D – DESIGN AND SAFETY
Jaguar engineers have worked extensively on the body of the XF, and not just to ensure it presents those stunning looks. Jaguar focused on the aerodynamic properties and managed to get the coefficient drag to just 0.29. The initial body design was created using Computational Fluid Dynamics (CFD), focusing on managing air flow, keeping wind noise to a minimum, enhancing high-speed stability, and assisting with fuel efficiency.
Even under the XF, there's special trays which guide air under the car for optimum cooling and flow. The same attention to detail is in that coupe-like roofline; air is able to flow smoothly over the car and onto the raised rear end which is said to be more effective for airflow than a lower rear end.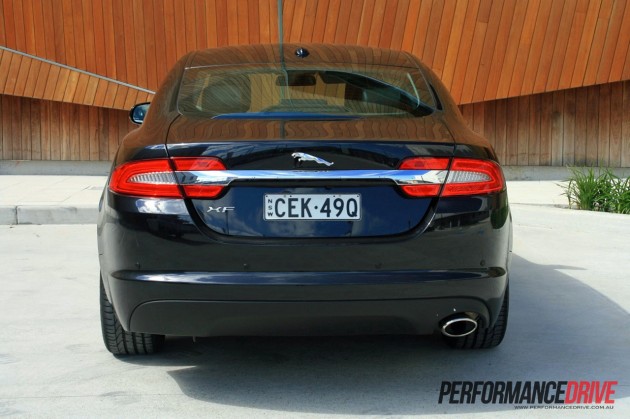 It's so aerodynamic, it's considered the most aerodynamically efficient production model Jaguar ever made, and that includes the super-low Jaguar XJ220 supercar.
The 2.2D can be distinguished by the single exhaust outlet on the right side. Other that this, it's virtually impossible to tell it's the 'cheapest' variant.
As for safety, ANCAP hasn't actually tested the 2012 model yet, however, it has tested the 2010 XF and gave it a four-star rating. It scored 12.38 out of 16 in the offset crash test, and 16 out of 16 in the side impact crash test.
2012 JAGUAR XF 2.2D – ON THE ROAD
Despite being a very imposing vehicle, in terms of stance and traffic presence, the 2012 Jaguar XF 2.2D is not an intimidating car to drive. It's actually very friendly. The steering is light while being sharp and direct. Vision is also good, while size of the car is easy to manage; you feel like you could jump in it and zip down to the shops at any time.
Obviously this can be done in a BMW 5 Series and Mercedes-Benz E-Class as well, but it's like that minimalistic approach is shinning out again. It's hard to explain, but it feels no-fuss and chirpy to drive, and not large and heavy like some of its rivals.
Strictly in terms of sound, the engine isn't the most refined unit out there. At lower speeds and low rpm, it gives off a rattle and clack noise only too obvious that it is a diesel. As for its performance though, it's brilliant. There's heaps of low-down torque, and if you get on the accelerator a bit too abruptly, there is a hint of chirping wheelspin off the mark.
It does tend to run out of puff once the revs build. Fortunately, there's eight speeds in the gearbox, so in no time, the gear will change and you get that low down surge all over again. It's quite satisfying, especially when using the paddle shifters behind the wheel. It also soldiers up hills with five people in the car all too easily.
In regards to the competition, the 2.2D is the most powerful and torquey entry-level premium sedan around.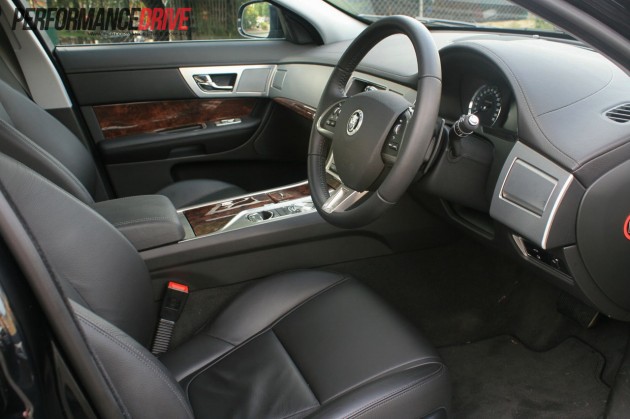 As for handling, the XF is a great steer. The suspension is excellent at absorbing bumps. We know that sounds a bit silly, as that's what suspension is designed to do, but in the XF, it catches bumps almost like it is anticipating them before they arrive.
The result is relentless road holding. Even during our test touring through higher speed country roads, there wasn't a bump in the tarmac that could upset the steering and general feeling of solidity.
2012 JAGUAR XF 2.2D – VERDICT
It's the perfect Jag really; it's modern, filled with leather, stainless steel and wood, it's very accommodating, sexy and elegant on the eye, and, thanks to technologies like the cutting edge aero design, stop-start, and the eight-speed auto, the XF 2.2D is also very economical. To top it off, it's terrifically priced.
Perhaps above all though, it's got that Jaguar charm. During our time with the car not once have we personally tested a vehicle and got so many positive reactions from others, including gawking motorists, friends and family, and even complete strangers; no less than three people commented to us about the XF, including one guy at the service station who had such respect for the car that he had to come and have a chat.
Everybody loves a Jaguar, and when you're driving one, you're constantly reminded why. The XF 2.2D genuinely gives you a nice warm fuzzy feeling inside.
It's a great all-round package, offering plenty of luxury and technology, wrapped up in an attractive design. It's also something a little different from the more common BMW, Audi, and Mercedes-Benz propositions.
2012 JAGUAR XF 2.2D – THE COMPETITORS
BMW 520d – 2.0-litre turbo-diesel four-cylinder, 135kW/380Nm – 1625kg – $83,300
One of the most popular contenders in the class, the 520d joins the new 520i petrol as the four-cylinder options for the 5 Series. Fuel economy for the 520d is rated at 5.2L/100km, while 0-100km/h comes up in 8.1 seconds.
Mercedes-Benz E220 CDI – 2.1-litre turbo-diesel four-cylinder, 125kW/400Nm – 1735kg – $84,800
Also one of the big-hitters in this class. Fuel economy is rated at 5.2L/100km like the BMW, however, 0-100km/h is rated at 8.6 seconds, making it the slowest of the German 2L trio.
Audi A6 2.0TDI – 2.0-litre turbo-diesel four-cylinder, 130kW/380Nm – 1575kg – $78,900
The only model in the class equipped with an all-wheel drive system as standard – in Australia anyway. Fuel economy is rated at a class-leading 5.0L/100km.
Lexus GS 250 – 2.5-litre petrol V6, 154kW – $77,900
Although it doesn't come with a 2.0L-class turbo-diesel engine, the new GS is promising to be the sportiest of them all. Look forward to our full review scheduled in mid-May for all the details.
2012 JAGUAR XF 2.2D – SPECIFICATIONS
MODEL
2012 Jaguar XF 2.2D
ENGINE
2.2-litre turbo-diesel
ENGINE SIZE / COMPRESSION RATIO
2179cc / 15.8:1
BORE X STROKE
85mm x 96mm
POWER
140kW@3500rpm, 450Nm@2000rpm
POWER TO WEIGHT RATIO
12.46 : 1 (kg:kW)
KERB WEIGHT
1745kg
HEIGHT / WIDTH / LENGTH
1877mm / 1460mm / 4966mm
DRIVETRAIN
ZF eight-speed auto transmission, rear-wheel drive
BRAKES
F: Ventilated discs
R: Ventilated discs
WHEELS / TYRES
F and R: 18-inch, 245/45 R18
FUEL TANK CAPACITY
69 litres
FUEL CONSUMPTION
Tested average: 7.6L/100km
Official average: 5.4L/100km
PERFORMANCE
0-100km/h: 7.9 seconds (tested)
PRICED FROM
$78,900
WARRANTY
Three-year/100,000km