Following the reveal of the new Mercedes-AMG CLA 35 Shooting Brake performance wagon, the German company has now unveiled the 2020 CLA 45 AMG top-shelf version. It features the potent new turbo engine that debuted in the A 45 recently.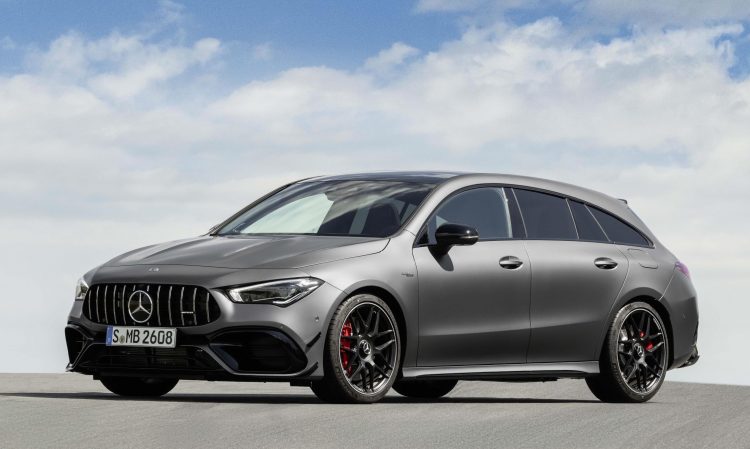 In other words, this new model is the most powerful wagon in its class. Under the bonnet sits AMG's spanking new 2.0-litre turbo four-cylinder that generates up to 310kW and 500Nm, in the form of the 45 S. Buyers in some markets will also be offered a standard 45 model that develops 285kW and 480Nm.
The engine uses various high-tech components, chief among which is a new roller bearing twin-scroll turbocharger. It runs at up to 2.1bar (30.4psi). Mercedes says the engine is produced on its AMG production line under the "one man, one engine" philosophy.
As you might imagine, this engine propels the sporty wagon like a bullet shot from a gun. Mercedes says 0-100km/h comes up in 4.1 seconds in the standard model, or just 4.0 seconds in the case of the 45 S. This is helped by the car's 4Matic all-wheel drive system which provides the traction, while an eight-speed dual-clutch auto ensures lightning quick gear shifts.
Drivers have the opportunity to toggle between various drive modes via the AMG Dynamics system. It offers Slippery, Comfort, Sport, Sport+, Individual and Race settings, all altering the throttle response, gearshift mapping, exhaust loudness, and suspension adjustment. This system is standard on the S model and optional on the regular version.
Braking performance comes thanks to some 350mm front and 330mm rear disc brakes in regular form, or, moving up to the S sees 360mm front discs added. These are clamped by four-piston front calipers or six-piston front calipers, respectively.
Inside, passengers are presented with the latest MBUX digital interface. This consists of two wide-screen digital displays, with one for the media and car settings, and another for the instrument cluster. This latter screen can be configured in Classic, Sport and Supersport themes, while the media system offers voice activation by saying "Hey Mercedes".
Being a wagon, the 2020 Mercedes-AMG CLA 45 offers practicality thanks to a 505L boot which comes with contactless hands-free access. The boot width is 871mm, which is up quite a bit on the previous model's 635mm width, which means it will be easier to load cargo.
The new model is set to go on sale a bit later this year. As previously confirmed, the Australian arm has no plans to introduce any variants of the new CLA Shooting Brake to local showrooms. However, the new A-Class sedan and CLA are available.