Is the 2012 Ford Ranger XLT Double Cab 'built Ford tough'? To find out, we set out on a 10-day long road test covering more than 2700kms, travelling through rural NSW and VIC, carting four people plus luggage. It was a surefire way to put Ford's new-from-the-ground-up 4×4 workhorse to the test.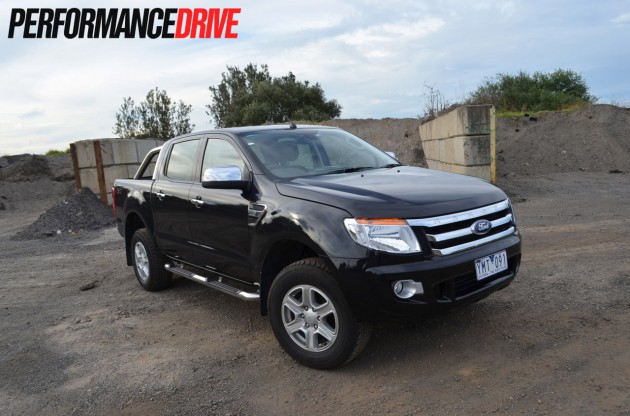 2012 FORD RANGER XLT DOUBLE CAB – PROS AND CONS
PROS:
147kW five-cylinder turbo diesel is a real goer
Excellent stability at freeway speeds when fully loaded
'Get out of my way looks' intimidates other motorists
Comfortable driving position
CONS:
Rear seats can get uncomfortable on long trips
Glossy paintwork marks easily
Chrome grille feels loose and looks tacky up close
Despite its overall imposing size, the tray dimensions aren't the largest in the class

2012 FORD RANGER XLT DOUBLE CAB – OVERVIEW
The all-new model may be built in Thailand (almost all utility vehicles are) and look quite American, but it was actually designed and engineered predominately by Ford Australia, along with its twin-under-the-skin Mazda BT-50.
The Ranger's duty is to no doubt dethrone the sales king of utility vehicles, the Toyota HiLux. June and July VFACTS figures show that HiLux outsells Ford Ranger by approximately three-to-one.
The 4×4 XLT variant we're testing in this review features a 147kW/470Nm 3.2-litre five-cylinder turbo-diesel engine, matched up to a six-speed auto. It's priced from $55,390 ($53,990 for the six-speed manual variant).
If you don't fancy a four door, the XLT model also comes as a two-door, and is $2500 cheaper. The downside is it can only seat four, and even then, rear passengers will be inflicted with little to no legroom.
If we have an on-paper battle between the Ford Ranger XLT and the similarly-priced HiLux SR5 ($53,490), the Ranger kicks its backside; the Ranger has a higher ANCAP safety rating of five stars compared to the HiLux's four; a 3350kg braked towing capacity compared with 2500kg for HiLux; and 127Nm and 21kW more grunt than HiLux's 3.0-litre turbo-diesel power plant.
While this isn't a comparo, these are eye-opening facts when put up against the country's best-seller.
2012 FORD RANGER XLT DOUBLE CAB – ACCOMMODATION AND EQUIPMENT
Utility vehicles aren't known for looking all that flash on the inside, but the Ranger does a commendable job of making its occupants comfortable and well-housed. Step up into the tall truck, and you'll see that the seats are supportive, and made from hard-wearing material that still manages to feel nice to touch. While it's quite easy for front occupants to get comfortable, rear passengers are subjected to a seat that's rather hard and upright. Legroom is also a little limited.
The dash layout is a bit of here and there from some of Ford's other vehicles; you can see some parts are inspired by the Focus and Fiesta.
The Ranger has all the creature comforts of a modern-day family sedan: four-speaker AM/FM stereo with single MP3 compatible CD player also with aux-in and USB/iPod integration, Bluetooth with voice control (the same system you get in the 2012 Ford Focus Sport and Titanium), a 4.2-inch multi-function colour display, cup holders, four-way manual driver seat with lumbar support, electrochromatic rear view mirror (XLT and Wildtrak only), power windows, privacy glass, rear parking sensors, and rain sensing wipers.
Maximum unbraked towing is rated at 750kg, with braked towing capacity a very impressive 3350kg – only beaten by the all-new Holden Colorado's 3500kg braked towing rating. A tow bar is fitted as standard.
As for the tray, the Ford Ranger has a big one, but it's not the largest in the class. It measures 1549mm x 1560mm. The largest goes to the Volkswagen Amarok with 1555mm x 1620mm. Other leaders in this segment include the Toyota HiLux: 1520mm x 1515mm, Mitsubishi Triton: 1505mm x 1470mm, and the Nissan Navara: 1511mm x 1560mm.
2012 FORD RANGER XLT DOUBLE CAB – DESIGN AND SAFETY
After a long walk around the all-new Ranger, it doesn't take much to see it's a handsome bit of kit. The panels are big, with little interruption in the way of bulges and creases, just nice clean lines. Chrome appointments on the door handles, tailgate handle, mirrors, and front grille make it look more F250 than Ranger; tough in other words. Other exterior standouts are the neat-fitted fog lights and chrome tubular sports bar.
At night, the projector headlights have excellent high-beam visibility – great for when you're out bush. There really isn't much aftermarket stuff you'd want, or need… maybe more aggressive tyres if you plan on doing some serious four-wheel driving.
Featuring a five-star ANCAP safety rating, the Ranger is equipped with safety mechanisms such as dynamic stability control, ABS, hill launch assist, hill decent control, trailer sway control (a standout safety feature if you plan on towing heavy loads), load adaptive control, electronic brake assist, and, in the event of a roll over, an emergency brake light (standard on all 4×4 variants). The XLT model features no less than six airbags.
2012 FORD RANGER XLT DOUBLE CAB – ON THE ROAD
Think agile freight train – now there's an oxymoron you probably haven't heard. There's no denying the sheer size of the new Ford Ranger. The XLT variant is 5.35-metres long, and tips the scales at 2159kg, so its suspension and steering has its work cut out to make the Ranger feel more car than coalmine loader.
In the city, the Ranger is easy to navigate through traffic thanks to good steering feedback and a gearbox that smartly sifts through gears by using all of the available 470Nm, between 1500-2750rpm.
The ride is comfortable, but it will bounce and bobble over big bumps. This is to be expected when you have a truck with live-axle rear suspension and that 3.35-tonne towing capacity.
The Ranger's size can be a problem when it comes to parking or fitting through small gaps, but that said, it also works to your advantage as people tend to get out of its way. It's like there's a Transformers vibe about its looks.
Off the mark, the 3.2-litre diesel five-cylinder provides loads of grunt, enough to chirp the tyres in lower gears if you're hard on the go pedal. Its diesel engine is noticeably quieter than some of its competitors, too.
Out on the highway between NSW and VIC, the Ranger rolled around high-speed bends and along countryside straights as if it was on rails. It didn't lose momentum at the sight of a hill or crest, and never felt anywhere as heavy as the 2159kg kerb weight. There's a very agile car-like quality to its on-road handling abilities.
2012 FORD RANGER XLT DOUBLE CAB – OFF THE ROAD
If you're a person who hauls tools during the working week, but loves a spot of camping, fishing, and bush-trekking, the Ranger is well up to the task of getting you there. The Ranger is not just a city slicker. Ford has itself a true off-road machine on its hands.
Changing into high and low-range four-wheel drive mode is made via the dial next to the gear lever. While we know die-hard 4×4 off-roaders don't like these electronic little knobs, they do make life easy.
In both high and low range four-wheel drive, the Ranger has no problem plowing over and through dirt mounds, and deep mud ruts. Wheel travel is decent for a factory car, but the not-so-aggressive factory tyres aren't anything to rave about when the going gets tough.
Front overhang is minimal, while the rear is quite long, especially with the tow bar fitted up. This means approaching hills is easy, but the back can drag on the initial climb.
To assist the driver off road, the ABS system includes traction and stability control with hill ascent and descent assist. These systems work well in both wet and muddy conditions, and on hard-packed dry gravely terrains.
2012 FORD RANGER XLT DOUBLE CAB – VERDICT
Should it be on your recreational sport utility shortlist? Yes. When it comes capable utility vehicles, we're happy to say Ford's Ranger is well up to the task. We'd even go as far as saying it's one of the most impressive products Ford has in its showroom at the moment.
While it does suffer from the common top-flight utility problem of 'I'm too pretty to get dirty' syndrome, its drivetrain, and no-fuss driving ability on and off road make it very easy to live with day-to-day. For some, it could be a great substitute for the family SUV.
2012 FORD RANGER XLT DOUBLE CAB – THE COMPETITORS
2012 Holden Colorado LTZ – 2.8-litre turbo-diesel four-cylinder, 132kW/470Nm – 2053kg – $51,990 (auto)

2012 Mitsubishi Triton GLXR – 2.5-litre turbo-diesel four-cylinder, 131kW/350Nm (400Nm manual) – 1995kg – $51,490 (auto)

2012 Nissan Navara STX-550 – 2.0-litre turbo-diesel six-cylinder, 170kW/550Nm – 2104kg – $60,990

2012 Volkswagen Amarok Trendline – 2.0-litre turbo-diesel four-cylinder, 120kW/400Nm – 2020kg – $47,990

2012 Toyota HiLux SR5 – 3.0-litre turbo-diesel four-cylinder, 126kW/343Nm – 1945kg – $53,490 (auto)

2012 Mazda BT-50 – 3.2-litre turbo-diesel five-cylinder, 147kW/470Nm – 2112kg – $53,060 (auto)
2012 FORD RANGER XLT DOUBLE CAB – SPECIFICATIONS
MODEL
2012 Ford Ranger XLT Double Cab
ENGINE
3.2-litre turbocharged five-cylinder diesel
ENGINE SIZE / COMPRESSION RATIO
3198cc / 15.7:1
BORE X STROKE
89.9mm x 100.76mm
POWER
147kW@3000rpm, 470Nm@1500-2750rpm
POWER TO WEIGHT RATIO
14.69: 1 (kg:kW)
KERB WEIGHT
2159kg
HEIGHT / WIDTH / LENGTH
1821mm / 1850mm / 5351mm
DRIVETRAIN
Six-speed automatic, four-wheel drive
BRAKES
F: Ventilated discs
R: Ventilated discs
WHEELS / TYRES
F and R: 17×8-inch alloy, 265/65 R17
FUEL TANK CAPACITY
70 litres
FUEL TYPE
Diesel
FUEL CONSUMPTION
Tested average: 9.7/100km
Official average: 9.2/100km
PERFORMANCE
0-100km/h: 10.2 seconds (tested)
PRICED FROM
$55,390
WARRANTY
Three-years / 100,000kms