Nissan's tuning division NISMO has released a new package which can be taken straight onto the race track; the Nissan 370Z NISMO RC (Racing Competition). The special pack comes with everything you need to get out onto a circuit for race or play.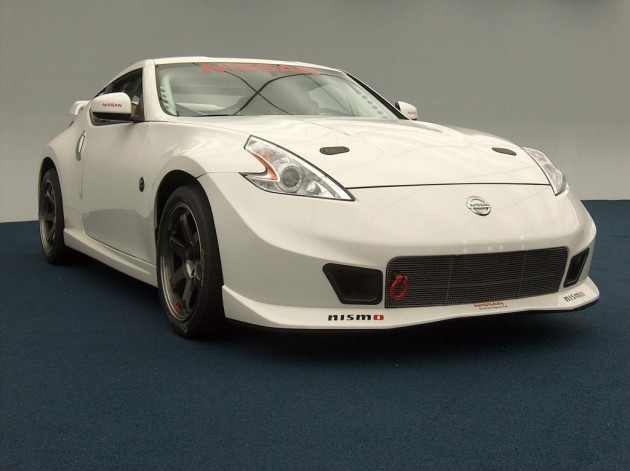 The Nissan 370Z NISMO RC first of all comes with an angry NISMO bodykit, a kit which can be purchased from the NISMO parts catalog. The kit is also matched with a set of Japanese racing-style Volk Racing wheels wrapped in Yokohama Advan tyres to really set it apart from the standard model, and to help the 370Z hook up in the corners.
The rest of the Nissan 370Z NISMO RC is set up to be certified for racing in any GT4 class of FIA racing and the SCCA World Challenge, GTS class. This means the pack comes with a full roll cage, fire extinguisher and Recaro racing bucket seat and Sparco steering wheel for the driver. The rest of the interior is fully stripped out leaving nothing but a digital interface on the dash and plenty of roll bar protection.
Under the bonnet lies the 3.7-litre VQ37VHR V6 engine developing 261kW of power and 374Nm of torque. To help the powertrain cope with consistent flat-out strains and to pass racing safety certification, NISMO fits various heavy-duty connections and hose fittings. There's also a NISMO exhaust system, a NISMO clutch and flywheel, as well as coolers for the transmission and differential.
All up, the Nissan 370Z NISMO RC weighs just 1340kg, compared with the standard 370Z's weight of 1485kg. For some reason, one source has said the engine will need rebuilding every 5000km, we can't confirm if this is the case. The clutch and flywheel is recommended to be replaced at around the same interval though for optimum performance.
NISMO offer the complete package in the US with prices starting at $138,230 (approximately AU$132,951) for a toned down version with less brand-specific parts, and up to $164,560 (AU$158,239) for the full pack.