It doesn't matter what you've driven in the past the BMW M6 Gran Coupe is one of those vehicles that will blow your mind. And not just because of one particular area; all of it tends to amaze you.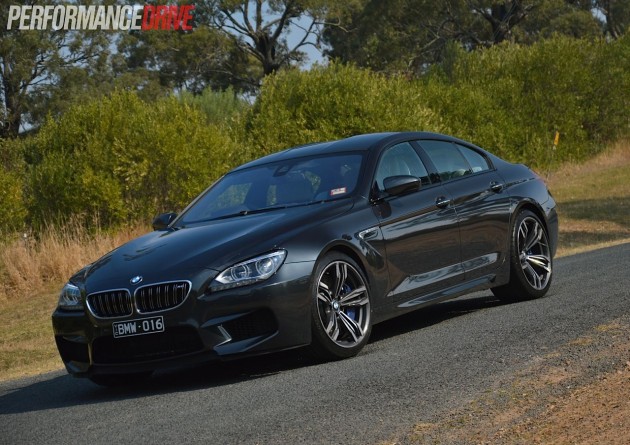 BMW's M Division has been sprawling out its engineering tentacles lately, and massaging and manipulating all types of vehicles – not just the traditional 3 series (M3) and 5 Series (M5). A number of SUVs have been introduced over the past few years, the Z3 and Z4, and even an entry-level 1 Series in the form of the 1 Series M Coupe has come and gone.
And now we arrive here. This is the most luxurious and flamboyant vehicle model BMW M has ever taken on. It's the Gran Coupe version of the 6 Series, which is more elegant and more stunning than the regular 6 Series thanks to the beautiful four-door coupe body, and that low-slung profile and swooping roofline.
It's an eye-opening vehicle and as you would expect it's attached to an equally eye-opening price tag, kicking off from $299,500.
2013 BMW M6 Gran Coupe – THE SPECS
Engine: 4.4-litre twin-turbo V8
Output: 412kW@6000-7000rpm / 680Nm@1500-5750rpm
Transmission: Seven-speed dual-clutch auto
Drive type: Rear-wheel drive, active LSD
Wheels: F: 20×9.5, 265/35  R: 20×10.5, 295/30
ANCAP: Not tested
Kerb weight: 1875kg
Power-to-weight: 4.5:1 (kg:kW)
Official fuel economy: 9.9L/100km
Economy during test: 13.5L/100km
Fuel capacity/Type: 80L/95 RON
Power efficiency: 41.6kW:L/100km
0-100km/h as tested: 4.2 seconds
Priced from: $299,500
2013 BMW M6 Gran Coupe – THE PACKAGE
We could sit here until the end of time talking about the luxury features and pampering options, however, you only need to take one look inside to see the level of prestige and fascination here.
The cabin is simply divine, showing utter attention to detail, precision craftsmanship, and supreme build quality of all fixtures and fittings. On the same token, nothing feels brittle and there's no overcomplicated, overly fidgety instruments like you get in some of the rivals. It's all clean and rather calming with a strict German robustness to it.
BMW's are renowned for being driver's cars and gazing at the traditional BMW twin-dial instrument cluster you notice information readouts for only things that are important to the driver. There's a fuel economy gauge – not that you're going to be looking at that very often – a little graph to show you what driving modes you have engaged, an oil temp and fuel gauge, and gear position. That's it.
In the foreground is a three-spoke M-colour-stitched leather steering wheel that sits wonderfully in your hands. The wheel is graced with two 'M' buttons which can be programmed to provide you with single-push driving settings preset by you. Instead of going through them all – steering, engine response and suspension – M1 and M2 are perfect if you suddenly encounter some tight bends, or, conversely, if you need to give in to your other half's demands and 'stop driving/giggling like a child'.
The companionship is amplified by the typically spot-on BMW driving position, with the dash sitting fairly high and the seats sunken low near the floor. Both the steering column and pedals are perfectly in line.
Leather sports seats in the front help keep you comfortable and secure. These are adjustable in a multitude of ways, including options for how firm you'd like the side bolsters to hug you in. They're also ventilated and heated and super relaxing for long freeway journeys, or short racy stints, and everything in between.
A 10.2-inch 'Professional' navigation system sits atop the dash fascia providing 600 Watts worth of HiFi surround sound through 16 speakers. It pumps out great clarity and bass, although, it's not quite as top-notch as some of the rival systems out there. A Bang & Olufsen system is a colossal $14,000 option. The standard unit offers internet and TV (analogue and digital) functionality, and it's all operated via BMW's iDrive controller.
Even though there are three seat belts in the back, the middle seat passenger legroom is seriously compromised by the chunky back of the centre console, which doubles as a face for the rear climate controls. The two outer seats are roomy enough for most adults with some restriction in headroom for taller passengers due to the sleek roofline.
Speaking of room, in the back there is ample cargo space, 460 litres in fact. This can be expanded to 1265 litres with the rear seats folded down should you be up for a spot of skiing, fishing, or surfing.
Is the cabin a special place to be? Does it feel like $300k? It does. It really does. It's the kind of cabin that you end up seeing in your sleep as you dream about driving it again. There's real carbon fibre everywhere, including making up most of the centre console and parts of the dash and door trims, reaffirming the sportiness of M performance.
In terms of mechanical performance, the M6 shares the same 4.4-litre twin-scroll twin-turbo V8 with the other M6 variants and the M5. It produces 412kW and 680Nm, which is sent through a fantastic seven-speed dual-clutch M transmission. From there it goes into an active limited-slip differential.
The engine is quite literally a state-of-the-art piece of equipment. It uses Valvetronic (variable valve lift) and VANOS double variable valve timing for infinite and continuous valve timing adjustment, a cross-bank exhaust manifold with the turbochargers placed in between, and a 10.0:1 compression ratio with the turbochargers running a stout 21.7psi. There's also a pair of intercoolers packed in there for good measure.
The M6 is built on the same platform as the BMW M5 (and 5 Series). Despite a carbon fibre roof, the M6 is 5kg heavier than the sedan counterpart, according to Automotive Data Services. The M6 Gran Coupe weighs in at 1875kg with the M5 tipping the scales at 1870kg. Not surprisingly, the M6 two-door coupe weighs fractionally less at 1850kg.
2013 BMW M6 Gran Coupe – THE DRIVE
It's almost terrifyingly quick, this car. It builds speed like it's on a savage mission to attack 50 metres, 100 metres, 200 metres, all in one onslaught. It never stops. It just keeps multiplying, relentlessly.
Part of the massive forward thrust is down to the brilliant seven-speed M-DCT dual-clutch automated manual transmission. The engine note has a distinct BMW M whine to it, faintly like an F1 car, and with each gear it just repeatedly hacks away distance. As we said, it's bordering being scary if you're not used to this level of performance.
When a straight road eventually comes to an end and you need to input some steering, there's no need to hesitate; the handling capability matches the unholy acceleration. Turn in and it will follow with complete solidity and confidence, remaining flat and rather unbothered. The only part that will be bothered is you, as the lateral g-forces squash and press your body and organs like you're playing 'corners' in the back with two rugby players. It's sensational performance, right at the very top of what is possible today in a factory four-door, four-seat vehicle.
In terms of acceleration, we timed 0-100km/h in 4.2 seconds, matching the factory rating, and 0-200km/h in just 11.0 seconds. If you removed the 250km/h speed limiter, we have no doubt this gnarly beast would punch through the 300km/h barrier.
To give you an idea of what 680Nm feels like, when the car is in its most docile driver settings and in full auto it usually takes off in second gear. This means speed builds very quickly and without any effort whatsoever. Since second gear goes up beyond 100km/h, gaining speed is no longer a fight of gravity. In this, it feels like you're driving through vacuum physics.
It's not completely ruthless though if you be gentle with the throttle. Driving in this manner brings out the prestige grand touring character of the Gran Coupe. It's svelte, suave and smooth. The V8 engine merely purrs in the background.
When you know how much engineering and how much potential has been poured into this car, it is hard to continue driving like a senior citizen. Before long, you end up pushing one of the M buttons just to experience the awe-inspiring g-force and monumental capability once again.
If there is one element that we found that could require some attention it's the front end. At high speed, front stability does drop noticeably, more so than in the M5. The steering becomes almost nervously light and somewhat vague on centre. This could be exclusive to this test car. At all other speeds, the suspension is sublime, the brakes are repeatedly powerful and consistent, and the steering is sharp and accurate, even during drifts and twitchy powerslides.
2013 BMW M6 Gran Coupe – THE VIDEO
2013 BMW M6 Gran Coupe – THE VERDICT
Like all BMW M cars, the M6 Gran Coupe is all about balance. It's a fine luxury vehicle with exquisite details and luxury appointments, but it's also a barnstorming thoroughbred. It has the ability to frighten you with its level of sheer performance; comfort you in pampering elegance; and make you feel like a bit of a celebrity as onlookers can't help but direct their gaze.
About the only thing that slightly doubts its existence is the question of its relevance in the showroom range. The two-door M6 coupe and convertible provide equally stunning styling, while the M5 shares the same performance with the convenience of four doors. Is there a need for a four-door coupe? If sex appeal has anything to do with it, we're sure you know what the answer is.
PROS:
– Phenomenal straight-line and in-corner speed
– Sexiest BMW on sale?
– Versatile driving modes
– Surprisingly good fuel economy, especially for a V8 with over 400kW
– Build quality
– State-of-the-art in-car technologies

CONS:
– Front end not as planted as M5 counterpart during high speeds
– V8 could be a bit louder?
– Australian price tag
2013 BMW M6 Gran Coupe – THE COMPETITORS
Audi S7
4.0-litre twin-turbo V8 – 309kW-550Nm – 9.6L/100km – 2020kg – from $179,900
Mercedes-Benz CLS 63 AMG
5.5-litre twin-turbo V8 –430kW-800Nm – 10.4L/100km – 1870kg – from $262,645