Audi is planning to launch three all-new SUVs in the next four years, kicking off with the Q1 next year, then an all-electric SUV in 2018, followed by the flagship Q8 large SUV in 2019.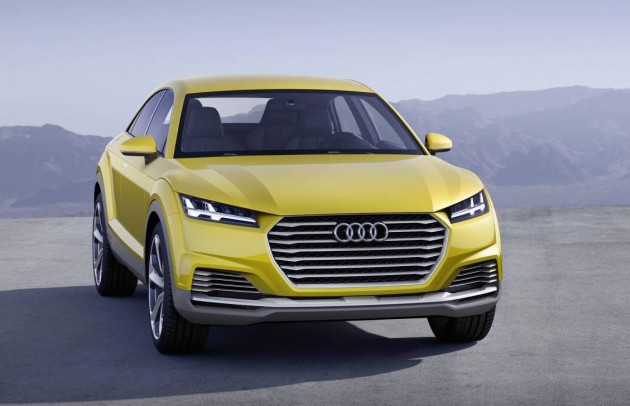 The Q1 will be the company's new junior off-roader, based on the A1 platform. It is likely to share many components with Volkswagen's upcoming Polo-based SUV, all of which will share the same platform.
For the electric SUV, it's understood Audi is looking to bring a new model to the mid-sized SUV segment. It will reportedly be based on the next-gen Q5, wearing an 'e-tron' badge, offering a driving range of around 500km.
To complete the SUV lineup the Q8 will be the grand daddy of them all. It will be the grandest model in the showroom, sitting with more visual presence than even the Q7. Audi CEO Rupert Stadler has previously said he wants the Q8 to launch by 2020.
These new models will come as part of plans to increase the showroom range from 52 models to 60 models by 2020. Audi is looking to overtake BMW as the world's most popular premium vehicle maker.
Last month, Audi showed signs of its potential by exceeding BMW and Mercedes-Benz sales, globally. With a number of new models coming this year in various markets, such as the new Q7 and TT, sales could result in Audi becoming number one for the year. During the company's annual meeting, Stadler said,
"We have big plans in 2015 for our global growth path: We aim – as you would expect from us – to achieve new records. We intend to continue growing this year as well – faster than the world market and in all regions."
Stadler said Audi is the most popular premium brand in the world for SUV segments. It was the most popular premium brand in Europe and in China in 2014 as well. The next plan is to increase sales in the US, Canada, South Korea and Brazil, along with the help of these new SUVs.
Note: Audi TT Offroad Concept shown