Forget almost everything you know about the brand Volvo. When you step into the new 2013 Volvo V40 D4, you'll be one very proud Volvo driver. As we touched on in the Australian launch review earlier this year, this new baby really does change the game in the small car/premium hatch market segment.
Here we have the pleasure of road testing the Volvo V40 D4 Kinetic, equipped with a roaring five-cylinder diesel engine. Volvo has truly reinvented itself to be one of the most innovatively safe, yet youthful and sexy car manufacturers of recent times, and it justly illustrates with the new baby.
2013 VOLVO V40 D4 – PROS AND CONS
PROS:
Sound system an absolute delight to the ears
Unique, sporty and sexy looks
Five-cylinder diesel excellent on fuel and smooth and powerful – very 'undiesellike'
Completely digital instrument cluster
CONS:
Low-lying aerodynamically engineered roof can intrude on entry/exit space for larger passengers
At the dearer end of the market segment
Black facia between the rear lights may not sit well with everyone, it can seem a bit 1990's
Handbrake sits on the passenger side of the console
2013 VOLVO V40 D4 – OVERVIEW
The Belgium-built V40 is a brand new model for Volvo as the company ends production of the C30. The V40 is a little bit larger, ready to tackle the likes of the Audi A3, the BMW 1 Series hatch and the Mercedes-Benz A-Class. It's main force or ammunition is the array of new technologies and features it brings to the segment; it sets new standards in not only its own class but in all classes.
The D4 Kinetic tested here is equipped with a 2.0 litre turbo-diesel five-cylinder diesel engine producing 130kW of power and a huge 400Nm of torque. Power is sent through the front wheels via a six-speed manual (as tested). A six-speed auto is optional.
Prices for the D4 Kinetic manual start at $39,990, or $41,990 for the auto.
2013 VOLVO V40 D4 – ENGINE SOUND AND 0-100KM/H ACCELERATION VIDEO
2013 VOLVO V40 D4 – ACCOMMODATION AND EQUIPMENT
The D4 Kinetic is the second from the bottom out of four variants on offer – D2, D4, T4, and T5 – yet, it will still blow your socks off with segment-leading features.
To begin with, all models come standard with Volvo's City Safety technology, a world-first pedestrian airbag system, adaptive digital display with active TFT crystal display themes, rain sensor wipers with tunnel technology, an electrically adjustable front driver seat with memory, cool T-Tec textile seat upholstery, and colour changeable theatre lighting.
As mentioned during the launch review, Volvo says it designed the cabin with occupant comfort and safety as the first priority. Engineers focused on producing an intuitive, relaxed and 'airy' interior.
Upon sitting inside, you really do notice a non-claustrophobic feel about your surroundings. Smart little compartments have been introduced as well, like the floating centre facia which lets you reach behind to hide items away, and the in-seat rear cup holders, just to name a few.
The materials used are almost seamless, and the quality of the look and feel is right up to and above class standards. Polished aluminium surrounds accentuate the appearance of various dash components handsomely without making it all look overly busy.
Something relatively new, especially within this market, is the fully digital instrument cluster. These days, everything is all about customisation, and the digital instrument cluster allows you to do exactly that. You can select between three different themes; eco, elegance, and performance. All present, as the names suggest, gauges and readouts that are more relevant to each mode.
Surprisingly, interior space is larger than the external appearance leads you to believe. Front passengers are wonderfully accommodated in high quality soft, comfortable and supportive seats, with plenty of room to breathe.
The rear seat is accommodating for three more passengers, but, like most cars of this size, priority is given to delighting four passengers rather than five. An abundance of room to slide your feet underneath the front seats reiterates this point.
The only quirk here is the entry and exit which is slightly restricted due to the design of the swooping roof. It's especially noticeable accessing the rear seats.
There's plenty of storage spaces and electronics to make the D4 fun to live with, including power folding side mirrors, push-button start, and a crisp sounding eight-speaker sound system with an integrated five-inch multimedia LCD display. It comes with all of the modern connectivity options you could need.
Considering the eight-speaker sound system is standard in the base model Kinetic, it's nice to see Volvo hasn't cut corners or skimped on key components for the sake of model trims. In saying that, a more premium seven-inch screen with more features is optional ($1100) on the Kinetic and standard on higher-spec variants, providing some exclusivity.
There's fine attention to detail everywhere you look. For example, there are three windscreen wiper nozzles on the bonnet instead of the usual two – rather uncanny – and the glovebox can be chilled so you can store snacks and drinks. There's also a stylish frameless automatically dimming rear-view mirror to add a bit of class.
2013 VOLVO V40 D4 – DESIGN AND SAFETY
As you can immediately notice, much thought and precision has gone into the design of the Volvo V40. The shape resembles fluidity and strength. The large windscreen is almost at the same angle as the bonnet, giving the impression of speed, while flared doors flow to the back of the car to resemble broad and athletic shoulders.
Not straying away from Volvo's heritage, the V40 comes with an exhaustive list of safety features, making it one of the safest cars currently on sale.
Standard safety tech includes the pedestrian airbag, a new City Safety system which can detect forward objects and brake the car automatically if need be – at speeds below 50km/h (previously 30km/h), as well as Volvo's DSTC stability and traction control, roll-over protection, side impact protection (SIPS), whiplash protection, and torque vectoring.
A Driver Alert package is available as an option ($2075) on all V40 variants. It comes with lane keeping technology with semi-automatic steering, active high beam headlights, and road sign detection. The D4 Kinetic can also be optioned ($1275) with BLIS (blind spot detection) and Cross-Traffic Alert.
As a result of all of this, the V40 – regardless of variant and options – has of course been given the full five stars by Australia's ANCAP. It was awarded 36.67 out of 37 in recent crash tests, giving it one of the highest marks ever seen in the industry.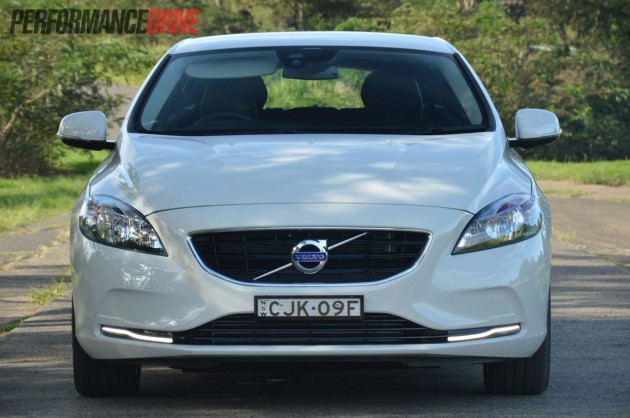 2013 VOLVO V40 D4 – ON THE ROAD
Reviewing cars is all about identifying the good and bad. But with the Volvo V40 D4 it has so far truly been difficult to find the bad. And on the open road it's no different.
One of the most outstanding attributes of the D4 is the amount of pulling power available. Up to 400Nm of torque from the 2.0-litre diesel will never leave you high and dry – it offers more torque than a Ford Territory which has to push two tonnes along. You're also coddled with 130kW of power, which is the highest in its class for a diesel at the moment (until the new Golf GTD comes along later this year with 135kW).
Volvo obviously worked hard not only to produce a willing engine, but also a package that could handle and make best use of the outputs. Power and torque is delivered impeccably and securely through the front wheels with minimal torque steer, partly thanks to the torque vectoring control.
The engine is also one of the most refined diesel sounds we've heard; typical diesel engine traits are virtually non-existent. It's blissfully smooth, quiet and vibration-free, and it even produces an exciting five-cylinder howl. Only during idle on the outside of the car can you faintly hear that diesel chug and clatter.
You can expect to travel at least 1000km until you have to refill. The official combined fuel consumption figure is 4.9L/100km, which is marvellous considering there are five-cylinders firing away producing all that power and torque. And even if you have a bit of a lead foot like us at PerformanceDrive, 980km is easily achievable.
The V40 portrays a worthy balance between ride softness and sprightliness around corners. Its athleticism is enabled by the strong grip of the Pirelli tyres on 17-inch alloy wheels, especially in the wet.
Be assured that you can have a lot of fun with this baby too. It enjoys being thrown down a series of corners, responding rather energetically. And then once you get back onto the power, all that torque feels like it yanks the nose around like someone pulling the nose ring of a bull. It feels really energetic and eager to play. There is some minor pitch and body roll, but it's expected on the base model Kinetic.
If, however, you wish to have even more agility around corners, the V40 can be had in sporty T5 R-Design capacity, which brings firmer suspension, a more aggressive bodykit, larger alloy wheels, and a 187kW turbo petrol engine (full review coming soon).
2013 VOLVO V40 D4 – VERDICT
Wow, what a truly remarkable car. Just like the amount of torque available from the diesel engine, the V40 D4 pulls away from the competition to be one of the best – if not the best – small premium cars on the market.
The Volvo V40 executes everything it tries to be, perfectly. The whole driving experience is effortless, luxurious, and calm and relaxing when you want it to be, and fiery when you're feeling zesty. And despite an almost overwhelming amount of technology and features it carries, Volvo has made sure it's all easy to use.
There are some really attractive premium hatches to choose from at the moment, but a lot of them still have many checklist boxes yet to be crossed off to remain competitive. If you're in the market for a vehicle in this segment, do yourself a favour and take the V40 for a spin. We're sure that not only will it tick all the boxes to meet your criteria, it will also create new ones that you can then put up against the competition.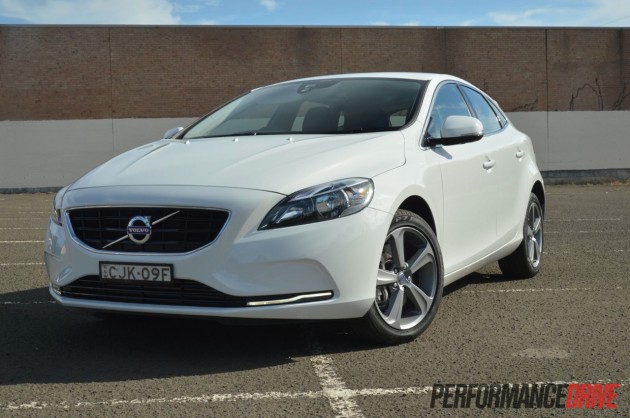 2013 VOLVO V40 D4 – THE COMPETITORS
Audi A3 2.0 TDI Ambition – 2.0-litre turbo-diesel four-cylinder, 125kW/350Nm – 1395kg – $45,300 (auto only)

BMW 118d – 2.0-litre turbo-diesel four-cylinder, 105kW/320Nm – 1345kg – $43,900 (manual, auto available)

Citroen DS4 DStyle eHdi – 1.6-litre turbo-diesel four-cylinder, 82kW/285Nm – $36,990 (auto only)

Mercedes-Benz A200 CDI – 1.8-litre turbo-diesel four-cylinder, 100kW/300Nm – $40,900 (auto only)

Peugeot 308 Allure HDi – 2.0-litre turbo-diesel four-cylinder, 120kW/340Nm – $37,990 (auto only)
Volkswagen Golf GTD – 2.0-litre turbo-diesel four-cylinder, 125kW/350Nm – $39,290 (manual, DSG auto available)

(All prices exclude on-road costs)
2013 VOLVO V40 D4 – SPECIFICATIONS
MODEL
2013 Volvo V40 D4 Kinetic
ENGINE
2.0-litre turbo-diesel five-cylinder
ENGINE SIZE / COMPRESSION RATIO
1984cc / 16.5:1
BORE X STROKE
81mm x 77mm
POWER
130kW@3500rpm, 400Nm@1750-2000rpm
POWER TO WEIGHT RATIO
11.6: 1 (kg:kW)
KERB WEIGHT
1508kg
HEIGHT / WIDTH / LENGTH
1439mm / 2041mm / 4369mm
DRIVETRAIN
Six-speed auto or manual transmission, front-wheel drive
BRAKES
F: Ventilated discs
R: Ventilated discs
WHEELS / TYRES
F and R: 17- x 7.5-inch alloy, 225/45 R17
FUEL TANK CAPACITY
60 litres
FUEL TYPE
Diesel
FUEL CONSUMPTION
Tested average: 7.0L/100km
Official average: 4.9L/100km (manual)
PERFORMANCE
0-100km/h: 7.5 seconds (as tested)
PRICED FROM
$39,990
WARRANTY
Three-year/Unlimited kilometre