It looks like Mazda was indeed planning a hardtop version of the new MX-5. It has just unveiled the MX-5 RF, which makes its debut at the New York Auto Show in the US.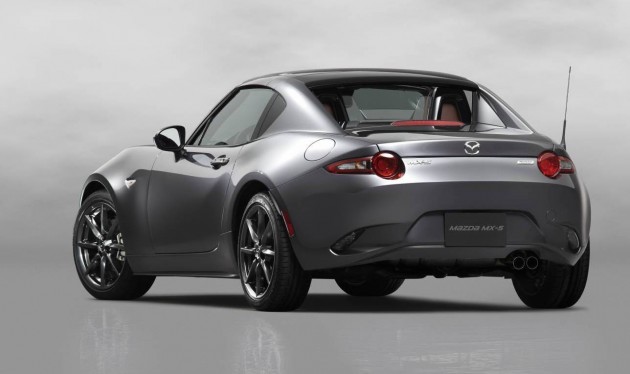 The MX-5 RF is the hardtop version of the new MX-5, featuring a retractable hardtop roof that is operated electronically. It can be opened and closed at speeds up to 10km/h.
Blending in with the MX-5 sharp styling, the roof has been designed to offer a smooth roofline that slopes down at the rear, with a bespoke rear end and rear windscreen. Mazda says the MX-5 RF offers the same boot space (130L) as the existing softtop version.
Mazda hasn't said how long the roof takes to fold down or fold back up, but says it is one of the "fastest opening/closing times of any retractable hardtop". An acrylic "aero board" wind deflector helps to optimise cabin comfort when the roof is down. Most of the design of the hardtop seems to blend in well with the roadster, however, the roof does make the MX-5 5mm taller overall.
The roof is made up of three main pieces, including a front panel, middle, and the rear windscreen. These three pieces fold together and are stored behind the seats when retracted. Both the front and middle roof panels feature a special sound-absorbing headliner to provide a more refined driving experience when the roof is up.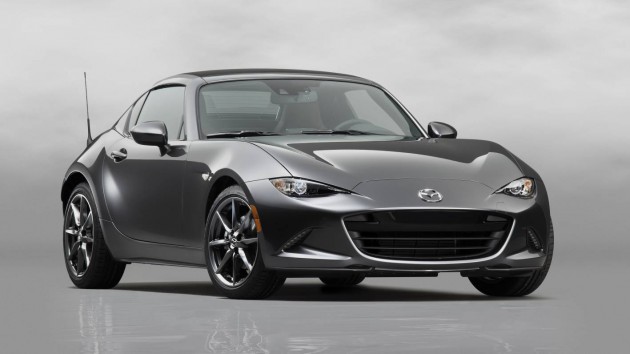 Under the bonnet, Australian buyers will only be offered the 2.0-litre naturally aspirated engine option as opposed to the 1.5-litre that's also offered. The 2.0L produces 118kW and 200Nm. PerformanceDrive has tested the manual softtop for 0-100km/h, and achieved the sprint in 6.9 seconds. Overseas buyers will be offered both engines.
There have been some chassis and suspension tweaks for the RF, blending "lively driving" and "relaxing comfort and refined ride". The EPAS power steering system has also been revised. Weight figures haven't been mentioned, however, the RF is likely to weigh slightly more than the regular softtop versions.