Lamborghini's all-new Urus SUV is getting very close to hitting the market, with production already begun at its newly-expanded manufacturing facility (Italian; 'manifattura') at the company's headquarters in Bologna, Italy.
A video has been released on Lambo's YouTube channel aimed at showcasing some of the advanced production technologies and methods implemented to help the team build vehicles. However, the vehicles that are being produced seem to be the yet-to-be-revealed Urus SUV.
In some scenes we get to see the body frame from the front end with its open engine bay (no other Lamborghini in production has a front-mounted engine), as well as the fat rear tyres and the freshly-designed alloy wheels. It looks like the Urus will be offered carbon ceramic brakes, too.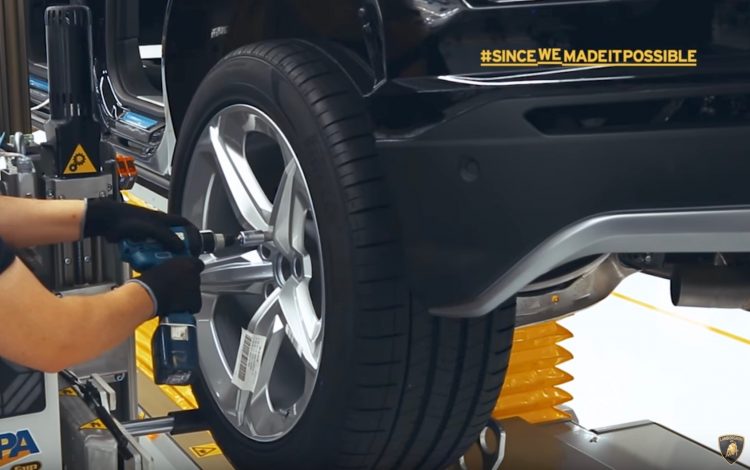 Other parts of the video confirm the existence of a glass roof which looks like it will be at least offered as an option (the first Lamborghini with a sunroof in decades). It's going to be a full moon roof by the looks of it, occupying most of the roof space.
Perhaps the biggest news to arise from the video is the confirmation of a twin-turbo V-configuration engine. We can't guarantee it's a V8 directly from the video, although there have been plenty of reports suggesting the Urus will come with a 4.0-litre twin-turbo V8 producing around 470kW.
In the frozen frame you can clearly see the exhaust manifolds running down from in between the cylinder banks. Lamborghini's current V10 and V12 engines have the exhaust manifolds mounted on the outside, in traditional naturally aspirated form. But an emerging layout for turbocharged V-style engines is to mount the turbochargers in between the banks. Obviously the engine is front-mounted, too, unlike any other current Lambo model.
Lamborghini will give the new SUV a proper unveiling very soon. Once it hits the market next year, it's expected to become the brand's most popular model.