An undisguised version of the next-gen 2018 BMW X4 has been spotted on the back of a transport truck, revealing the new-look design and confirming a new variant called M40d.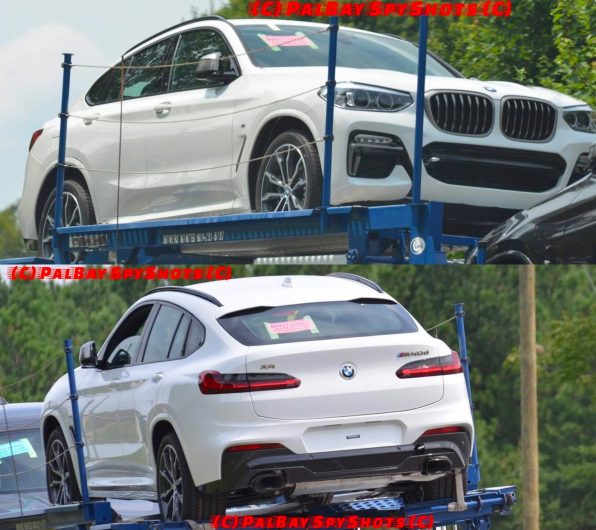 We first heard about the M40d badge earlier this year. It was expected to be a variant in the new G01 X3 lineup, however, when BMW officially unveiled the new model there was no M40d to be found. This latest spotting shows this might change though.
The nameplate indicates the arrival of the second diesel package from the M Performance sub-brand, following the release of the M50d triple-turbo offered in the larger X5 and X6. For the X4 – and likely X3 down the track – the M40d is set to come in with a tweaked version of the company's 3.0-litre inline six diesel.
Specifications are yet to be found but according to reports the engine will be a twin-turbo version of the '30d' unit, with outputs lifted from the new X3 30d's 195kW and 620Nm output, to around 250kW and 650Nm. Along with a boosted engine, the M40d is expected to come with bespoke suspension, brakes, and wheels, and some minor yet sporty interior highlights.
As for the new X4 and its design, you can immediately spot the new headlights which look like they are lifted straight from the facelifted 1 Series, with a more pointed upper nose and grilles similar to the latest X6 and even the 5 Series. Like the outgoing X4 is based on the outgoing X3, the new model will be based on the G01 X3's CLAR-based platform (without the 7 Series's Carbon Core technology).
Around at the back it appears BMW has taken some design inspiration from its main competitor, Mercedes, and its GLC and GLE SUVs. The new taillights are more elongated while the tailgate cuts into the body more discreetly. Being the M40d you also get darkened exhaust tips and diffuser section.
Given this spy effort shows the SUV in clear view with no camouflage, we suspect an official debut will take place at the Frankfurt motor show in a couple of weeks.