It's back. The Track Pack. And this time it's for the latest McLaren 720S, providing some improvements to aerodynamics and some decent weight reduction.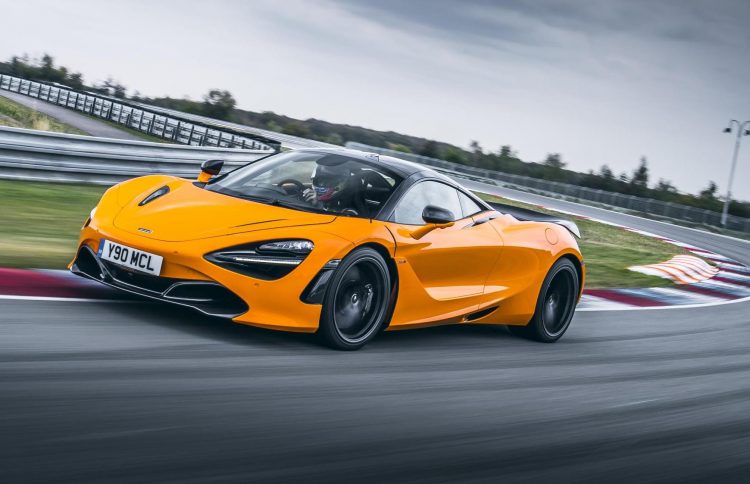 The Track Pack for the 720S builds on from the Track Pack announced for the 570S Spider last year. In the 720S McLaren has used its developments with the 720S GT3 race car to help come up with a range of enhancements for the Super Series model.
For the exterior a bespoke 'Visual Carbon Fibre' active rear spoiler by MSO has been added on to help with downforce, while a set of 10-spoke super lightweight forged alloy wheels help reduce rolling mass. The Track Pack also includes the 720S Performance specification, which brings in bonnet intakes, intakes in the rear guards, and carbon fibre side mirrors.
Taking a look inside, passengers are treated to a set of body-wrapping lightweight carbon fibre racing seats in either regular or touring size, with MSO Defined satin carbon fibre extended shift paddles for the Alcantara-wrapped steering wheel. There's also a special titanium bar behind the seats that anchors six-point seat belt harnesses.
To top it all off there's an MSO sports exhaust that allows the 4.0-litre twin-turbo V8 to breathe more easily. Not that it needs to, as it already produces 530kW (720PS), which is enough to see 0-200km/h done and dusted in just 7.8 seconds.
All up, the 720S Track Pack helps shave an impressive 24kg from the regular 720S's weight. This, along with the active rear wing, should help with improving track performance and lowering lap times.
Speaking of which, the Track Pack also comes with a special on-track telemetry package which includes video cameras and data-logging software. It's called the McLaren Track Telemetry system, which is capable of recording all kinds of cool things, such as lap times.
The Track Pack is available to order in Europe now with prices starting from £224,700. First deliveries are scheduled to commence in 2019.