Porsche has released some new 2012 991 Porsche 911 videos onto YouTube. The first of which explains the new seven-speed manual transmission, while another video explains a new coasting feature with the PDK transmission. A third video talks about the new stop/start technology that is now standard on both manual and automatic models.
These technologies help the new 991 Porsche 911 offer significantly reduced fuel consumption figures over the outgoing 997 Porsche 911. A base model fuel consumption of just 8.2L/100km has been announced.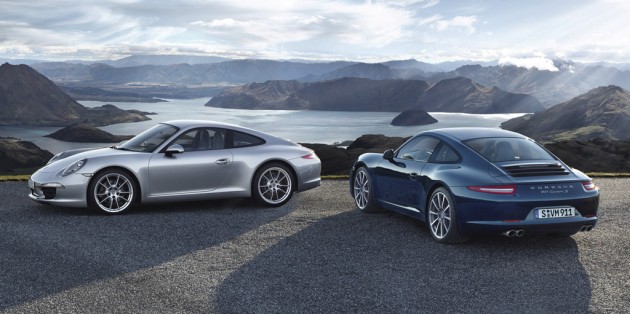 According to the video, Porsche's new seven-speed transmission will incorporate six conventional gear ratios for sporty driving and acceleration while a seventh gear will provide economical highway cruising. Porsche says the top speed of the 2012 991 Porsche 911 is still achieved in sixth gear.
As previously reported, the new 2012 991 Porsche 911 will come in both seven-speed manual and seven-speed PDK dual-clutch automatic transmission forms. The PDK versions will come with a new coasting feature which will put the transmission into neutral automatically when coasting down a hill to help maintain speed and reduce fuel consumption.
The all-new 2012 Porsche 911 will also come with stop/start technology which will shut down the engine when the driver either puts the 911 into neutral and steps off the clutch, or, in the PDK models, rests on the foot brake. The engine will then fire back into life instantly when the driver depresses the clutch or releases the foot brake, respectively.
The 2012 Porsche 911 Carrera will feature an all-new 3.4-litre flat six engine outputting 257kW, while the new 2012 991 Porsche 911 Carrera S will feature a revised 3.8-litre flat six outputting 294kW.
Click play on the videos below for a quick overview of the new features. The 2012 991 Porsche 911 will make its official debut at next week's 2011 IAA Frankfurt Motor Show in Germany. Look out for heaps of our coverage on the world-renowned international show.
Also check out:
– 2012 (991) Porsche 911 full specifications and Australian pricing announced
– Video: 2012 (991) Porsche 911 official teaser
– 2012 (991) Porsche 911 prototype catches fire