Subaru is yet to unveil the Subaru BRZ – counterpart to the Toyota FT86 project. Unlike Toyota, Subaru is hasn't even revealed a Subaru BRZ concept edition. Based on the only glimpse Subaru has provided, auto render expert JONSIBAL has come up with a Subaru BRZ concept which 'fills in the blanks'.
At the 2011 Frankfurt Motor Show, Subaru unveiled a series of transparent images outlining the Subaru BRZ driveline. The images only revealed the main pillars, prominent lines and main body edges of the new sports car.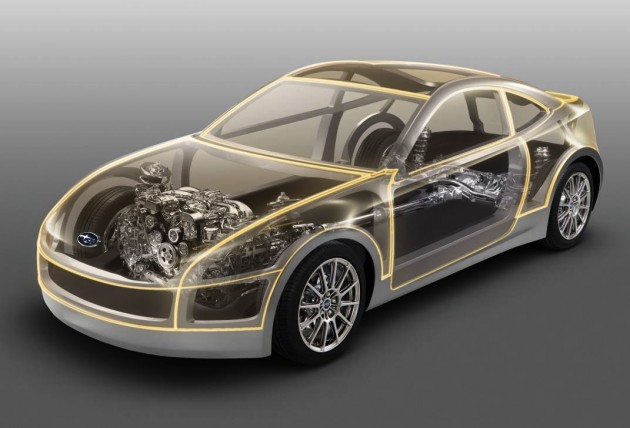 According to the JONSIBAL website, each panel in the render was artistically blended in to suit both the original contours of the skeleton design, and Subaru's latest designed language.
From the front we can see the headlights are placed a little differently compared with the initial Subaru image. The Subaru BRZ render features more curved-off and flattened down front corners while the official Subaru image previews very prominent bonnet corners.
Let's hope the production version will be more similar to the render design at the top, as the official Subaru front end in the image does appear rather conservative in comparison. What do you think?
As previously reported, Subaru has released limited specific details on the upcoming coupe. So far we know the Subaru BRZ will feature a rear-wheel drive driveline and be powered by a 2.0-litre boxer engine, using direct injection, outputting around 150kW of power.
Up to three different trim variants are also expected to come with the all-new model, all featuring a six-speed manual transmission and rear-wheel drive.
It's not long now until all is revealed in any case, as the Subaru BRZ will be unveiled in full at the 2011 Tokyo Motor Show, starting November 30. Stay tuned.