Joss, the Australian supercar company we all want to see succeed, has just revealed a rendered teaser image of the new Joss JP1 supercar. The car will be unveiled in full at the 2011 Australian international Motor Show in Melbourne this coming weekend.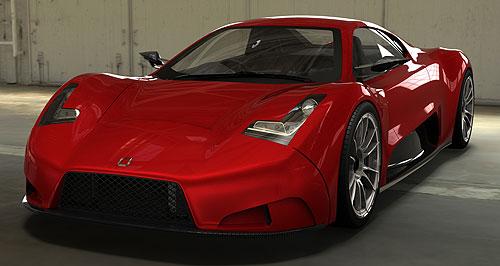 Official specifications are yet to be confirmed but according to previous reports, the Joss JP1 will feature V8 engine of some description mounted behind the cabin. It will power the rear wheels through a six-speed manual gearbox and offer around 373kW (around 500hp).
Although acceleration times haven't been completed, as the car isn't even completed, Joss is targeting around the 3.0-second range for the 0-100km/h sprint. With a target weight of just 940kg, it's hard to argue such figures won't be achievable.
From this image though,we can see the JP1 will be quite a looker too. It kind of looks like a modern take on the late Honda NSX. This is a good thing. It's low, providing minimal body roll and direct handling response. It also features a large gulping air intake in between those L-shaped headlights, for ample engine cooling.
We can't wait for this thing to finally hit the showrooms. Until then, we'll have to wait until the end of the week for more details. PerformanceDrive will cover as much of the 2011 Australian International Motor Show as we can. The Melbourne show starts Friday July 1 and runs until July 10.