This is Jaguar's first bespoke sports car since, well, the famous E-Type of the 1960s. And what a successor it is. Beauty, power, and craftsmanship all blended into what we think is one of the sexiest cars on sale. Introducing the Jaguar F-Type.
When Jaguar first sent out a hint that it would be reinventing perhaps one of the most iconic vehicles ever made, previewed by the C-X16 concept, we all wished and hoped that one day it would make it to production.
Fortunately, the Jaguar F-Type is stunningly similar to that C-X16 concept and just as stimulating as the E-Type, with its angry face – like a jaguar – muscly details, and a pair of toned rear haunches that are elegant enough to make your mouth water.
It's not only designed to be a thing of beauty though it's also designed to take on one of the most renowned sports cars in history; the Porsche 911.
Taking on the 911 is a very big job. To ensure it covers all facets, Jaguar presents the F-Type with a strong three-tier model lineup. All of them are supercharged, and all of them are well-endowed with majestic power accompanied by a splendid soundtrack.
Today we're testing the base model. It comes with a 3.0-litre supercharged V6 producing an extremely raunchy 250kW of power and 450Nm of torque. All models come with an eight-speed auto with rear-wheel drive. Unfortunately, the V6 misses out on a limited-slip differential, while the V6 S gets a mechanical type and the V8 S gets an electronic type.
Prices for the base V6 start at a 'reasonable' $138,645. And straight away, it has an edge over the Porsche 911, which starts at a much more substantial $222,200.
2014 Jaguar F-Type V6 – THE SPECS
Engine: 3.0-litre supercharged V6
Output: 250kW@6500rpm / 450Nm@3500-5000rpm
Transmission: Eight-speed auto
Drive type: Rear-wheel drive
Wheels: F: 20-inch, 255/35  R: 20-inch, 295/30 (optional – 18s standard)
ANCAP: Not tested
Kerb weight: 1597kg
Power-to-weight: 6.38:1 (kg:kW)
Official fuel economy: 9.0L/100km
Economy during test: 12.6L/100km
Fuel capacity/Type: 70L/95 RON
Power efficiency: 27.7kW:L/100km
0-100km/h as tested: 5.2 seconds
Priced from: $138,645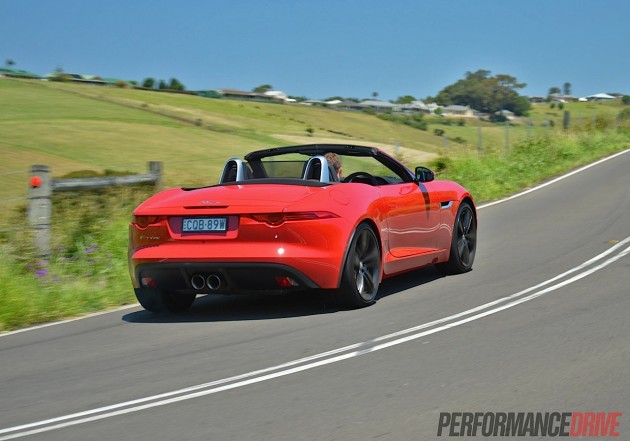 2014 Jaguar F-Type V6 – THE PACKAGE
Jaguar is a brand synonymous with British craftsmanship and luxury. You probably imagine a tired yet plush leather interior when thinking of an older Jag. But you might as well wipe that image from your conscious. The F-Type is all about style, build quality, and prestige.
There's nothing in here that looks out of place. The way the dash curves down and focuses on the driver is endearing, rekindling some of that British charm, while sitting atop the dash is an 8.0-inch touch-screen interface infused with technology and all kinds of modern devices.
Just below is a simple yet thoughtful climate control module, featuring ultra-cool temperature control knobs that have a window display for the digits. This is the kind of attention to detail that really makes the F-Type stand out as something unique and special.
In fact, the whole interior is a special occasion. Every time you turn on the climate control, for example, the central vent unit literally rises up out from the dash like something out of Star Wars. This tends to get your heart racing and you haven't even hit the start button yet.
From the 'Jaguar' engraving on the air vent toggles, the otherwise flush automatic pop-out exterior door handles, the tiny windows on the speedo and tacho needles, to the LCD interface that slowly and automatically dims down at night, the F-Type is a pleasure to live with. It's flattering. The build quality is excellent too, with solid buttons and switchgear and robust materials used throughout.
Like most Europe vehicles, the main setback to the interior is the sheer amount of options that are on offer. Things like the sat-nav system, the LCD interface, the leather upholstery with infinitely adjustable power seats, and the sports suspension with selectable driving modes are standard. However, if you want 20-inch alloy wheels they'll set you back $3400, or $6800 if you want them in black (as tested). A 12-speaker premium Meridian sound system costs $6800, and if you want 'special' paint, that'll cost you $5620.
We think some options really should come standard with a car of this stature, such as the rear parking camera ($830), auto wipers ($510), and even dual-zone climate control is a $980 option. As you can see, the initial price tag can very quickly blow right out into 911 territory.
There is one option you just can't avoid though in our opinion, and that's the active exhaust with its open/close function. Have a listen in the video below. We're sure you'll agree it's a perfect rendition of the classic six-cylinder scream. The system sets you back $4950, plus $260 if you want the cabin switch.
Apart from the options and creature comforts, let's talk a little bit about what the F-Type is exactly.
Jaguar has a rich history in sports cars, spanning over 75 years, but this is the company's first in a long while. For Jag fans, the F-Type hasn't come soon enough.
It's built on a heavily revised version of the XK platform (shortened) and it has been honed and tuned at various international proving grounds, including the Nurburgring, and in all kinds of weather conditions. Jaguar spent a lot of time and money making sure this car was not only a worthy E-Type successor but also a fantastic and highly competitive rival to the 911.
The chassis is completely aluminium to keep weight down, while the roof is fabric to keep the centre of gravity low. The roof features special Thinsulate material as well to keep the cabin as quiet as possible. And it is. Out on the freeway the cabin is very quiet for a drop-top.
At all four corners lies a double-wishbone suspension setup with adaptive dampers that can provide a soft-ish, medium, or stiff sporty setting. Every major component of the suspension is made from aluminium to further optimise weight.
With a 50:50 front to rear weight distribution, the F-Type V6 shapes up to be a well-balanced, rear-wheel drive sports car. Text book stuff, in other words. So how does it drive?
2014 Jaguar F-Type V6 – THE DRIVE
When you first jump in, you think it's a big, solid, and quite overwhelming supercar. The dash is high, the steering has a certain thickness to it, and the powertrain is ultra responsive and very powerful.
It's not until you start to throw it around in between corners and so on that you notice it's actually a bit of a softy. The suspension is supple for the road, absorbing bumps mid-corner without upsetting the car's direction or balance. You could even say it's 'chuckable', with minor body roll allowing you to use momentum to throw it between corners.
While the suspension and chassis is a lot more friendly than you might think, the steering is direct and very precise. You can pinpoint the apex of a corner and it remains confident and committed to the line. In that sense, it is rewarding to drive because you can place it exactly where you want it, every time. And with the surefooted suspension, speed throughout the arc of a bend can be maintained at almost frightening levels.
Even though this is only the 250kW version, the power and g-force sent through your body during hard acceleration is savage. In race mode the accelerator pedal becomes super responsive, with the faintest of touches making big differences in forward motion.
It's really easy to hit the national speed limit and it only takes a few quick dabs of the paddle shifter on the right to see the speedo hitting 160km/h or more. From a standing start, we timed 0-100km/h in 5.2 seconds, which is 0.1 second quicker than the factory claim.
The ZF eight-speed auto is a joy to use, offering immediate downchanges with automatic rev-matching when using the paddles, and smooth and swift upchanges.
While the upchanges are not as quick as those from dual-clutch types in this segment, they harmonise the engine's aggressive nature. For every other occasion where you simply want a comfortable and relaxing drive, the gearbox does well to accommodate whereas dual-clutch offerings seem to fail.
This is a terrific sports car to drive. We were a bit skeptical having seen all the images and read all the specs; we thought it was going to be either too hard-edged or simply too soft to be a true rival for the 911. But it's blown us away with the ideal balance between the two.
The more serious drivers out there would enjoy a limited-slip diff and a fraction more top-end power, but don't worry, Jag has just the thing; the 280kW, LSD-equipped V6 S.
2014 Jaguar F-Type V6 – THE VIDEO
2014 Jaguar F-Type V6 – THE VERDICT
About the only negatives to this fine machine are the boot size, which can be optioned without the spare wheel to open up some space, and the lack of an LSD. Other than that it's a spectacular sports car with authentic British charm, a lively character, and an admirable handling and powertrain setup. E-Type, eat your heart out.
PROS:
– Screaming six-cylinder soundtrack
– Gorgeous design
– Impeccable quality
– Strong power and driveline
– Sharp steering and handling without being overly hard-edged

CONS:
– Very tight boot
– Cabin may be confined for larger people
– Extensive and costly options list
2014 Jaguar F-Type V6 – THE COMPETITORS
BMW M4
3.0-litre turbo inline six – 317kW-550Nm – 8.3L/100km – 1497kg (coupe) – yet to go on sale
Porsche Cayman S
3.4-litre flat six – 239kW-370Nm – 8.8L/100km – 1320kg – from $139,900